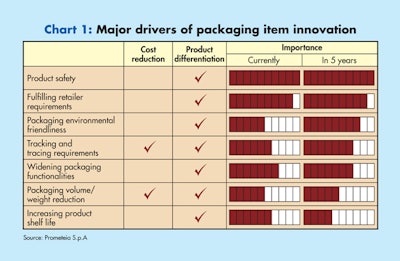 Ipack-Ima 2006, held February 14-18 in an architectural wonderland called Fiera Milano on the outskirts of Milan, may be a sign that economic recovery is on the way.
This 20th edition of Italy's premier packaging show welcomed more than 50ꯠ visitors, a 10% increase over the last show three years ago. Foreign attendance showed a 20% increase, as 1귯 exhibitors—415 from outside of Italy—displayed their latest innovations.
"Ipack-Ima was expected to measure the health of the market," said Guido Corbella, the CEO of Ipack-Ima S.p.A. "The results show that recovery is underway and make us hope for a better 2006 than 2005."
One day before the show opened, show sponsors Ucima (the Italian Packaging Machinery Manufacturers Association) and ICE (the Italian Trade Commission) held a first-of-its-kind event: the Global Packaging Managers & Equipment Suppliers Forum. This event was aimed at bringing together key stakeholders from both the machinery-buying and machinery-building side of the packaging arena to discuss where packaging innovation for multinationals begins, who promotes it, who manages it, and how relations between suppliers of technology and users of that technology can be improved.
One highlight of the Forum was the presentation by Luigi Bidoia of Prometeia S.p.A., the Italian consultancy commissioned by Ucima and ICE to produce a study called "Packaging Innovation among Multinationals: The Role of Global Packaging Managers and Equipment Manufacturers." Bidoia presented an overview of the just-published study, which was based on two things:
• a series of in-depth interviews with several global packaging managers of U.S. and European multinationals and with a number of executives from Italian manufacturers of packaging equipment
• a wide-ranging survey of more than 70 packaging professionals from the major U.S. and European multinationals operating in the food, beverage, healthcare, homecare, and pharmaceutical industries.
"None of the participants in the study said that packaging development and innovation would be de-emphasized in the next five years," Bidoia told the Forum audience. "On the contrary, we were told it would be increasingly important in the next five years."
Participants in the Prometeia study made it clear, said Bidoia, that the twin goals of packaging innovation are cost reduction and product differentiation. Cost reduction, he added, is pursued primarily through packaging line innovations, while product differentiation is pursued largely through item innovations, i.e., changes in the package itself, which can sometimes impact the packaging line, too.
Having drawn this distinction between "packaging item innovation" and "packaging line innovation," Bidoia identified the major drivers behind each. In looking at packaging item innovation (see Chart 1), Bidoia observed that interest in drivers like product safety, fulfilling retailer requirements, widening packaging functionalities, and reducing packaging volume/weight stayed fairly constant. Drivers that will become increasingly important, he pointed out, are packaging's environmental friendliness and the track-and-trace capabilities that packaging can incorporate. Worth noting, too, is that one driver that will grow less important in the next five years is increasing product shelf life.
When it comes to major drivers of packaging line innovation (see Chart 2), things like increasing productivity and reducing set-up time will remain constant in their importance. Two drivers that will grow more important are increasing flexibility and reducing changeover time required for different sizes and items.
Bidoia also delivered some insight into who actually contributes to implementing packaging innovation (see Chart 3). Predictably enough, the marketing department is responsible for nearly 30% of the overall contribution behind implementation of a packaging item innovation, while the engineering department and the equipment manufacturers (EQMs) contribute considerably less. With packaging line innovations, it's marketing that occupies a back-seat role while the engineering department and the equipment manufacturers play more prominent roles.
Also addressed by Bidoia in his overview of the Prometeia study was the information captured in Chart 4. Essentially it shows how important packaging machinery buyers think certain characteristics are in the companies from whom they buy packaging machinery. In the categories identified as Technical Related Skills and Customer Service, machine builders are doing a decent job of meeting the expectations of the packaged goods companies who buy their machines. But when it comes to In-depth Awareness of Client Needs, packaging machinery builders have a ways to go.
Bidoia concluded his remarks by pointing out that there is clearly an opportunity for global packaging managers and packaging machinery builders to strengthen their relationship. This can be done not only through one-on-one relationship building but also through institutional events, from forums and workshops to dedicated Web sites to trade shows. It would also help a lot, said Bidoia, if packaging machinery builders could get a whole lot better at developing a truly in-depth awareness of customer needs and being more proactive in meeting those needs.
The complete Prometeia study is available at www.machinesitalia.org or by phoning the Italian Trade Commission at 888/482-5872.
Panel discussion
The second highlight of this machine builder/buyer Forum at Ipack-Ima was a panel discussion.
Four participants on the panel were global packaging managers who have machine-buying responsibilities at four packaged goods companies; the other three panel discussion participants were representatives from three packaging machinery manufacturers.
First up among the global packaging managers was Bob Collins, director of global packaging development in the healthcare business unit of Gillette Co.
"Even before Procter & Gamble acquired us, we were in 200 countries," said Collins. "As our integration into Procter & Gamble proceeds, things only get all the more global in nature. We want machine suppliers to understand that our philosophy is to install one line in Boston and then ship it around the world. That way, consumers see the same package no matter where they encounter a Gillette product."
According to Collins, sometimes it's the retailer, not the consumer, who determines a package's appearance. "If a retailer wants to enhance the shelf-readiness of a package, it's likely that packaging machinery selection will be affected. So we insist on close communication between marketing, packaging development, purchasing, product development, engineering, and so on."
It's rare, Collins said, that Gillette buys a "standard" machine, largely because the firm's product/package combinations are so innovative and unique.
"Innovation isn't cheap," said Collins, "and we recognize that we must fund part of the innovation we need in the equipment we ask for. Our size makes it a little easier to do that."
Also among the packaging machinery builders on the panel was Bob Risley, president of Materials Handling Systems and current chairman of the board at the Packaging Machinery Manufacturers Institute. Risley told the Forum audience that he sees a trend emerging in the packaging machinery building community.
"Packaging machinery OEMs are combining technical excellence with improved marketplace insights into where customer needs are headed," said Risley. Even so, he acknowledged that there are no guarantees of success.
"We worked once with Motts on a project involving a tube for apple sauce, kind of like the tubed products you're seeing in yogurt and other categories," Risley said. "Our contribution was to be in the handling of the packs, and we joint-ventured with them on the project. But at the end of the day, both parties decided it was not a viable packaging format. Handling that hot apple sauce in a tube was so much more challenging than handling a tube of yogurt. Eventually the project was shelved."
Joseph McDilda, director of packaging R&D at General Mills, said that one of the hurdles keeping buyers and builders of packaging equipment from forming better relationships is the simple fact that there aren't enough venues where packaging innovation can be discussed. He commended Ucima and ICE for sponsoring the February 13 Forum.
"I'd like to see more discussion of environmental issues," McDilda continued, "which I think will grow in importance significantly in the next few years. Look at packaging made from renewable resources, for example. Will these new materials run the same way on existing packaging equipment or will machinery modifications be called for?"
McDilda emphasized that packaging machinery suppliers seeking an improved relationship with General Mills had better know something about the state of the company if they hope to meet its needs.
"Many of our products internationally are packaged in largely manual operations," said McDilda. "We need to drive that cost out and bring a more global packaging perspective to these units."
Ucima president Giovanni Caffarelli reminded the packaged goods companies on the panel that their sheer size can sometimes make relationship-building difficult.
"When a new product is coming out, who is the individual who shapes its package and decides what packaging machinery is needed?" asked Caffarelli. "We machinery suppliers need to be involved at the product development stage. We might even need an office inside a multinational company like a General Mills or a Unilever or a Barilla. Otherwise we stay on the outside and can't be as effective in providing solutions."
Unilever's Dave Penrith, global packaging and machinery manager, applauded the Forum sponsors not only for organizing the February 13 event in Milan but also for commissioning the Prometeia study. "It's a document we can use to move forward in building better relationships," said Penrith. "I don't believe we've ever had that."
Penrith also urged packaging machinery builders to be careful about unleashing sophisticated engineering marvels upon their customers if such devices are not designed with day-to-day operational reliability and user friendliness squarely in mind. "Don't just push novelties out the door," said Penrith. "Own your product for its life. And whatever you do, don't forget that we know your machines a lot longer than you do."
Companies in this article