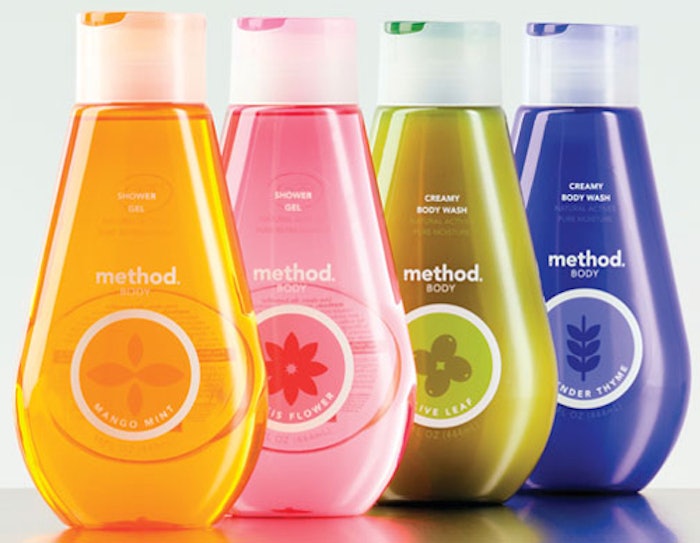 The bottles are topped with two-color disc plastic caps from Seaquist Closures and labeled with front-and-back pressure-sensitive four-color labels supplied by Pamco Label Co. Inc.
When looking for a container supplier Gary Chesser vice president of operations for Method noted "As a small player we didn't want to be thrown in with the big boys. But Amcor proved to us that they were able to take the package design and commercialize it within a very short time frame. They showed their ability to take a small project and devote resources to it."
Method supplied Amcor with 3-D models of the gently curved bottle style it wanted. Amcor then made the bottle workable for its blow-molding operations using state-of-the-art design software along with internet conferencing with Method. Through collaborative efforts Method's 18-week "product concept-to-shelf" time goal was met.
The new body wash line entered markets last summer with four varieties—two gels and two creams. Each variety features a tinted PET bottle—orange for Mango Mint pink for Cassis Flower green for Olive Leaf and purple for Lavender Thyme. The 24-410 finish bottles are topped with plastic disc caps that color-correspond to the bottles.
Method has received positive consumer feedback to the new product and packaging. "Our customers like the design and feel of the packaging" says Chesser. The body washes are being sold through mass merchandise retailers such as Target stores. Method is now also using Amcor PET bottles for its hand wash product line. —Judy Rice
Companies in this article