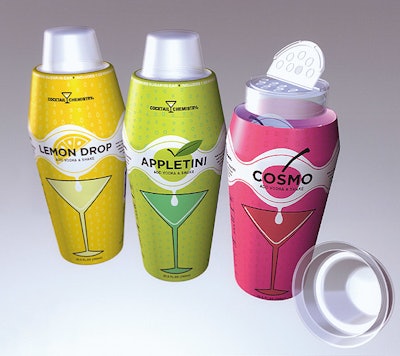 Gourmet Tex-Mex food and beverage producer El Paso Chile Co., El Paso, TX, already was supplying freezer buckets filled with prepackaged Margarita fixings to the liquor departments of the Target store chain. The company also provides a line of drink mixes packaged in glass shaker-style bottles with standard lug closures. But Target was looking for a new cocktail-mix packaging idea that could attract increased sales. The only stipulation was that the container be made of plastic.
Determined to respond to the challenge, staffers from El Paso met with representatives of Berlin Packaging and packaging design specialists from Berlin's design division, Studio One Eleven. El Paso already had a good working relationship with Berlin Packaging, which supplies glass containers for the company's salsa products. Cathy Damon, Berlin sales rep, came up with the core package concept for the PET shaker-style container, then worked with Studio One Eleven to refine and execute it.
Team takes quick aim at creativity
Ushering the container concept from original sketch through computer-assisted design in less than two weeks, Studio One Eleven created a three-piece packaging system for El Paso's new Cocktail Chemistry line of beverage mixes. Initially, the line includes three flavors—Appletini, Cosmo, and Lemon Drop—with other regular and seasonal flavors to be added later. The consumer simply adds vodka and ice to the container, shakes, and pours the mixed beverage into a glass.
Berlin Packaging enlisted the services of several third-party packaging component suppliers; sourced all tooling as well as stock and custom packaging components; and handled the complex logistics required to coordinate packaging component supply.
The container is a 750-mL PET bottle produced by Grafco PET Packaging Technologies. A stock polypropylene dual-flap dispensing closure from Weatherchem closes the bottle mouth and functions as a built-in ice strainer and pour spout. A custom injection-molded polypropylene overcap sourced from a company in China tops off the package and serves as a jigger for use by consumers to measure the added vodka. The overcap also holds an ounce of flavored and colored sugars, sealed inside an inner cavity of the cap by means of a pressure-sensitive seal supplied by Press-On Tape & Gasket Corp. These caps are delivered pre-loaded with the sugar packets to the contract packer, Jus-Made LP.
Jim Tanner, president of Jus-Made LP, explains the packaging procedure as follows:The liquid product is cold filled using an 18-head Regal Series rotary filler from Pack West Machinery Co. The containers are nitrogen purged by a Model LCI 400 purge system from VBS International, Inc. An induction liner is sealed onto the bottle mouth by means of Enercon induction sealing equipment.
Then the bottles are capped via SK6000-SP capping equipment from SureKap, Inc.. The contract packer then uses a Model EDT-100-TB long sleever from ShrinkSleever, Inc., division of Aesus Systems Inc., to apply the preprinted, full-body polyvinyl chloride shrink labels supplied by MPI Label Systems, providing tamper evidence and strong shelf impact. These labels, which shrink snugly over the cap rim to achieve tamper evidence, are perforated to enable easy consumer opening and color coordinated to match the product inside the container.
Accumulation and sorting tables are supplied by E-Pak Machinery, Inc. Overall packaging speeds are approximately 100 containers per minute, and the finished, packaged cocktail mixes have an 18-month unrefrigerated shelf life.
Mission accomplished
Studio One Eleven director Scott Jost commented, "Plastic was a requirement, but to have simply replicated the glass shaker in PET would have ignored the opportunities a blank-slate approach afforded us. By rethinking the package from the ground up, we were able to provide a solution that looks like nothing else on the market, while also eliminating the need to transfer the mix to a separate shaker or attach a separate 'sugar rimmer' package to the container. This is a complete, integrated, self-contained drink kit that provides high visibility on the shelf."
El Paso Chile president Park Kerr adds, "We have received a phenomenal response from Target, our exclusive retailer for this packaging. Target was seeking colorful, interesting packaging originality to generate increased sales in the cocktail-mix category. And this package met the objectives. Our Cocktail Chemistry line was introduced into selected markets in July 2005, and the consumer reception has been very favorable."
Companies in this article