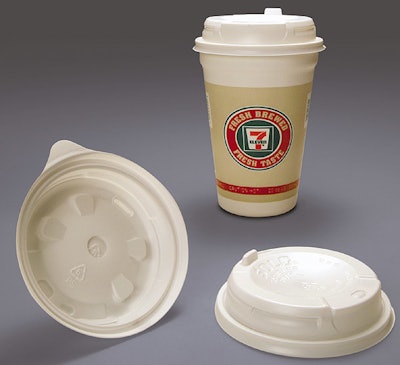 The Traveler Plus is an easy-to-handle coffee lid engineered to minimize the spills of hot liquids during transport, thanks to the ergonomic design details orchestrated by Metaphase Design Group. It's billed as the first lid designed for hot drinks that permits the user to control the flow by reclosing or changing the size of the opening. Metaphase's effort included detailed ergonomic studies of anatomy so that "when you put it up to your lips, it feels fantastic," according to company founder and chief executive officer Bryce Rutter. For example, the lid's recessed dome top provides less awkward tipping of the cup and greater nose clearance—all meticulously determined and tested by Metaphase.
The snap-on lid is produced by Solo Cup Co. from two pieces of thermoformed polystyrene that are die-cut to create individual parts. By moving a raised tab on an inner disk that protrudes through a slot on the upper portion, the inner disk rotates to open or close the sip hole that aligns with the opening in the top piece.
After test marketing, the Traveler Plus was introduced in mid-2003. One of the most recent customers is 7-Eleven, which selected the lids in early 2005.
Lids are sold with Solo's insulated cups. Kris Nelson, 7-Eleven's manager of hot beverages, says the lid "is like the icing on the cake—it adds to the overall benefit of the cup as well as deterring spillage with its reclosable opening. It's the best cup and lid combination designed with the customer's convenience in mind."
Available in one diameter, the Traveler Plus lid fits cup sizes from 10 oz to 20 oz.
—Rick Lingle
Companies in this article