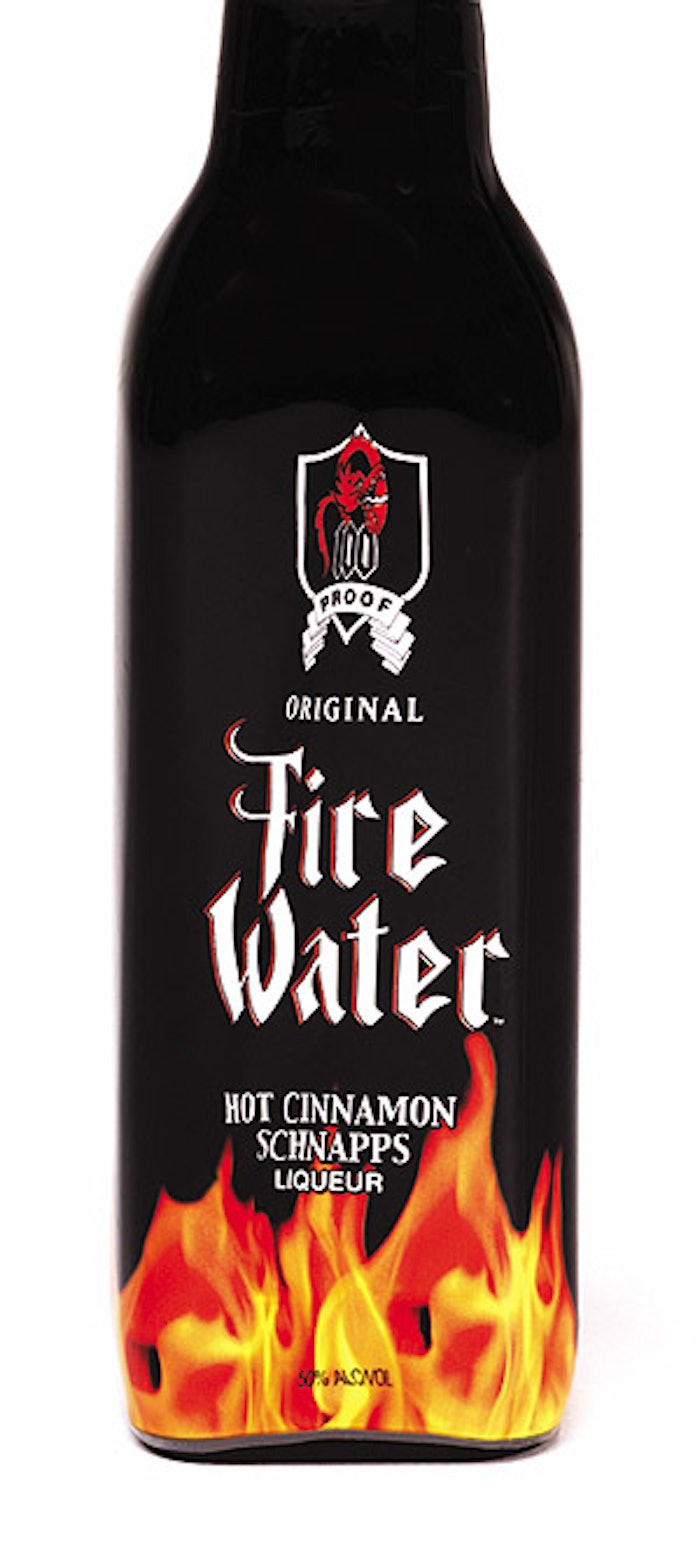 When White Rock Distilleries decided it was time to light a fire under the package design for its signature product, Fire Water hot cinnamon schnapps, they went with a full-body shrink label from SleeveCo. The label allowed them to avoid a costly step in the packaging process, as well as revitalize the brand's look.
"We really just wanted to freshen up the package," says Scott Coulombe of White Rock Distilleries. "We needed to push the fire brand recognition, create a new spark for the product, catch a consumer's eye."
The seven-color rotogravure full-body shrink sleeve is decorated at its base with flames reaching into the blackness of the label. Before, White Rock had to send the glass bottles to an outside decorator that applied a powder coat finish and then painted the once clear glass bottle black. According to Coulombe, not only was this process expensive, but keeping an extra inventory of glass in stock was even more so. The old bottle also had three paper labels: a front label, back label, and neck label.
"There were cost incentives to pursuing the redesign," Coulombe says. "I'd say we save 20 to 30 percent after initial start-up costs."
The label, which recently won an award from the Packaging and Label Gravure Assocation, was tricky for prepress to put together. The original black is created out of 100% of all four process colors. Because the prepress department created only the flame of the fire in process, there are no harsh line transitions, which White Rock made clear they didn't want.
"SleeveCo really stepped up to meet our requirements. And there aren't a lot of vendors that fulfill our needs as far as the color processing goes," Coulombe says.
Firewater is available in three sizes: 750-ml, 375-ml, and a 50-ml PET bottle. All are decorated with the sleeve label. —Abbey Lewis-Reinholdt
Companies in this article