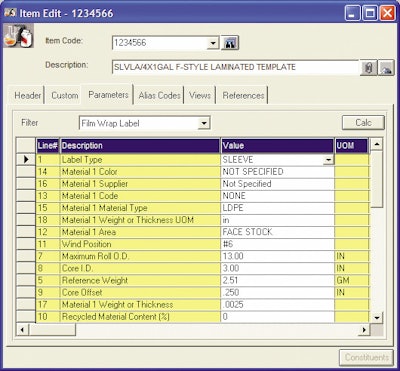 JohnsonDiversey, Inc. may not be a household name to consumers, but its cleaning and sanitation products are well known by commercial customers that include Wal-Mart, Unilever, and Coca-Cola.
Based in Sturtevant, WI, JohnsonDiversey Inc. was the industrial arm of S.C. Johnson that was spun off in 1999. The company, which has 14ꯠ employees worldwide, was formerly known as Johnson Wax Professional until it acquired DiverseyLever from Unilever Plc in May 2002. The company's worldwide sales last year were $3 billion, with $1 billion of sales in North America.
That level of sales generates a huge amount of packaging data that crosses a dozen product categories and ranges from 8-oz bottles of hand sanitizers to 5-gal pails to 55-gal drums. Packaging data that include component specifications are all organized through one workflow process: Optiva® from Formation Systems. Project team managers have relied on Optiva for the past five years for reliable and accurate data management, which is absolutely crucial for any packaging changes, according to Dean Maune, the company's senior group manager for global packaging. Recent and impending improvements make Optiva even more useful.
JohnsonDiversey's database for packaging specifications and other aspects of its operations permits functional group managers throughout the facility to share information and gain faster, more accurate approval for product launches and packaging changes.
Information exchange and workflow efficiency are crucial to the company, Maune points out, adding that all information needed for a purchasing manager to procure packaging materials is generated from Optiva. That includes information on primary and secondary packaging—"everything needed to produce a finished good," Maune says.
For a corrugated box, Optiva will display the particular box's dimensions, drawings, and pallet patterns. For a bottle, Optiva will store the bottle's drawings, written specs, and quality assurance tolerances.
"With Optiva, we have a common database where everyone accesses the same information for reports," he adds. "It's not someone's own spreadsheet with how they handle the data." Information held in Optiva includes raw materials, formulas, packaging specifications, and bills of material. A bill of material is the information required to manufacture a product, including its packaging, at the plant.
Streamlining tool
First and foremost, Optiva streamlines the workflow, Maune says. "From a user group standpoint, that's by far the biggest benefit. When the information is entered for the bills of material and specifications, you can route them for approval throughout the entire organization, including regulatory compliance review. User groups and engineers can access a bundle of documents on a network as opposed to paper documents through interoffice mail."
The software continues to evolve: Johnson-Diversey upgraded to Optiva 4.6 in mid-2004. "The definite benefit to this version is the ability to bring documents into the Optiva database from different sources," says Maune. "We weren't able to link before, whether it was a bottle drawing or quality assurance documents in Microsoft Excel or text format documents."
The database is used by more than packaging managers and engineers; it's also used by purchasing, manufacturing, marketing, project managers, and chemists.
"We're now starting to use Optiva to run product development," Maune says. "We write all specs for all our products into it." A product record is created in Optiva before it is routed through workflows including regulatory compliance, legal, market, manufacturing, and other departments for approval and comments.
Integration is faster
Maune's team was able to transfer all of Diversey's specs and components info into Optiva-without adding personnel. Personnel spent two years planning, developing, and downloading formulae and packaging specification data from SCJ into Optiva.
The flow of new data loaded into Optiva continues to increase.
"We're now handling five times the information than when we first started using the software," says Maune. "The continuous changes for a formula or raw materials change—which means the label needs to be updated—are challenging. With the ongoing consolidation of our product lines, we're constantly making changes."
In 2004 alone, Maune's staff of four packaging engineers created about 1귔 specs, which equate to one to two specs a day from bills of material. They produced 760 bills of material in 2004 and expect to produce 2귔 bills of material in 2005. "That's with the same personnel," says Maune.
The benefits of the software have been efficiency improvements, says Maune, "and the ability to handle at least twice the workflow that we did before, and with the same staff. The efficiency and accuracy of documentation of production is significantly better than before. We don't need to redo things or catch an error at the plant right when we're in production. Most mistakes are caught upfront because documents are reviewed by a larger user group and much faster than could be done in the past."
The Commercialization Team is also constantly tweaking the database to customize it for their needs, and more improvements are ahead.
More improvements ahead
The Optiva software resides on JohnsonDiversey's main server. Optima Version 5.0 will be accessible via the Internet. "That will permit us to go global with the database," Maune says. He expects their programmers to spend 2005 on development with Formation Systems for a possible launch with Version 5.0 in 2006.
JohnsonDiversey is one of only two companies using Optiva for packaging. Version 5.0 would allow them to "use the Internet to its full potential including opportunities for our suppliers to use the Internet to enter their specifications directly into the database," says Maune. "That's instead of us entering data, then sending the vendor a manual copy of the spec for their files. So when an order arrives, they can access the database and quickly produce to spec for us."
With Optiva, Johnson-Diversey will continue to clean up on workflow efficiency. "Optiva is efficient," says Maune.
Companies in this article