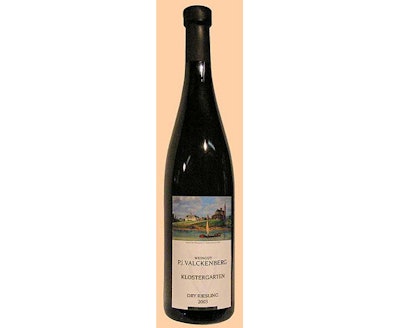 It's the Vino-Lok closure from Alcoa in Germany, and P.J. Valckenberg is among 10 wineries worldwide testing it.
Vino-Lok is a glass stopper that is said to offer taste neutrality, without the risks and drawbacks of natural cork, particularly that of cork taint or TCA. With the stopper, Vino-Lok incorporates a gasket of a barrier material commonly used with screw caps. A special shrinkable aluminum foil capsule provides TE and easy opening via a perforated tear-strip.
"We bottled one of our best dry wines from the 2003 vintage, and closed the bottle with what we consider one of the best stoppers now available on the market," says Tilman Queins, winemaker at the P.J. Valckenberg Estate. "The most disappointing thing for a winemaker is if the hard work you have done in the vineyards and in the cellar is destroyed by a piece of cork, especially if it is your best wine.
"As much as I am angry about natural corks, I would never have used a plastic cork or a screw cap for this top wine," Queins continues. "Even the best plastic corks are not good for aging a wine, and the acceptance of screw caps is difficult when it comes to high-end wines."
Vino-Lok was extensively tested by scientists and wine experts in Germany, and it offers the advantage of resealability as well as recyclability. When it's mass-produced, the company says it won't be more expensive than high-quality cork. Plus, the company plans a plastic version in the future.
Companies in this article