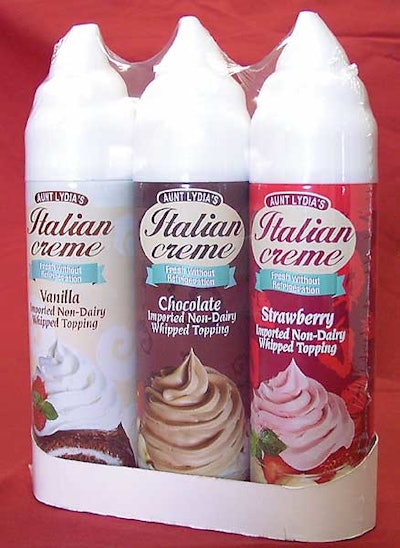 The company receives the aerosol cans of the nondairy toppings in bulk from Italy before its unidentified contract packager creates either a shrink-wrapped three-flavor combo in a corrugated paper "boot" or in a white paperboard window carton, says Jacqueline Danforth, president of FACT (Food and Culinary Technology). The company wanted the three-packs ready for club-store marketing just ahead of the 2004 holiday season.
"The company that does our warehousing set up a packaging line to create the three-packs," Danforth says. "It presented us with several packaging options for the packs. With the help of retailer feedback, we selected the shrink-wrapped 'boot' and the box. So far as individual sources of packaging materials, we rely on them."
FACT will offer two varieties of three-packs, one with vanilla, chocolate and strawberry toppings, the other with vanilla, chocolate and mocha. The company, which has been importing the crèmes for about a year, also sells each flavor in a 12-count corrugated shipper. The products are sodium- and cholesterol-free and require no refrigeration. They are primarily used as a dessert topping, although the mocha flavor is often used with coffee.
For retailers using the three-packs, FACT's contract packager has to cover the individual UPC code on each can and then apply a new label with a UPC code specifically for the three-pack. Although the three-packs display the individual can label graphics well, Danforth says the white box could be printed, if a retailer wanted to customize it.
Companies in this article