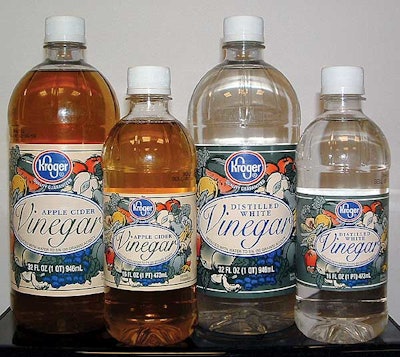 Mizkan Americas, Inc. (formerly Nakano Foods), headquartered in Mount Prospect, IL, is the largest private-label producer of vinegars in the U.S. The company, which also produces cooking wines, mustards, Asian sauces, dressings, and other specialty cooking condiments, has traditionally packaged all of its products in glass bottles. But in a move to offer its customers packaging with enhanced convenience, Mizkan made the decision to convert its 16-oz and 32-oz white distilled, apple cider, and red wine vinegars to lighter, shatter-resistant PET bottles.
Despite the recent rises in plastic resin costs, Mizkan believes the conversion is a good packaging strategy with excellent payback potential. Dennis Dedmond, vice president of marketing, notes: "Resin prices are cyclical. They fluctuate over time. We see the switch to PET as a long-term investment that will reap good payback because consumers and retailers like the lighter, unbreakable bottles. Freight costs also are lower versus glass bottles."
Penny Philp, Mizkan's national director of procurement, adds: "Glass bottle availability sometimes is limited. Procuring needed inventories can be a hit-or-miss proposition."
Mizkan chose to use custom PET bottles with pressure-base design sourced from Grafco PET Packaging Technologies and Liquid Container/Plaxicon.
In a multi-year research and development effort, Grafco was instrumental in helping Mizkan create and implement the custom containers. The bottles have no special coatings and are not made of heat-set PET. Mizkan warm-fills its vinegar products at a temperature range that does not require heat-set bottles.
One functional element the bottles do need is a base capable of withstanding internal pressure. That's because Mizkan injects liquid nitrogen into each bottle to provide internal pressure that helps prevent denting or sidewall collapse.
In order to accommodate the new bottles, some minor adjustments were needed on the filling lines at the four Mizkan plants (in New York, Tennessee, California and Kansas) that package vinegars. The four plants use existing filling equipment from various manufacturers, but all the cappers are new and are provided by Alcoa. Liquid nitrogen dosing equipment from VBS has been integrated with the new cappers.
The PET bottles are capped with 28-mm polypropylene tamper-evident Plas-Top closures supplied by Owens-Illinois. Paper labels are applied to the bottles after filling and capping. The four plants do not all use the same labeling equipment, and labels are sourced from several different suppliers.
The PET-packed vinegars have an estimated one year plus shelf life—the same as Mizkan's glass-packed vinegars.
"We still have some fine-tuning to do, as is typical with any conversion to a new container type," says vice president of marketing Dedmond. "But overall, the filling, capping, and labeling speeds are comparable to what we achieve with the glass bottles. And we haven't had to make any changes in our casing and palletizing operations to accommodate the PET bottles."
Dedmond adds, "It's taken us about a year and a half, from the time we decided to adopt PET bottles until we were up and running on production lines. The conversion—starting with the choice of bottle style, then adjusting our equipment—has been a collaborative team effort with our production people and our equipment and bottle and cap suppliers. It's been a methodical, smooth transition. There's a possibility that we may extend PET bottle usage for some of our other products at a later date."
Companies in this article