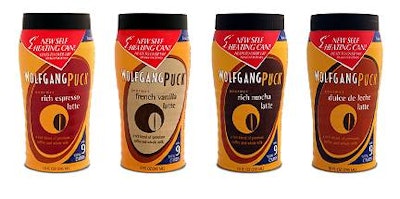 The high-barrier, shelf-stable container holds 10 oz of coffee, tea, cocoa, soups, and alcoholic beverages. Through a natural reaction between calcium oxide and water inside the container, the product heats to about 145 degrees F in six to eight minutes and stays hot for 30 minutes.
The cup-holder-friendly container consists of three components: a blow-molded plastic cup and plastic cone, and an injection-molded plastic actuating "puck." Sonoco supplies nearly all of the components. The inner cone holds calcium oxide. The outer body of the container contains the beverage. The puck, which holds the water, fits inside the cone and is sealed by a T-E metal end. Lakeside Foods processes the self-heating container.
Consumers activate the heating process by removing the T-E end at bottom of the package and then pushing the exposed button.
A foam label, printed in up to six colors, keeps the outside of the container "pleasantly warm to the touch," OnTech says.
WP Beverage Partners will launch four flavors of its Wolfgang Puck line in the new containers, initially through Kroger stores.
OnTech will also roll out its own line of self-heating coffee products under a private label, Hillside Coffee Co. Agreements with QVC and R&B International Distributing will help expose Hillside Coffee to the hospitality market and help it to supply self-heating coffee to hotels and motels, said Jonathan Weisz, OnTech chief executive officer.
Companies in this article