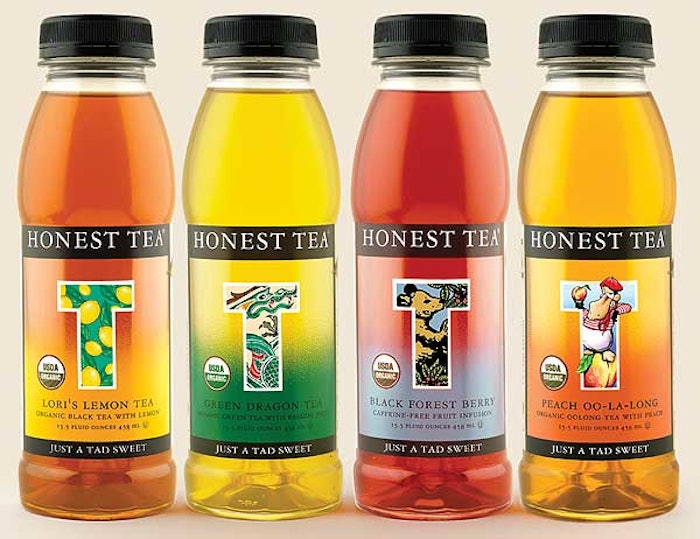 "We wanted to develop an exciting package that complements our glass line while allowing people to enjoy our tea in new places," says Seth Goldman, president and Tea-EO at Honest Tea. "And we wanted to do it in a way that didn't compromise our brand or our commitment to sustainability." The innovative packaging utilizes a new filling technology that eliminates the need for heat expansion panels and ribs found on most hot-fill plastic bottles. As a result, the new panel-less design provides a cleaner, more elegant look that captures the look of glass. For the graphic design, Honest Tea turned to Flowdesign, which created a fresh new look while maintaining the strong brand identity associated with the original label. "Flowdesign helped us to create a powerful new way to expand our brand into new channels," Goldman says.
Exotic packaging design
Graphic and interactive design firm Hornall Anderson Design Works has added a touch of the exotic to the re-branded Tahitian Noni line of health, beauty, and wellness product packaging. The natural-based product company approached HADW with an idea for a look that would better reflect the French Polynesian heritage of its product than the previous packaging graphics did. Designers mingled rich colors with exotic images like one of a man with a conch shell, and aesthetic drawings from cultural patterns originally taken from an oil painting specifically commissioned for this project. The new graphics decorate various packages throughout the line including paperboard cartons and pressure-sensitive labels.
Saucy package design
RPC Envases is supplying custom-designed, blow-molded HDPE bottles for four Heinz's Orlando sauces in Spain. The 300-ml bottle is decorated with labels colored according to the different varieties of sauces: red for Tomato, orange for Brava (spicy), and yellow for Mustard. The tomato sauce also comes in a 500-ml bottle. The curved/tapered design, developed in-house by Heinz, creates a strong impact on the shelf and is easy to handle for the customer. The bottles are wrapped in an attractive PVC shrink sleeve that depicts photos of food products dripping with Orlando's sauces. The name of each sauce scales the side of each bottle in a dynamic, yet playful font. Heinz's Orlando sauces are available in stores across Spain. —ALR
Companies in this article