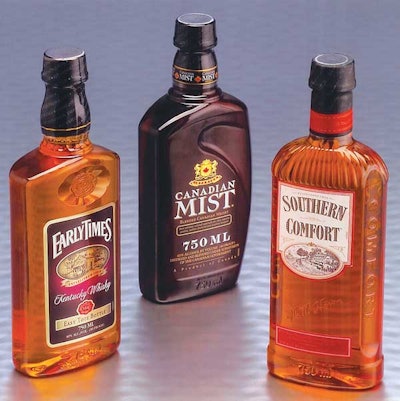 Canadian Mist and Early Times were available in PET, but in generic-looking stock bottles that the company sought to replace. The Canadian Mist bottle employs the sleek indented grip and asymmetrical shape that mimics that of the larger bottle. Early Times maintains a profile similar to its larger bottle with fine detail shown in the embossed seal near the shoulder. Southern Comfort borrows details from its glass counterpart with distinctive insets on each side that create a sculpted edge that houses the embossed brand name. The new bottles are molded at Amcor's Nicholasville, KY, plant, and employ Amcor's Triad base design for even weight distribution for stable conveying. The new bottles are filled on the same packaging lines used to fill glass bottles, reports Lou Kelly, B-F director of package engineering and purchasing.
"We continue to offer the same products in both glass and PET containers," Kelly says. "We're just trying to give our customers and consumers more options. The new PET bottles provide a better brand identity and offer consumers a more portable alternative."
Although Kelly says that the economics now favor PET vs glass, he knows that can change. But other savings are inherent with plastic, such as smaller and lighter shipping cases, reductions in damage, and reduced freight costs.
Companies in this article