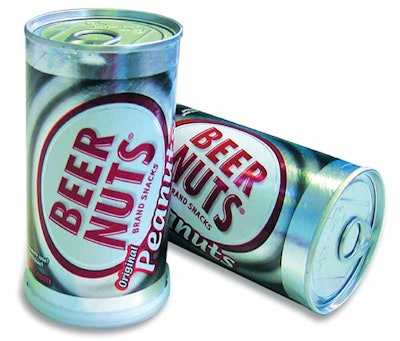 Created to resemble a beer can, the product was launched by Beer Nuts, Bloomington, IL, in May into 7-Eleven stores nationwide, and to all major retail outlets starting in June where it sells for $2.29.
"The beer can concept was developed due to the natural synergy between our name, the product, and beer," says Beer Nuts director of new business development Tom Foster. "The simplicity of it makes it unique."
The company says the can provides portability and pourability, it fits in cup holders, it has a reclosable lid, and can be poured directly into the mouth. Foster says they worked closely with 7-Eleven to develop the package.
"We are focused on generating [sales] in the fastest growing consumer age group, those aged 21 to 27," says Foster. " In addition, [the packaging] provides a number of cross-merchandising opportunities."
The 7-oz (211 x 409) composite can—with an aluminum foil inner layer, two paper plies and outer label printed flexo in six colors—is provided by Sonoco with an aluminum ring-tab end. Beer Nuts seams on the bottom flat steel end after filling at its Bloomington plant. A polypropylene overcap, affixed to the can bottom, provides reclosability.
Companies in this article