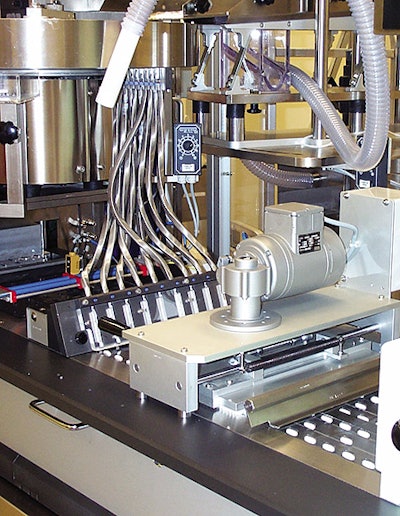 When Schering-Plough's Claritin anti-allergen medication went from being a prescription-only pharmaceutical product to an over-the-counter item in late 2002, two new blister-pack lines were required at the firm's world headquarters in Kenilworth, NJ, to keep the nationwide pipeline full. The lines are carbon copies of each other, and each is especially notable, says manager of project engineering Chinna Chinnakaruppan, in four key areas:
•Digital thermal ink-jet printing is used for printing variable information on folding cartons.
•Advanced machine-vision technology is used for inspection of tablets in blisters, and Optical Character Verification (OCV) technology is used for verification of on-line printing on cartons.
•A robot performs end-of-line palletizing.
•Near clean-room conditions optimize hygiene in the blister thermoform/fill/seal room.
"We brought all these technologies into the new lines because all of us, as a group, felt that this was the way packaging should be done going forward," says Rolando Vega, manager of engineering projects at Schering-Plough.
Line 85 is dedicated to Claritin in a single tablet size in the same five-count blister-pack format. Blister-packs are cartoned one, two, or three per carton.
Unlike Line 85, Line 84 is anything but dedicated. Products other than Claritin are run on the line, and blister-packs can hold anywhere from 6 to 24 tablets. Yet regardless of which tablet is in production or how many tablets are in the blister-pack, the blister-packs always measure 68.3x85 mm (2.69x3.35"). This greatly simplifies line changeover times because the thermoformer need only contend with a single blister-pack size.
"We're grateful that our marketing department went along with the idea of a standardized size for each blister-pack produced on Line 84, no matter how many tablets are on it," says Vega. "This does, of course, add an extra cost in material when only six tablets are in a blister-pack that is big enough to hold twenty-four. But the savings in changeover time makes it all worthwhile."
Cartons, too, always have the same footprint. They vary in height so that anywhere from one to six blister-packs can be inserted. But because carton length and width do not vary, it takes no more than 30 minutes, says Vega, to change the cartoner.
At the head of each line is a CAM thermoform/fill/seal system enclosed in its own overpressured, HEPA-filtered room. Operators enter it by way of a "pass-through" room where they put a fresh gown over the gown they're already wearing. Shoe covers and fresh hair nets over existing hair nets are also donned.
"This represented a significant shift in our manufacturing culture," says Vega. But workers have adapted nicely to this new way of doing things, he adds. According to Chinnakaruppan, "All new primary packaging machines installed at Schering-Plough in the future will be in rooms like this."
Neither corrugated shippers nor wooden pallets enter the room where the thermoformer sits. This, too, keeps contamination to a minimum.
Tablets enter the filling room in bulk plastic bags that are emptied into a Swiftlift device that looks like and operates like an elevator. An operator empties tablets into a bucket at floor level, and the bucket moves up automatically to an overhead level where it dumps product into the tf/f/s machine's hopper. Supplied by Nova, the Swiftlift means operators needn't climb a ladder to reload the overhead hopper.
From the hopper of the CAM tf/f/s machine, product is fed down tracks and into thermoformed cavities. Speeds to 45 cycles/min can be achieved, depending on the tablet shape and size.
Before lidding is applied, a Harlequin tablet inspection system from SEA Vision of Italy checks for the correct tablet color and missing or broken tablets. SEA Vision is represented in North America by Calia Technical Inc.
Inspection is more comprehensive
"Inspection systems we've used in the past only detected missing tablets," says Vega. "This system not only checks for that, it also checks for partial tablets and for tablets that are the wrong color. It uses two cameras to view what is being packaged. We enter the parameters we want from a drop-down menu on the touchscreen controller. Any tablet outside those parameters is detected and that blister is rejected."
Adds Chinnakaruppan, "This vision system is an aid in compliance with 21CFRPart 11," the part of the Code of Federal Regulations governing electronic signatures for tracking and tracing purposes. "It has an electronic audit trail and password protection at various levels: operator, mechanic, technician, administration."
Also preceding application of lidding to forming material is imprinting of lot number and expiration date by a Gottscho matte printer. Heat sealing and die cutting from the web are the final steps before finished blisters are discharged onto a conveyor connection leading out of the fill room and into a secondary packaging operation led by a Marchesini cartoner.
"The cartoner is capable of 350 cartons a minute, and we've qualified it to run up to 320. But we run routinely in the range of 280," says Vega.
Blisters are conveyed to a Marchesini stacking mechanism that sits above the cartoner's flighted infeed conveyor. A mechanical counter at the bottom of the stacking mechanism drops as many blister-packs into each flight as are called for. The flighted conveyor leads to a blister insertion station. Carton blanks are erected, loaded, folded shut, and then glued by a Nordson system.
Mounted on the Marchesini machine is a GUK leaflet inserter that is used when called for. Just downstream from the cartoner is another machine that makes these new lines technologically advanced compared to Schering-Plough lines of the past. On older lines, lot number and expiration date were typically marked on cartons by means of an embossing wheel. But on each of these new lines, a Wolke printer equipped with a Hewlett-Packard thermal ink-jet print cartridge imprints lot number and expiration date more crisply, cleanly, and consistently, says Vega, than any embossing wheel could manage. Made in Germany, the Wolke system is available in the United States from Nutec.
Integrated with and mounted on the cartoner are two inspection systems, one a Laetus system from Romaco and the other a SEA Vision system from Calia. The Laetus system inspects a preprinted bar code on each carton to verify that cartons are correct 100% of the time. The SEA Vision unit is an OCV system that looks at the characters imprinted by the Wolke thermal ink-jet printer. It verifies the correctness of each string of characters and the completeness of each character while ensuring that each character meets a quality standard based on multiple criteria.
A key goal
"Our goal on these new lines was to print and then automatically inspect and verify," says Chinnakaruppan. "You can't use OCV inspection technology on an embossed code." Thus the installation of the Wolke/H-P thermal ink-jet carton coding system.
The other benefit Schering-Plough finds valuable in its new approach to online carton coding is that no liquid inks are involved. The H-P thermal ink-jet cartridge resembles those commonly found in printers used with household computers. Snapping quickly into a holder, they require about a minute to change.
Exiting the Marchesini cartoner, cartons pass over a high-speed checkweigher from Optima.
"The faster a checkweigher operates," says Vega, "the more vibration you get. And vibration can cause errors in the load cell's ability to read weight accurately. One thing we like about this Optima checkweigher is that it calculates just how much the vibration is influencing the weighment, and it compensates for vibration error."
Tertiary packaging
Blisters move next toward tertiary packaging via a FlexLink conveyor. It delivers blisters to an integrated and highly automated bander, case packer, and robotic palletizing system from Pester. Bander, case packer, and palletizer were built by Pester, while Kuka was brought in by Pester as the builder of the articulating robot.
The bander upstacks six cartons and then wraps and heat seals a band of polyethylene-based material from Pliant around all six. "It's the fastest single-lane machine of its kind available today," says Vega. "A new feature it now includes is auto splicing. When one roll of banding material is done, the next one is spliced automatically. There's no need to stop the machine."
The six-count bundles of banded cartons are conveyed next to a Pester side-load case erector/packer. Exiting this machine, cases are conveyed beneath a Markem tamp labeler that applies labels pre-printed with product identification to each case.
Labeled cases are conveyed to the last piece of equipment on the line, the articulating robot from Kuka. It uses a vacuum pick-up end effector to stack cases on pallets. Mounted on the palletizer is a Markem hot-melt ink-jet coder that gives each case a number used for internal tracking purposes.
"The robot is a great machine," says Vega. "Its pallet magazine holds up to 10 empty pallets, and up to three full pallets can be discharged and staged before anyone has to come and take them away.
"We're very happy with the whole Pester/Kuka package," Vega continues. "We took a number of people to the Pester facility in Germany for the Factory Acceptance Tests, including mechanic, supervisor, and the validation expert in addition to me. We think this helps a lot, not only because our people get to talk to the suppliers' key people, but also because it develops a strong sense of ownership among our people when they return here and the line is installed."
Standing beside the robotic palletizer and looking back upstream to the HEPA-filtered room that houses the CAM tf/f/s system, one is struck not only by the sophistication of each individual machine but also by how automated the line is. Only four people are required on each of the two look-alike lines.
Also notable is the variety of machinery makers represented in an age where so many pharmaceutical, food, and beverage manufacturers seek a turnkey solution from one machine vendor. This variety, says Vega, is explained easily enough.
"We wanted to be free to pick what we felt was best in class for each machine in the line."
Companies in this article
Videos from Nordson Corporation