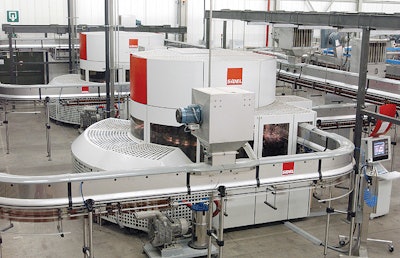 In late 2002, envirocrats in Germany calculated that less than 72% of the beer, soft drink, and mineral water sold in Germany was packaged in refillable containers. So in January of 2003 they enacted a mandatory deposit of 0.25 eur (US $ 0.32) on every non-refillable beer, soft drink, or mineral water container in the marketplace.
As soon as the law took effect and German consumers started bringing their empty beer containers to retail stores to get their deposits back, the retailers knew they had a mess on their hands. Among the issues that had to be worked out:
• Why should a retailer go to the trouble of accepting and processing a returned beer package if there was no way of knowing that it was bought at one of his stores in the first place?
• How to keep cans and bottles from leaking their remaining contents and causing a mess and possible infestation problems.
• How to keep returned glass from breaking and harming someone.
• How to organize one handling system for recycling glass beer bottles and one for beer cans.
Within a few short months, one large retailer in Germany, Aldi, had the answer to all its beer-package-related problems: remove all beer from the shelves. That's where the adventure began for Martens Brewery of Bocholt, Belgium, where eight generations have carried on a proud brewing tradition. Recognizing the Aldi situation as an opportunity for a whole new approach to beer packaging, Martens bought a building a short distance from its brewery and installed enough stretch/blow-molding, barrier coating, palletizing, depalletizing, and filling equipment to put Aldi back in the business of selling beer—this time in non-refillable PET bottles. Stretch/blow molding and Actis barrier coating systems are from Sidel, while rinsing/filling/ capping and labeling systems are from KHS.
By August, beer was back at Aldi. But only one brand, Aldi's own Maternus Premium Pilsener, made the return, and all of it is in .5-L PET bottles filled by Martens. Aldi prefers PET over non-refillable glass and cans because, unlike glass, PET doesn't break, and, unlike both cans and glass, PET is more sanitary as long as the consumer puts the cap on before bringing the bottle back for a deposit.
Also important is the Aldi logo molded into the shoulder of every bottle. Under the current legislation, a retailer must take back any non-refillable beer package identical to the ones it sells. Thanks to the logo, Aldi's store personnel can quickly reject any PET beer bottle that wasn't purchased at an Aldi store. Since Aldi has to pay a recycler to collect and process the bottles it takes back, it wants to make sure it isn't paying to recycle bottles purchased at some other retailer.
Four key criteria
According to Jan Martens, director of the Martens Brewery, a number of plastic bottle technologies were explored before the blowing and coating option was selected. Four key criteria guided the firm in its search, says Jan Martens.
"First, we needed a six-month shelf life and the assurance that after six months the beer would taste as good as it did when bottled in glass or cans. Second, the cost of the bottle had to rival that of one-way glass. Third, the plastic bottle had to be easily recycled. And finally, we needed to feel confident that once launched, we could continue to produce the bottles in large quantities.
"Right now we make 600ꯠ bottles daily. It was these kinds of numbers that led us to blowing and coating in the first place. Sourcing 600ꯠ ordinary monolayer PET preforms per day is no problem. Multilayer preforms, on the other hand, are a little more special, and we worried that preform availability might be a problem if we took the multilayer path." (To read about a German brewery that chose the multilayer path, see page 45.)
Jan Martens says the 28-g bottle his firm now makes satisfies all of these demanding requirements. It has an oxygen transmission rate of 0.001 cc/O2/day. That's because the Actis process deposits an extremely thin layer of hydrogen-rich carbon on the internal walls of the bottle (see drawing, page 35). Sidel claims oxygen barrier protection of an Actis-coated bottle is 30 times greater than the same PET bottle with no coating. CO2 barrier, says Sidel, is seven times greater than with an uncoated PET bottle. Yet the barrier layer only accounts for about 0.03% of total bottle weight. That, says Jan Martens, makes the bottle easily recycled through established systems.
Blow molding at the Martens plant is done on a SBO 20 Series 2 system from Sidel. With a capacity of 30ꯠ bph, it feeds three of Sidel's Actis 20 coating systems, each capable of 10ꯠ bph. An EIT™ line monitoring system gives operators real-time processing data at all times. Blowing and coating is a 24/7 operation. Finished bottles are palletized, banded, and stored a short distance from the blow molding area.
Depalletizing and filling is done five days a week, one shift/daily. Operating at 40ꯠ bph, the filler is considerably faster than the 30ꯠ bph blow molding and coating operation. The idea is to make and store bottles around the clock so that there is always a constant supply ready for the filler.
Depalletizing, filling, capping, and labeling are all done on equipment supplied by KHS. That firm's Innopal AL depalletizer gently encloses each layer of bottles on all four sides as the layer is removed from its pallet. Pressure-free combining of the 28-g bottles into a single file is followed by discharge into the Innoline LTR air conveyor.
Into the wet room
Bottles enter the wet room at ceiling height and, still held by their neck rings, move quickly down a declining conveyor that leads to the rinser/filler/
capper block. After a 96-station Innoclean FR-EM single-channel rinser cleans the bottles with sterile water, a starwheel transfer takes bottles into the 108-station Innofil DVF filler. Its volumetric filling process relies on long filling tubes for bottom-up filling that is not only gentle but also ensures oxygen pickup of no more than 0.02 mg/L.
"With glass bottles it's easy to evacuate oxygen by drawing a vacuum," says Jan Martens. "With a plastic bottle, you can't do that because the bottle would collapse. KHS has come up with a very good system for pushing residual oxygen out of a bottle."
Another starwheel transfer brings filled bottles to a screw capper also supplied by KHS. Injection molded of polypropylene, the closure is lined with an oxygen absorber. Bottles then are conveyed toward the labeler, but if need be they move onto a KHS buffer table whose multiple drives ensure low-pressure handling of the bottles. This in turn prevents fallen bottles that would otherwise require constant operator attention and hinder overall system efficienty.
Labeling is done on a KHS Innoket KL 2060 cold-glue labeler that applies front, back, and neck labels.
"Just like the decision to use a brown bottle, we feel these labels give the package a classic beer look," says Jan Martens.
Another KHS buffer table with the same gentle handling characteristics follows the labeler as bottles proceed to a KHS Kisters Innopack SP 060 six-pack shrink wrapper. A combination of sensors and servo drives enables the machine to apply the printed film in register. The film is then shrunk down tight in a shrink tunnel, and the brightly decorated six packs exit the wet room via a spiral conveyor that carries them at ceiling level toward palletizing. Palletizing is done on a KHS Innopal PM system.
Soon to come
Impressive as the blowing/coating/filling line is, it's about to undergo a significant change.
"We'll soon begin sending bottles directly from the Actis coaters to the rinser/filler/capper on overhead air conveyors," says Jan Martens. "We'll still palletize freshly made bottles when the filling line isn't running. These will supplement the supply of bottles going directly from the coaters to the filler so that the filler can continue to run at maximum speed."
Also being explored, says Jan Martens, is the possibility of making and filling bottles, some in different sizes, for customers other than Aldi. For these accounts an SBO-6 blow molder from Sidel along with another Actis coating system will be required. After that, Martens may even consider installing additional PET lines in different strategic locations. Jan Martens sums it all up this way.
"We have placed high hopes in PET and assume that we will be able to continue to present ourselves as a specialist for filling beer in PET bottles."
Companies in this article