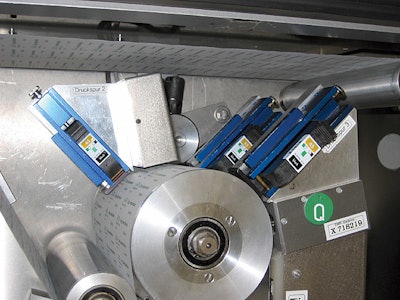 In-line printing of variable data on blister-packs and folding cartons has brought multiple benefits to the packaging operations at Aventis Pharma in Frankfurt, Germany. On both blisters and cartons, the goal was to find something better than that tried-and-true technology known as embossing. Although embossing is inexpensive and proven—it's been relied upon by most pharma companies for years—embossing has some key drawbacks, says Stephan Koll, electrical and process controls engineer at Aventis. Take readability, for example.
"Too often you have to hold the blister at just the right angle or else it's unreadable," says Koll. "Quality control is difficult, too. There is no machine vision system for verifying that 100% of the blisters got embossed as they were supposed to. Random sampling done with the human eye is about the best you can do. Changeover is time-consuming, too. You have to remove the embossing characters that are in place and put the new ones in."
Enter digital thermal ink-jet (TIJ) printing. Now used by Aventis on some of its blister packs for nearly eight years, in the last two years the firm has upgraded all nine of its blister-pack lines in Frankfurt by installing m600 printers from Wolke, available in the U.S. from Nutec. Print heads in the Wolke printers are Hewlett-Packard TIJ cartridges. When a cartridge is empty, a new one is snapped into place and printing resumes in minutes.
On each blister machine at Aventis-Frankfurt, three TIJ print heads are arranged around one of the cylinders through which lidding material must travel on its way to the tablet-filled blisters below. "We also had to add a special heating element to help ensure that the ink is dry before the foil lidding reaches the heat-sealing station," says Koll.
Film speed can be as high as 15 m/min (49'/min), says Koll, and print resolution is 300 DPI. The human-readable data typically being imprinted includes lot number, expiration date, and manufacturing date.
'Big benefits'
"The big benefits are the improved legibility of the variable data being printed, the flexibility we gain in changeover, and the ability to use sensors to automatically verify that the data has been printed on every single blister pack," says Koll. "Also, input of the data to be printed is now done at a remote PC instead of by an operator with a paper document in hand who must then find the embossing tools that are called for in the document and then mount them on the embossing wheel."
In the future, it's planned to get the variable data from the plant's ERP (Enterprise Resource Plan) software, which in this case is provided by SAP. That means the variable data won't be entered by an operator at a keyboard, where any number of mistakes might occur due to simple human error. The data will be downloaded directly from the ERP. Not only does that eliminate opportunities for mistakes, it also means that all that data is instantly funneled to the ERP system. That in turn means real-time information—about packaging materials used, products packaged, rejects recorded, and more—is constantly and effortlessly being fed to the ERP.
Because the Wolke printing system is interfaced with the line's main PC over a serial connection, the keypad on the Wolke controller is typically bypassed. But it can be used if font or layouts need to be changed.
Koll acknowledges that on-line TIJ printing of blister packs brought an added cost when it replaced embossing. In his particular case, he estimates that cost to be about 20 eurocents/1000 prints. He emphasizes that it depends on the number of characters to be printed and the resolution that is selected. Another added cost, he points out, is that only foil with a special overcoating can be used, as TIJ printing of packaging materials originally was designed for paperboard and other substrates more porous than foil. Hueck Folien, represented in the U.S. by Hueck Foils, provides the coated foil lidstock. Both of these cost add-ons, Koll says, are well worth paying in return for the benefits gained by switching from embossing to TIJ printing on blister packs.
TIJ on cartons, too
Embossing of variable data on folding cartons has all the same drawbacks as on blister packs. So Koll and his colleagues at Aventis are now implementing TIJ printing on folding cartons. This is true not only on the nine tablet lines operating in Frankfurt, but also on lines where vials, glass jars, injection "pens," or other package types are filled. Here Aventis is also incorporating, in addition to human-readable lot number and expiration date, a 2-D datamatrix bar code that can be scanned for automated data entry of variable information. Aventis claims it is the first to encode the variable data to a datamatrix code and print it on-line on a folding carton.
Like linear bar codes that are seen in abundance in just about any retail store imaginable, the 2D datamatrix code is a reference number that a computer uses to look up an associated record containing descriptive data. But a 2D datamatrix code, even though it's only 10 sq mm (0.02 sq"), can hold far more characters than any linear bar code, says Koll, including Reduced Space Symbology (RSS) codes. Aventis views 2D datamatrix symbology as a powerful new tool for added quality control and automatic data entry. For now, the codes are only scanned internally as an aid in quality control efforts. But early this year, in addition to the lot number, expiration date, and a German pharmaceutical industry code already contained in the datamatrix code printed on folding cartons, Aventis will add a unique serial number to the code. At that point, the datamatrix code will be scanned at distribution centers and, eventually, at the pharmacy itself. They'll have to install the proper scanning equipment, notes Koll. But he doesn't anticipate that becoming a hurdle.
On existing lines already at Aventis, the approach Koll has taken in bringing TIJ datamatrix coding to folding cartons is to insert a short conveying section immediately after the cartoner. Stacked above this conveyor is the Wolke m600 controller, a Siemens PLC and HMI panel for overall control of conveyor speed, and a control panel terminal for the Laetus COSI 820 scanner from Romaco that verifies the accuracy and scannability of every datamatrix code. Also mounted alongside the conveyor is the H-P TIJ print head that imprints the variable data—datamatrix code and human readable information—on the carton ends as the carton is conveyed by.
"Just 80 centimeters [31"] is all we need to insert a thermal ink-jet coding/verifying station between cartoning and checkweighing machines," says Koll. "The conveyor moves the cartons past the Wolke printer at 60 meters/min [197'/min]," he adds.
As with TIJ printing used on the blister packs, print resolution is 300 dpi. Koll says print quality and clarity is more important than ever with a datamatrix code because it's being scanned by a relatively unforgiving machine, not read by a human eye.
Compared to embossing, TIJ coding of variable data on cartons carries an upcharge of about 30 eurocents per 1ꯠ cartons, says Koll. He also points out that the area to be ink-jet printed must be uncoated. But neither of these constraints can even begin to deter Koll and his colleagues from implementing TIJ coding of variable data as broadly as possible. The firm is even pushing H-P and Wolke to develop their technology to the point where it can be used on film labels for vials or aluminum caps on glass jars. New ink formulations will probably be needed for these.
For more on packaging at Aventis, see story on page 63.
Companies in this article