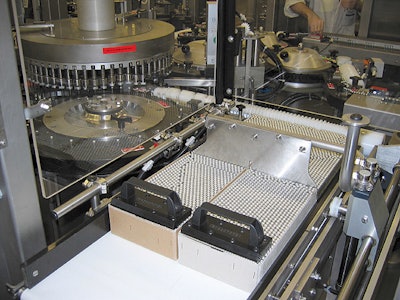 Secondary packaging of 1.7- or 3.0-mL glass vials reaches a remarkable level of sophisticated speed and automation at a new line installed this fall at Aventis Pharma in Frankfurt, Germany.
Pressure-sensitive labeling is at the lead, and it's done at speeds to 900 vials/min on a Krones twin-head system custom-built for Aventis. Robotic traypacking and cartoning are next, compliments of a system supplied by Dividella. And finally, bundling and robotic case packing on an integrated system from Pester brings the impressive assembly to an end.
To appreciate what Aventis has accomplished with this new line, it helps to look at how packaging was done in the past. Then, vials came with variable information preprinted on the side of the vial. "This required ordering and inventorying of vials well in advance of when they'd be filled," says Stephan Koll, electrical and process controls engineer at Aventis. "That made inventory difficult to manage."
The other drawback to the old way of doing things is that it relied too heavily on manual operations. After glass vials were automatically packaged in thermoformed blisters and a foil lidstock was heat-sealed to the thermoform, the 10-count blister packs were cartoned by hand and manually case-packed. Palletizing of cases was also done manually. Koll doesn't say how many operators were required, but throughput was 700 vials/min.
Simplified inventory
That was then. Now, the Krones labeler greatly simplifies empty-vial inventory because variable data like expiration date and lot number is no longer pre-printed. It's hot-stamped on the labels on-line by an Allen Thermo system that's integrated into the Krones dual-infeed/dual labeling head/dual outfeed p-s labeler. At the center of the Krones labeler is a 60-station wheel. It receives vials from two different infeed stations and takes vials past two labeling heads as it rotates. A discharge starwheel sends labeled vials to a reject conveyor if sensors detect a flaw in content or legibility. Acceptable vials are discharged into two separate conveyors leading into the Dividella robotic cartoner.
The Dividella cartoner has two identical vial-accumulation/loading stations. Upstream from them, a two-part paperboard carrier is automatically erected and formed from two flat blanks and then placed in a flighted conveyor that runs past the two vial-accumulation/loading stations. Vials move steadily forward from their accumulation area to a staging area where they are positioned horizontally, five on one side, five on the other.
When two paperboard carriers stop at the first vial accumulation/loading area, two robotic heads pick five vials each and fill the trailing five slots on both paperboard carriers. When the paperboard carriers arrive at the next vial accumulation/loading area, two more robotic heads pick five vials each and fill the leading five slots on these same two paperboard carriers. In the final station of the robotic cartoner, a delta-style robot picks continuously moving paperboard carriers, now loaded with 10 vials each, and places them in a folding carton, 10 carriers per carton. The cartons are automatically erected on a Mohrbach mandrel-style machine a short distance from the Dividella cartoner and are delivered on a conveyor that runs at a right angle to the Dividella system.
Before exiting the carton loading station, a Wolke m600 thermal ink-jet printer equipped with thermal ink-jet cartridges from Hewlett-Packard marks each carton with a 2D datamatrix code. Measuring just 10 sq mm, it's capable of holding far more information than any linear bar-code symbology, including Reduced Space Symbology. "It's possible to encode 52 alphanumeric characters in this small field," says Koll.
"One adjustment we had to make in this portion of the line was caused by the speed at which cartons move past this ink-jet print station," says Koll. "They move faster than 60/min, and that's the limit for the Wolke m600. So we designed the print head to move alongside the carton while the carton is being loaded by the delta robot. The print head then strokes back to print the next carton."
End-of-line automation
After the Dividella cartoner is a Mohrbach system that inserts an informational leaflet and folds and glues carton flaps. Cartons going to certain export markets get a p-s label. A Garvens checkweigher follows.
All that remains is an integrated bundler/
labeler/case packer/palletizer provided by Pester. Bundling and case packing machines in the integrated system are built by Pester. The labeler is from Schreiner and the robotic palletizer is from Kuka.
The new line has allowed Aventis to go from 700 vials/min to 900 vials/min with fewer operators than before, says Koll. In addition, on-line printing of variable data greatly simplifies ordering and inventorying of glass vials. There's even an environmental benefit gained. The previous package was a combination of three materials: thermoformed plastic, foil lidstock, and paperboard carton. Now the package is nothing but paperboard.
Little wonder, then, that additional lines for secondary packaging of similar packages are already on order.
For more on packaging at Aventis, see story on page 57.
Companies in this article