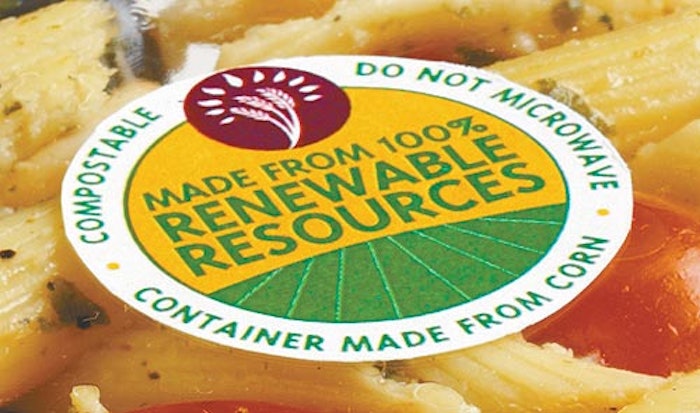 It wasn't too long ago that containers incorporating a modest percentage of recycled material represented the leading edge of environmentally responsible packaging. And while packagers continue to better the environment by using recycled content, a new category of environmentally friendly packaging materials has emerged: packaging made from renewable resources, including cornstarch, polylactic acid, and limestone.
One of the newest applications of "sustainable" packaging is for Milk Tray Deluxe Selection chocolates (Photo A), launched in Australia in November by London, England-based Cadbury Schweppes. The company is using Plantic™, a biodegradable polymer from Plantic Technologies, for a thermoformed tray that holds individual chocolates in a film-overwrapped paperboard box.
"We are using the Plantic material for our entire Milk Tray range of 125-, 250-, and 500-gram packs," says Karina O'Meara, corporate communications manager for Cadbury Schweppes' Asia Pacific region. "The material replaces polyvinyl chloride and PET trays and is more in line with our environmental policy. Using the Plantic technology offers us an opportunity to reduce the environmental impact of our packaging, without compromising the quality of our product or its presentation," she says.
O'Meara explains that Cadbury is "one of a number of signatories to [Australia's] National Packaging Covenant. As a result, we have an approved action plan that seeks to lessen the impact on the environment of all our packaging activities, as a continuing process. We are committed to finding ways to reduce the impact of our packaging."
The Milk Tray package includes the water-soluble, biodegradable Plantic trays, thermoformed by Plantic Technologies with cavities to hold the individual chocolate pieces. A glassine "topper" pad covers the chocolates. The tray of candy is held in a paperboard box that's printed with Cadbury's logo and text that says, "the tray in this box is made from Plantic™, an innovative, eco-friendly material that dissolves in water." The box is overwrapped within a recently downgauged PVC film. Packaging World asked about the economics of the change to the Plantic material, but O'Meara says cost information is kept confidential.
"Cadbury is the first company worldwide to offer the technology to consumers," notes David MacInnes, Plantic's managing director and CEO. Plantic is made from "non genetically modified cornstarch, a renewable, sustainable source that will biodegrade in almost any environment," he says. "The material uses standard twin-screw extruders and pressure thermoforming equipment in its manufacture."
The material is designed to impart clarity, easy denesting, low static, and good handling characteristics, in addition to its environmental benefits. Plantic recommends that after consuming the candy, trays should be deposited in compost bins or worm farms at home.
The tray recently won an EcoRecycle Victoria Sustainable Packaging Award in Australia. The awards recognize packages for "significant innovation in the design of packaging systems to reduce the life-cycle environmental impacts of packaging."
According to Plantic, the material is the result of seven years of research at the Federal Government-funded Cooperative Research Centre for International Food Manufacture & Packaging Science (CRC). Plantic Technologies was established by the CRC to commercialize the technology.
Corn use expands in Italy...
Based in Lainate, Italy, organic pasta manufacturer Biorigin announced in September that it would begin selling its fresh pasta products (Photo B) in clear containers made of Cargill Dow's NatureWorks™ PLA (polylactic acid).
This packaging material is derived from corn. Cargill Dow says the technology used to produce NatureWorks breaks down plant starches in the corn into natural plant sugars. The carbon and other elements in these sugars are drawn off through fermentation, separation, and polymerization, and are used to make plastic called PLA.
"At Biorigin, we are passionate about only using the best ingredients for our recipes," says Dario Muschio, the company's quality manager. "Our choice to use NatureWorks PLA affirms this commitment. We view the package as an integral part of our product. With PLA, we can offer a complete 'natural-in-natural' solution."
The pasta maker expects to use the containers for its ravioli, tortelloni, and cappelletti products, though at press time it was uncertain what sizes they would be sold in, and in what geographic markets. What was known was that the pasta-filled trays would be heat-sealed with a film, also produced with the corn-based material.
In addition to Cargill Dow, Biorigin also worked with packaging manufacturers in Italy to develop the packaging concept. Amprica S.p.A. thermoforms the trays, while Treofan supplies the lidding material applied to the tray.
As of late last year, Italian converter ISAP became the first converter to produce an egg tray from NatureWorks. According to Roberto Chiamenti, ISAP's export director, samples of the egg tray (Photo C), and a recently introduced "hinged punnet" container for fresh fruits and vegetables, have been well-received by retailers across northern Europe. He anticipates products reaching supermarket shelves sometime this year.
Separately, Italian hypermarket chain IPER has expanded its use of packaging made from NatureWorks PLA to a wider variety of foods, including tomatoes, ham, sliced salami, and cheese. It's also using paper bread bags with film windows made of PLA. The material is being used at IPER outlets in northern and central Italy.
"Switching to nature-based packaging is helping us bring new attention to our fresh foods," says Mario Spezia, IPER sales director. "PLA offers a high-quality container and gives us an opportunity to market the environmental benefits."
...and in the United States
In the United States, the use of NatureWorks continues to grow. For instance, Boulder, CO-based Wild Oats Markets is replacing its traditional plastic deli containers with corn-based versions (Photo D). The natural and organic foods chain was the first food retailer in North America to use NatureWorks PLA (see packworld.com/go/c091).
Now Wild Oats plans to roll out the "made from corn" containers throughout the United States for cold foods such as fruit, pasta, salads, cheese, and desserts. "Not only are the containers 100-percent natural," exclaims Bruce Bowman, Wild Oats' senior vp of operations, but "they're as functional or better than the plastic tubs the industry uses as far as strength, clarity, and sealing in the flavor and aroma of our deli products. Plus, customers will be able to return them and we'll take them to a local composting facility."
Bowman adds, "We're developing a relationship with a local vendor who can collect the returned containers, and after a 47-day biodegradable process, bring back commercial compost that customers can buy and use as all-natural plant food for their gardens."
Meanwhile, Beaverton, MI-based tray and deli container manufacturer and distributor Packaging Direct, Inc., announced last October that it is introducing a line of fresh food containers made from NatureWorks PLA. PDI will make clear, hinged containers for produce, specialty containers for fresh herbs, garnishes, and seasonings, as well as 10" and 13" party platters, with a variety of lidding options. PLA "is a nature-based solution that lets the freshness of the food inside shine through in a clear and attractive food container," notes Joe Oberloier, president and owner of PDI.
Custom sheet manufacturer Ex-Tech Plastics, Richmond, IL, recently began producing extruded rollstock from PLA for thermoformed packaging and foodservice items. "NatureWorks yields quality sheet with good strength and outstanding gloss and clarity," says William Riesbeck, Ex-Tech's vp of sales and marketing. "It exhibits even distribution across the web, making detailed, quality parts, with characteristics similar to PET, for excellent thermoforming performance."
Foodservice wraps
In December, Hood Packaging reached a Memorandum of Understanding with EarthShell® on a licensing agreement in which Hood will manufacture and distribute foodservice wraps and similar products in North America made from EarthShell Packaging® material. Made from a composite of limestone and renewable starch, the material is typically used for plates, bowls, hinged-lid containers, and sandwich wraps. McDonald's has used the material for sandwich containers.
"We're taking the typical 15-pound tissue paper used for fast foodservice wrappers and extrusion-coating the EarthShell biodegradable polymer onto one side of the wrap, rather than using a wax," explains Ross Barrett, general manager for Hood Packaging. Based in Burlington, Ontario, Canada, the company makes plastic film and bags, paper bags, and coated and laminated papers.
For foodservice wraps, Hood will "buy resin and extrude it through a die onto tissue rollstock on two Black Clawson machines," he explains. The tissue paper, he says, is first printed flexo in up to four colors before the coating process. "It could be printed in-line, but we are not equipped to do that today," he notes. Afterwards, the coated material is sheeted to the customer-requested size in a separate step.
"The majority of our customers are industrial users, so this is really a totally different market for us," he notes. "This is an important opportunity for market expansion."
At press time, Hood was in the process of preparing printed 12"x12" and 12"x15" wraps to market to major fast food companies in North America. Afterwards, he expected an end user would conduct a field test of the wrap before commercialization, which Barrett hoped would be by the end of this March.
Barrett does say there are processing challenges. "It's more difficult to process than your typical extrusion-coating polymers, and that's why nobody's done it to this point. But we've run this several times on our equipment and we can commercialize the process."
The big attraction, he continues, "is that this is a compostable material. It does not need to take up space in a landfill, and it can be reused in another form. We're not counting on government regulations to market this for us. We think the fast food industry in both Canada and the United States has an interest in being good corporate citizens. If you have your name printed on a wrapper, you don't want the wrap seen blowing down a highway. This product can be used as a compostable material."
What about its cost compared to traditional low- and linear-low density polyethylene coatings? "It's a premium product, but it's not [priced] at a significant premium that would discourage [companies] from purchasing a product that is biodegradable, compostable, and better for the environment," Barrett says.
While the Hood Packaging/EarthShell partnership appears close to producing commercial packaging, it's worth noting that another Earthshell partnership, this one with Finland-based Huhtamaki, is in the process of being dissolved (see packworld.com/go/c092).
In Part II of this report, PW will explore how several well-known manufacturers are using or plan to use packaging made of renewable resources.
Companies in this article