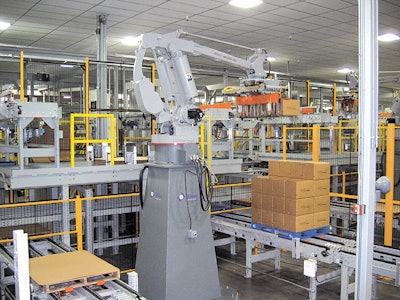 A highly flexible end-of-line palletizing solution is among the packaging highlights at the fifth and newest production facility built by American Italian Pasta Co., headquartered in Kansas City, MO. Located in the Phoenix suburb of Tolleson, AZ, the new plant sends corrugated cases from eight packaging lines to four robotic palletizing cells engineered and installed by Alvey Systems. The articulated-arm robots are from Motoman.
This impressive use of robotics represents a significant departure from AIPC's approach to palletizing in its other plants. There, too, Alvey systems do the palletizing. But cases are accumulated in great quantities on long conveyor lines and then released one pallet load at a time to a single high-level-infeed palletizer that accommodates cases sent by five or six packaging lines.
Space constraints at the Tolleson facility left no room for accumulation of cases on long conveyors. Thus the robotic palletizing cells. The first was installed in November '02, and the most recent went in about a year later.
Each palletizing robot sits between two pallets and between two overhead case infeeds. Each case infeed is from a different packaging line. When a predetermined number of cases are in position on the overhead case infeed, the robot pivots from its central position and lifts those cases so it can place them on a waiting pallet; when one layer is finished, a second layer is begun. At the same time, the other overhead case infeed station is busy collecting a load of cases in need of lifting, so the robot goes for those and places them on their pallet. A combination clamp-and-vacuum end effector on the robot adds yet more versatility to the highly flexible robotic palletizing system.
According to AIPC engineering manager Doug Delamore, the variety of pallet patterns that each robot can handle is impressive, and making a change to a new pattern couldn't be simpler.
Robots work in 3-D
"All the operator need do is enter the SKU on a touchscreen panel," says Delamore. The computerized control system does the rest. "The robots work in three dimensions," adds Delamore. "So any slight change in case height, width, or depth requires a new program. But the programs are all stored in memory, so it's simple to bring up a new program at the touchscreen panel."
When a pallet load is complete, powered rollers propel the pallet forward and a rail-mounted car comes to receive it. Also part of the overall Alvey system, this car constantly traverses back and forth in front of the discharge stations of all four robotic cells. It then takes filled pallets to a single discharge point, where a powered roller conveyor carries the pallets through a Lantech stretch wrapper.
Not only are full pallets handled in this automated way. Empty pallets, too, are automatically fed in from the side opposite the full-conveyor handling area. An operator on a forklift loads two pallet magazines with empty pallets. When any one of the four palletizing stations needs a fresh pallet, a signal is sent to a rail-mounted car that goes to one of the pallet magazines to get a fresh pallet. Also applied automatically is a slip sheet. The fresh pallet is then transferred to whichever robotic cell called for it.
Eight packaging lines
Feeding these robotic palletizers are a total of eight packaging lines—three for long goods, five for short goods. Typical of these eight lines is Line 3, where short goods are packaged in flexible film pillow-style bags in sizes ranging from as small as 8 oz all the way up to 10 lb.
At the head of Line 3 is a Triangle scale/bagger combination with a rated speed of 100 bags/min. A linear, as opposed to circular, combination scale, the machinery has nine weigh hoppers above 18 holding hoppers from which final weight combinations are made. With each cycle, the scale's PC picks the right combination of holding hoppers to release into a bag.
Integrated within the bagging machine is a thermal-transfer date/production coder from Markem. Belts on either side of the forming tube move continuously to draw film through the machine on a continuous-motion basis. Sealing jaws on the bagger move along with the film in a downward motion and then stroke back up to close on the next bag. This makes it possible for the film to move continuously rather than on an intermittent-motion basis. Consequently, speeds are higher.
The Triangle equipment on Line 3 is more flexible than some other f/f/s systems operating at the Tolleson plant. "The jaws are wider, which enables the machine to accept wider films if needed," says Delamore. "Even the framework overall is a bit wider than some of the other baggers we have."
Changeover from one bag size to another on the Triangle machine takes about 45 minutes. "Changing the forming collar itself can be done in 10 minutes," says Delamore. "But you also have to thread the new film and clean out all the pans in the product pathway." Films vary from simple polyethylene to laminations of PE/polypropylene or PP/PP, says Delamore.
On to case packing
Finished bags drop out of the machine and are conveyed directly to a Fallas case erector/packer. But first the bags pass through a metal detector from Fortress Technologies and a checkweigher from Heat and Control.
Exiting the case packer, cases move through a 3M top-and-bottom taper. A Markem hot melt ink-jet case coder puts a date code and a best-if-used-by code on each case. With that, cases enter an elevator that carries them to the robotic palletizers.
Just one operator is required for this line, says Delamore.
"Packaging materials like corrugated case blanks and flexible film are brought to the line for the operator," says Delamore. "But it's his responsibility to load the materials into the machines." (See page 33 for a description of AIPC's self-directed workforce.)
With all four robotic palletizing cells and the eight lines that feed them now running smoothly, Delamore is pleased with how it's all turned out.
"The robots enabled us to avoid miles of ceiling-level accumulation conveyors feeding conventional palletizers," says Delamore. "I like the smooth flow."
Companies in this article