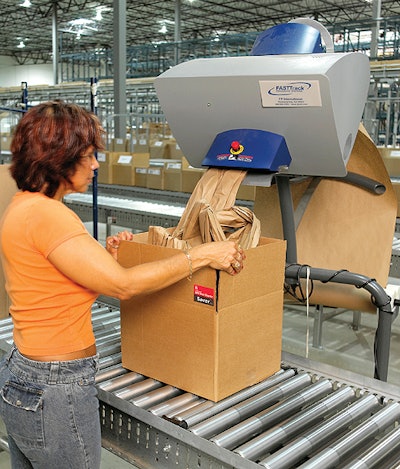 When you warehouse and ship for blue-chip customers, you need to be ready to meet their needs not only in timing, but also in the form of packaging. That's what Dart Warehouse does from its 721ꯠ-sq' facility in the Chicago suburb of Naperville.
Dart is a national company, and its Naperville facility, build in 1999, is one of its newest. When completed, it more than doubled the space of its previous rented warehouse of 300ꯠ sq'. In terms of the package protection it offers, this Dart facility's management is a big believer in FP Intl. void-fill products. That includes Flo-Pak expanded polystyrene "peanuts."
"I've been using Flo-Pak since 1995," says Herb Duggan, general manager of the Naperville facility. "When we built this warehouse, we added a newer, larger Flo-Pak system with four Bulk Air storage hoppers that feed individual dispensers suspended above packing lines. It's our primary packaging and our first choice. It's economical, it's fast, and it provides excellent protection. When you ship as many parcels as we do, we need packaging we can rely on."
The facility provides third-party logistics services for accounts like Sears, Kellogg's, and ubid.com. During peak periods, this warehouse will ship as many as 45ꯠ parcels each day.
While it's used the Flo-Pak EPS peanuts since it opened, Dart's warehouse added one of FP Intl.'s Cell-O air cushion makers two years ago. And early last year, the facility installed the first of its FP Intl. FastTrack machines for producing crumpled paper cushioning. The Cell-O air cushion system is installed in a satellite, secure, locked storage area where jewelry, watches and other high-value small goods are packed. Unless, of course, if a customer decides to use air cushioning; the machine can then be moved into the main warehouse area.
Makes recommendations
The decision about what type of void-fill cushioning to use is—like other packaging decisions—left up to the customer. However, Dart influences that decision, using the data from its years of shipping experience.
"We consult with our customers about the type of loose-fill to use," Duggan says. "Instead of simply asking what they prefer us to use, we run tests and develop our recommendations. So it's really by mutual agreement.
"We're able to show them, for example, a history of reductions in damage and other statistics about shipping with the various types of loose-fill. We have a lot of documentation about how various types perform for shipping different kinds of parcel loads," Duggan points out.
Flo-Pak, with its dispensing stations, is easily the fastest system, so it's used for Dart's highest volume customers for books to electronics. At these pack stations, workers load products into the labeled box and a foot pedal is used to open an overhead valve that releases the PS peanuts into the box below on a roller conveyor. Any peanuts that might not be loaded in the box drop through the conveyor into a recycling system that blows them back up into the hopper. "That really helps us keep our plant clean," adds Rich Vitek, director of operations. Many of its lines employ tape box sealers from 3M Co.
Paper for teachers
Canter Educational Products, an educational publisher of lesson plans, books, videotapes, and workbooks, wanted its materials shipped using crumpled paper. Teachers, its primary customers, didn't like PS peanuts nor were they satisfied with the inflated air cushions that Dart offered. So, for awhile, Dart packers tore paper from rolls and crumpled the sheets by hand to put into the boxes.
But this was both messy and slow, and packers weren't happy with it. So Dart contacted FP Intl. and eventually bought the first of two FastTrack FS1 machines. "We put it on the pack line beside the conveyor at one station," Vitek says. "It's operated by a foot pedal, and the machine automatically feeds, crumples, and cuts 100%-recycled kraft paper at speeds to 6 feet per second.
"Immediately, there was a huge improvement in output, and at least a 50% increase in our productivity, maybe more," Vitek adds. "Many of our packers can now do two packages in the time it used to take them to do just one. And, believe me, the packers really like the ease, convenience, and speed of the FastTrack machines." The plant added its second FastTrack, and it plans to add more this year.
The machines require no real training time, Vitek adds. "Once you show a person how to operate it, they're ready to go. It's been a great improvement for us."
Dart's warehouse operates what it calls one "extended" shift/day, five days/week. "This can range from seven to 12 hours, depending on volume," points out David Sanchez, assistant director of operations. "No matter how long the shift, the FastTrack machines operate almost continuously. They've proven to be reliable and dependable." The warehouse sends its parcels out by UPS, the Postal Service, or Federal Express, but UPS gets the bulk of its business.
"Canter Educational Products was the driving force behind our buying these paper machines," Duggan says. "But now we use these machines for some other customers too. We're real pleased with them."
Companies in this article