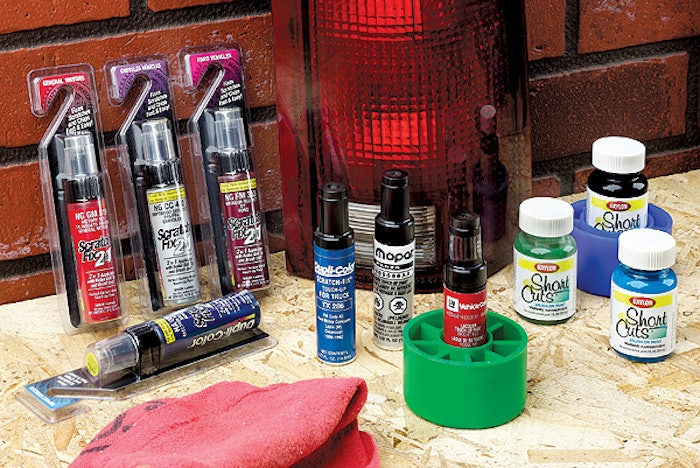 In this year's fourth quarter, Diversified Brands introduced Scratch Fix 2in1, an innovative automotive touch-up paint that includes two applicators in one base cap, enabling consumers to repair car scratches with either a pen-like roller ball tip or a tapered brush.
To roll out the Dupli-Color-brand Scratch Fix 2in1 paint, Diversified Brands added a customized packaging line early this year at its Elk Grove Village, IL, home. Integrated by Advantage Puck, the line reduces container handling and labor costs compared to a previous line used for Scratch Fix paint, which included only a brush applicator.
Scratch Fix was sold only in an aluminum container. Scratch Fix 2in1 replaces Scratch Fix. And while the aluminum tube will still be produced for certain customers, it will be sold at retail primarily in plastic containers blow-molded in Southeast Asia and supplied by Eversharp Products.
Diversified Brands refers to the cylindrical containers as tubes, but these are not of the crimped variety. Instead, they stand on a virtually flat base. They measure about ¾" in diameter and stand nearly 4½" H.
The container is made of Barex® resin from BP Chemicals, an acrylonitrile co-monomer that offers chemical resistance. It was selected by Diversified Brands after company research determined that it was the most compatible material for the automotive paint.
Why the change to plastic? "It makes it easier for the paint to flow to the pen tip applicator," explains John Dubots, site manager at Diversified Brand's Elk Grove Village, IL, facility. He admits, "plastic is a lot more costly than aluminum, but our marketing research indicated it was the right package for this product."
The new container will be marketed at a higher price point than the aluminum tube, but again, the company's marketing research indicated that consumers would be willing to pay for the ability to apply paint with either the pen tip or traditional brush in one package.
Line efficiency
The new paint filling line, seen during a recent PW visit, provides considerable flexibility for Diversified Brands in that it handles plastic and metal tubes, as well as 25/8" H x 13/8"-diameter glass jars.
The line also delivers greater efficiency than its predecessor. "Packaging line changes were necessary," says Dubots. "We needed material flow improvements because we had been handling the previous product multiple times before it was shipped out the door. There's a cost each time you touch it."
In the past, relates Chuck Guy, the company's process engineering manager, the aluminum tube was made of six pieces that were put together mechanically in a separate operation. "Then the tubes were put in a tote and transported to another department, labeled automatically, packed off again, transported to a packaging department into a blister-pack, or put into a shipping case."
Now, Diversified Brands benefits from a streamlined process in which the aluminum tubes are purchased preassembled into two components, by Team Packaging. Eversharp Pen supplies the plastic tube in two pieces, a brush/cap assembly and the tube or bottle assembly.
Asked about the economics of that change, Guy says, "it doesn't add to our costs. It actually saves us a lot of time. Also, we would have needed to buy additional machinery on this line to assemble these components."
Besides wanting to reduce line handling, Diversified Brands, a division of the Sherwin-Williams Consumer Group, sought to rev up the line speed from its former 70 pack/min rate so that the 131꼊 sq' plant could improve its capacity.
The company began to research a new line in late 2001. "We had been working on the project for about six months," says Dubots, "and we were struggling to find someone who could understand paint filling. Advantage Puck spent a lot of time at our plant and we developed a good partnership. Their approach was to analyze our needs. We kept pushing for what we wanted, and Advantage Puck had the resources and the talent to custom-design and build a system for us."
Automated handling
Besides integrating the line, Advantage Puck also supplied several critical pieces of equipment on the line, including a glass jar feed table, puck "inserter" to deliver pucks for the different package types, two 10-head independent fillers, an eight-station rotary capper, a first-in, first-out accumulation table, an in-line puck "remover" that returns pucks to the beginning of the line, and the 2.6"-outside diameter, 1.5"-H solvent-resistant polypropylene pucks themselves. Line control functions are handled by Allen-Bradley 5/05 and 5/03 PLCs from Rockwell Automation.
At the beginning of the line, an operator dumps plastic or aluminum tubes into a hopper/conveyor/feeder bowl machine supplied by Hoppmann. Tubes are conveyed up a cleated-belt elevator and fed to the sorting bowl of the centrifugal-style sorter. The unit orients tubes to a vertical position so that each tube is inserted into a puck by the RPI-150-C puck inserter. Pucks are color-coordinated, green for tubes, blue for glass bottles. A red puck is used to alert operators that the container inside represents the last container in that batch.
Containers enter the upper level of a two-pocket starwheel. As the starwheel rotates, the container travels on a deadplate captured in the pockets. At the end of the deadplate, the container gently drops into the puck below, then is conveyed to one of the two consecutive Model PDF-10-200 EXP intermittent-motion piston fillers.
Quick changeovers
Having two units allows one to function when the other is being changed over for another product or container. An infeed starwheel indexes containers into position under the 10 filling heads. Nozzles dive partially into the threaded tube to prevent splashing of paint outside of the containers during filling. Shut-off nozzles and a drip tray also prevent paint from dripping onto containers.
"The key for us for the whole project was the filling equipment because of our need for quick changeovers," says Dubots. "We have 212 different formulas for this line and we may make as many as 25 changeovers per shift. With this line we can change conveyor heights and pucks and handle changes quickly."
Switching from one filler to the other is done in less than a minute with a quick adjustment on a PLC. It takes about five minutes to adjust coding, labeling, and blister equipment. Changeovers are done without tools, says Guy.
Downstream duties
A Hoppmann cap hopper/conveyor/feeder that holds as many as 20ꯠ brush/cap assemblies delivers the preassembled caps to the capping station. Tubes are conveyed around the eight-station RC-6C Advantage Puck capper. The cap/brush assembly enters from a pick-up area in the main turret, which has eight cap chuck stations. A cap chuck picks up an assembly. As the machine rotates, a cam lowers the chuck. The threads of the tube and the spinning cap engage, and the machine applies the required torque to complete the capping function.
Pucks carry the capped tubes along a conveyor to a 36"-W x 96"-L accumulation table that holds up to 500 containers, using a first-in, first-out method. Downstream, a Model ILPR-150 puck remover uses gripper belts that hold the tubes while pucks continue onto a discharge conveyor that conveys them back to the beginning of the line.
Meanwhile, side gripper belts hold tubes as they pass a Diagraph Linx 6800 small-character ink-jet coder that applies a Julian date code, shift number, and part number to the bottom of the tubes as they're conveyed into a dual-head Series 3 Tronics America Zero Downtime labeler. Each tube is contained in a "pocket" between rollers on a roller chain conveyor. An overhead wrap belt spins the tube as the label is applied. Tursso supplies the roll-fed wraparound pressure-sensitive labels.
Labels are printed with various details including the car maker, paint color and number, and a bar code. "The tube is opaque and you can't see the true color of the paint in it," says Dubots. "And since paint settles in the container when displayed, we represent our paint colors with our label. The labels go through an ink-matching process to reflect the correct paint color."
Tubes continue along an S-shaped conveyor to a downstream rotary blister machine from Algus Packaging. Operators load tubes into three loading sections, each of which includes eight stations. The machine drops a front polyvinyl chloride blister into each cavity before the tube is manually inserted. The machine indexes to the card insertion station where a paperboard backing card is added prior to the bottom blister. The blister halves are sealed ultrasonically at the next station on the Algus machine. The three ultrasonic weld heads are supplied by Dukane Corp.
"We had to weld the front and back of the blister ultrasonically because paint is a flammable material, so you don't want to heat-seal it or use radio-frequency sealing that can occasionally throw a spark," says Guy. "The ultrasonic weld uses high-speed vibration to press and seal the two blister halves.
Blisters are hand-packed 12 into each shipping case. Cases receive a bar code on another Diagraph coder before they're palletized, stretch-wrapped, and trucked to Sherwin-Williams' distribution center in Effingham, IL. Products are sold on J-hooks at retailers throughout the United States and Canada.
Bounty of benefits
Diversified Brands expects to produce four million plastic Scratch Fix 2in1 units annually, along with three million aluminum tubes and one million glass jars. "And we purchased the line so that it has additional capacity for future demand," says Guy.
Compared with the equipment used for the former Scratch Fix line, the new line "has improved our internal work flow, and our ability to service our customers," he says. That's especially critical since the company is committed to servicing customers in 24 hours or less.
And at 140 units/min, the line doubles the speed of the former line. "There's less handling, so it's less labor-intensive," Dubots adds. "The justification for buying the line was to go to a leaner manufacturing set up. We've done that and we're running it on a two-shift, six-day-a-week schedule to support the load-in of the product. We'll move to five-day-per-week operation after that.
"As a conservative company, we expect certain return-on-investment savings before we commit cash to an investment. Looking back now, we would have been dead in the water on the new product launch without the support of this new automated line. The entire project will pay for itself in less than two years," Dubots concludes.
Companies in this article