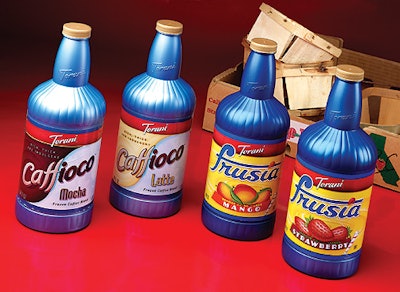 Cool-looking bottles of Torani brand smoothie blends make the creation of chilled beverages a whole lot smoother.
For foodservice accounts, R. Torre & Co., South San Francisco, CA, markets Caffioco coffee blends and Frusia whole fruit purees in high-density polyethylene bottles with shrink-sleeve labels. The shelf-stable products are used as the base mix for frozen concoctions at cafes, restaurants, and bars.
Caffioco frozen coffee blend debuted in 64-oz blue pigmented bottles in March 2002. Frusia whole-fruit purees were introduced in similar bottles—pigmented a darker shade of blue—in March 2003. The bottles' blue hues connote the "coldness of the products," says foodservice marketing director Kira Klaus.
By contrast, the bottled products' reception has been anything but chilly: "The reaction has been incredibly positive," says Klaus.
The custom-designed bottles are blow molded by Premier Plastics with a recessed, smooth central panel to accept the sleeve labels. Premier supplies the bottles to Torre's contract packager predecorated with the 2-mil monolayer polypropylene stretch sleeves, which are flexo-printed in eight colors. A varnish protects the sleeves from scratching, tearing, and handling abuse. The bottles are supplied to Torre's contract packager in two-count corrugated reshippers, though Torre declines to identify the contract packager or its label supplier. The hot-filled bottles use an induction-sealed, gold-colored 38-400 tamper-evident closure and liner from Top Seal. Product shelf life is one year.
The duo product lines result in Torani Frozen, the company's "complete frozen beverage solution for operators," according to Klaus. The products include seven Frusia flavors and two Caffioco flavors, mocha and latte. Operators add the product to ice, milk or other liquid, and then blend for a chilly concoction. The products' sugar content keeps them shelf stable after opening.
Smoothie innovation
Klaus feels that Caffioco is an innovation in the category, which before has been primarily powdered mixes. Caffioco is made with heavy cream and 100% pure Arabica coffee.
The bottles represent a dramatic packaging change for Frusia, which previously had been distributed in 64-oz plastic tubs. Since 2000, operators had to pump or scoop Frusia from the tubs. Compared to the tubs, the more convenient-to-use bottles present a "smaller footprint, important for both café and restaurant operators," says Klaus.
The bottles offer more than an improved, more compact presence on operators' shelves.
"They're easy to pour from," says Klaus. "That's crucial within the restaurant industry, especially in bars where operators look for ease and speed of preparation with pourability so they can easily pour the product into a blender."
Torani customers can also use an optional, specially developed pump (see sidebar p. 182).
Product pricing was unavailable since prices vary by market and because the products are sold through distributors. Klaus says that the cost for Frusia for operators is about 40¢ per 8-oz drink, Caffioco is about 35¢ per 8-oz serving. Operators add two ounces of the product to prepare a 16-oz drink.
Label graphics are from package design firm PrimoAngeli:Fitch. "They're one of the top designers in the country," says Klaus. "They're fabulous, and do all our design work."
Split design
Klaus says one of the major design goals was to achieve consistency between the two product lines "for a unitized look as a frozen beverage line." She says it was important that Caffioco illustrate the blend of coffee and flavor; for mocha, that was chocolate, and for latte, a vanilla base. She points to the "split" illustration on the label front—light blue on one side, and a swirl of chocolate or beige on the other—as reflective of that. A subtle ice crystal pattern can be seen in the label's light blue background.
The Frusia product also changed its shipper, switching from a reshipper containing three tubs to a two-pack of bottles.
"The three-count pack was difficult to ship, while the two-pack is more stable for stacking," says Don Winner, vice president of operations. The 200# test, B-flute corrugated reshippers, manufactured and flexo-printed in one color by Heritage Paper, are provided through Premier. A white box with blue graphics is used for Caffioco, regular brown kraft for Frusia.
"Frozen beverages are very popular and that popularity is continuing to grow in cafés and restaurants," says Klaus. "This was a great team effort by our company to launch the bottles, and we're very excited about the results."
See sidebar to this article: Pump effort prove fruitful
Companies in this article