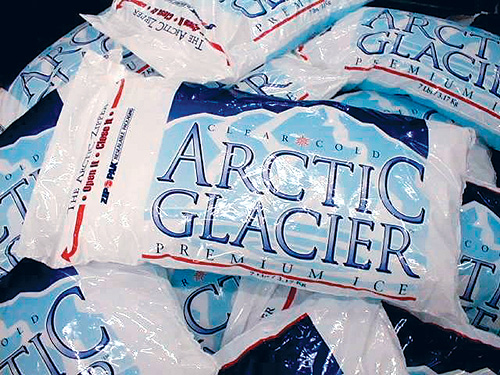 "Adding zipper resealability has given us the competitive advantage over other ice brands packaged in traditional non-resealable bags," says Deina Merschbrock, director of sales and marketing at the West Point, IA, firm. "We gained increased market share because consumers preferred the added convenience of easy storage provided by our quality brand."
The increase in sales makes it easy to justify the increase in materials cost that the zipper adds, says Merschbrock. Arctic Glacier's 5- and 7-lb bags of ice sell for anywhere from 99¢ to $1.39.
To support this application, Zip-Pak customized one of its Ultraseal™ zipper profiles to withstand the weight of 5- and 7-lb bags of ice throughout handling and distribution. The zippers are applied automatically to bags during forming, filling, and sealing. Roll-fed bag material is a 2-mil linear low-density polyethylene that is printed flexo in five colors by Norcan Flexibles.
Arctic Glacier worked closely with Zip-Pak and Hamer, LLC, a manufacturer of automated packaging machines, to retrofit existing Hamer Model 535 ice-bagging machines. Hamer not only supported the conversion of existing machines during initial startup, but fully designed the zipper applicator technology specifically for horizontal f/f/s machines.
According to Merschbrock, Arctic Glacier is already being referred to as "the people who put zippers on their ice bags." She adds that plans are underway to convert all ice packing lines to the new Zip-Pak zipper.
Companies in this article