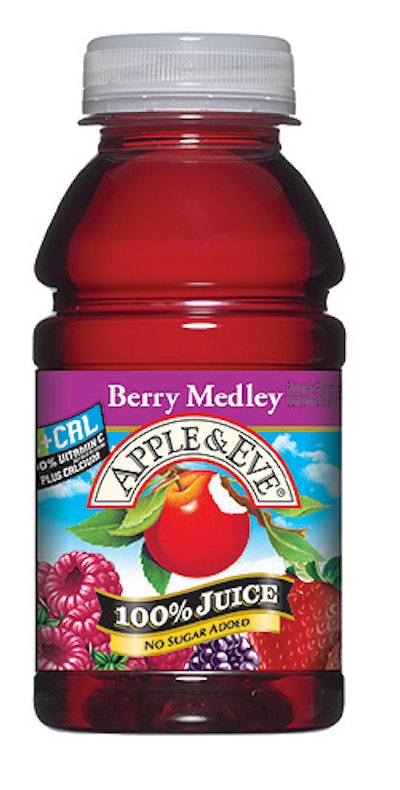 The bottle is a joint development between Graham and BP Chemical, which provides the Amosorb™ DFC oxygen scavenger technology.
"When blended into a single layer of PET, the Amosorb helps create a barrier that protects oxygen-sensitive beverages such as fruit juices," says George Peterson, a business director in Graham's Food & Beverage Business Unit. Graham calls the bottle Monosorb™.
Roslyn, NY-based Apple & Eve began to fill the new bottle in July. It will replace a nonbarrier 10-oz bottle sold exclusively through club stores in a 24-count multipack. "The new barrier bottle will allow us to expand into different distribution channels," says Mary Ellen Brothers, Apple & Eve purchasing manager. "We could sell through club stores because of their rapid turnover. Now, we'll look at other channels where the shelf life needs to be longer, especially because the product will move through customer warehouses. So the time between packing and getting product into the homes is extended."
The shelf life of the new container will be nine to 12 months, says Jeff Damiano, director of marketing and new product development at Apple & Eve. "Especially in the single-serve arena, a company needs to be as diverse as it can to service different trade requirements," he points out.
Historically, the company had specialized in multi-serve packaging, Brothers says. "We began moving into single-serve packaging about 18 months ago," she says, "and it's almost doubled our sales volume." Apple & Eve packs juices into a 16-oz bottle with a barrier coating, primarily for direct-store-door delivery to convenience stores and other carry-out locations.
"The decision to go to this container was to enhance the quality of our products, not only in taste, but also in color integrity," Damiano says. "We had to make sure the product color looked vibrant and didn't deteriorate." In single-serve, there were a lot of factors to consider, including the colder than normal weather in the Northeast in early summer. "Some of these products could stay on shelves longer or even stay longer in customers' warehouses," he says.
Monosorb PET bottles, Graham says, can be recycled like other PET bottles, and can be reused for food-grade packaging. BP's Amosorb DFC additive received the Champions for Change award from the Assn. of Postconsumer Plastic Recyclers. —AO
Companies in this article