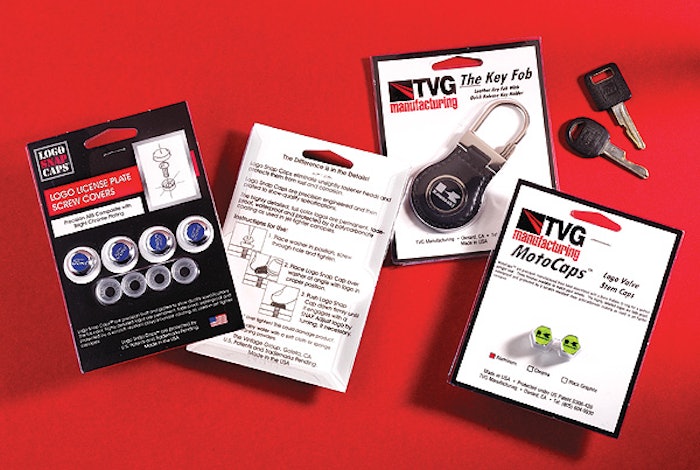 For about seven years now, The Vintage Group of Oxnard, CA, has been making car and motorcycle accessories sold through car dealerships and other specialty outlets nationwide. Its product line includes valve stem caps, key chains, logo license plate bolts, and other items comparably sized. Packaging has always been a simple plastic bag filled by hand and topped with a paperboard header card manually stapled to the top of the bag for pegboard display.
But packaging took a dramatic turn recently after a special project that TVG executed for Harley Davidson. For this project, the Milwaukee-based motorcycle maker steered TVG to packaging supplied by All About Packaging.
"Our experience on that project was so positive we later approached them to work with us in redesigning the packaging for our core product line," says TVG president Tom Johnsen. "They had a lot of good ideas."
When the dust settled, the plastic bag and header card formerly used by TVG had been replaced by a thermoformed polyvinyl chloride blister and a paperboard slider card that slides into flanges formed around the perimeter of the blister. Card and blister are stapled for security. Five blister varieties accommodate all five product shapes carried by TVG in its core product line.
The 18-pt SBS slider card is the same for all five items, regardless of whether the item sports a Ford, Lexus, or BMW logo. All About Packaging has the cards flexo printed in three colors by an outside converter in large quantities. Graphics and copy printed on the cards consist of nothing more than a black border around the entire perimeter, the company logo, and the words "TVG manufacturing." This makes the same card suitable for any of the items among TVG's core products.
Variable information is later printed by All About Packaging. As Johnsen puts it, "They store large quantities of our generic slider cards and then imprint variable information on the cards as we need them. Not only that, they also supply our thermoforms. I don't have time to coordinate one supplier for a slider card and another supplier for thermoforms. That's what I love about the service All About Packaging provides. They do it all for us."
UV-cured inks
One-color imprinting of variable information is added to the slider card on a system that All About Packaging calls the Verimax®. Tom Schein, president of All About Packaging, is guarded in his description of the Verimax, saying only that it's a blank-fed press customized to do ultraviolet-cured inks.
When TVG sends in an order for slider cards, typically in the range of 10ꯠ to 15ꯠ units, All About Packaging sends the required number of cards through the Verimax press to imprint product identity and descriptive copy on the front of the cards. Photopolymer printing plates can be quickly changed and the cards can be sent through a second time to print additional information on the back.
Thermoforming at All About Packaging is done on a Brown 2500 series. Utilizing specialized quick-change mold inserts that can be mounted without tools by flipping a lever, All About Packaging can complete a changeover from one blister to another in no more than 15 minutes, says Schein.
According to Johnsen and Phoenix Fallon, chief executive officer of TVG, the benefits gained since the new packaging was implemented last November include the following:
• Ordering and inventory have been greatly simplified now that a single generic slider card can be customized as needed. "We used to have all our header cards printed with all information that was required for that particular product," says Phoenix Fallon, CEO of TVG. "Now we can order one huge quantity of a single card and individualize them economically."
• Quality of appearance on the peg display has been improved.
• Labor cost has been reduced by 75% because the blisters and slider cards are so much easier to load and staple by hand than bags and header cards.
"By using the same slider card with special short-run imprinting information for each product, we cut costs significantly," says Johnsen. "All About Packaging is now working on a similar project for us for a new line of products that we're producing for Yamaha Motor Corp. It will save nearly $10ꯠ in packaging production costs on three new products."
Companies in this article