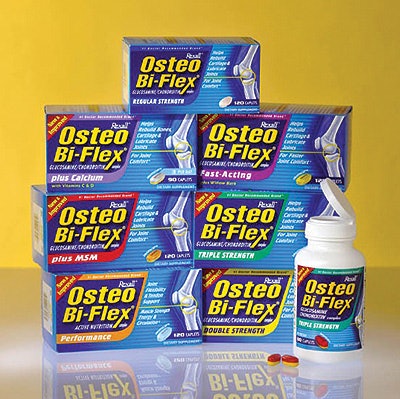 The improvements, which reflect input from consumers and health care professionals, include a revitalized look and an easy-to-use flip-top cap.
"The improvements in the packaging and caplet design have been introduced to help alleviate some of the challenges older consumers or those with decreased mobility may face by providing easy-to-open, flip-top caps, and easy-to-swallow caplets," explains Al Baumeler, senior director, joint care and specialty supplements.
With a simple flip, the cap easily opens or closes. Once the inner safety seal is removed, the new cap can be opened effortlessly with one hand—without twisting. The 45-mm closure is injection-molded of polypropylene by Rexam Closures & Containers. It has a 1¼'' wide opening for dispensing. The stock white pigmented high-density polyethylene bottles are blow molded by Setco.
FutureBrand Coleman executed the graphics design. Rexall says that the major design goals were improved packaging "architecture" that includes better branding, a stronger pharmaceutical/analgesic look, color-coding of formulation varieties, and clear communication of key brand messages. The color coding helps differentiate the seven Osteo Bi-Flex formulations to make it easier for consumers to select the correct product, Baumeler says. Additionally, the label information is clearer, easier to read, with simplified daily dosing directions, according to Rexall. The VariMed division of Uni-Label & Tag flexo-prints the 50# semi-gloss paper substrate in seven colors plus UV coating.
The design also allows the 16-pt SBS folding cartons, from Innovative Folding Carton, to be displayed vertically or horizontally since one panel is devoted to each orientation. —RL
Companies in this article