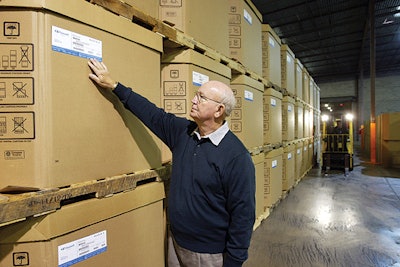 glrco inkdPaper and paperboard have been used for packaging since dirt floors were common. The material has undergone a lot of refinements—especially since the advent of recycling—so that now there are more grades of paper than just about any other packaging material.
And those refinements continue today as papermakers continue to reinvent the basic product. For example, multiwall corrugated has long been used to create intermediate bulk containers for a wide variety of materials. Today, by coating one of the liners of that corrugated, one producer, International Paper, has developed a new IBC that can withstand even the difficult humidity of the Gulf Coast without losing much of its strength.
Or in the case of The Colad Group, a conventional solid-bleached-sulphate sheet can be transformed into a luxury container by using a variety of converting techniques. The same material can display a hologram to become an eye-catching box by Diamond Packaging for Matrix Essentials. Corrugated container converter Georgia-Pacific has found a new ink formula from Sun Chemical that not only improves the yield in its printing, but it also avoids many of the problems the converter experienced with conventional inks.
The result is that paper and paperboard marketers are finding ways to manufacture and convert their products to respond to the needs of the 21st century. And these innovators are proving that it's possible to create exciting new products from a material long considered a commodity.
Corrugated IBCs for resin
Multiwall corrugated IBCs using a pallet for transport and footprint have been used for years to ship both dry and liquid products. One major business to use corrugated IBCs has been resin manufacturers, many of them from plants near the Gulf Coast. Although much of their product is shipped via rail cars, resin producers typically offer resin in IBCs to those customers testing a specific material, trying out a new supplier, or simply using a limited amount of a specialty resin.
One such resin manufacturer is Basell, a leading maker of polypropylene resin, headquartered in Hoofddorp, The Netherlands, with the North American headquarters recently moved to Elkton, MD. Basell has long been a user of IBCs from International Paper. IP acquired the business from the former Union Camp Corp. Basell uses Houston-area contract packager C&D Warehouse to pack and store resin from its Lake Charles, LA, resin plant.
Basell sought "a better appearing, superior performing IBC container that wouldn't cost our customers more," says Domenic Papa, Basell's supply manager who is responsible for service and packaging, "and the MVP container looked promising."
MVP is the name for IP's new moisture vapor protection IBCs, introduced early in 2002. Although the container looks identical to IP's other octagonally shaped IBCs, the MVP also includes what IP calls an engineered liner. "What we've done is replaced the outer linerboard layer with a liner that's made of two outer liners with a proprietary moisture-vapor coating sandwiched in between," says Larry Gates, marketing manager of bulk packaging in IP's industrial packaging group. "So in place of a single sheet of linerboard, this container now has a three-ply liner."
Gates says that each application will be customized. In Basell's case, the container sidewalls are triple-wall corrugated laminated to double-wall. IP declined to be more specific about the basis weights of the construction. "This is a very heavy duty box, because it has to hold upwards of 1괌 pounds, plus have the strength for stacking," Gates adds.
Basell asked C&D Warehouse to test the MVP containers. "Houston is 'a testing ground' for our packaging," Papa says. "The almost constant high humidity is a formidable challenge. If the packaging performs in Houston, it will perform anywhere."
Held for seven months
C&D Warehouse operates two large warehouses containing 16 filling lines with a capacity of 120 million lb/month. "We filled test boxes, placed them on pallets and stacked them three-high to simulate our commercial operation," says D.E. "Gene" Cravey, C&D president.
"We stored the filled boxes in the warehouse for seven months, regularly checking to see if there was any bulging, shifting or leaning. At the end of July we advised Basell that all the test boxes were standing tall and looking as good as the day they were filled. That's when Basell told us to begin commercial use of the new boxes."
Basell ships resin to C&D in railcars. A vacuum pump system transfers the resin from the rail siding to one of the fillers. Inside, a worker places a liner bag inside the container and activates the filler. Once filled, the operator closes the top of the bag and places a telescoping lid on the box.
"It was a seamless transition," Papa says. "The difference—and most customers don't necessarily know it—is that they're actually getting a better box than they were before. The impact is most felt by those companies that hold inventory. That's where they would really experience the benefits."
That's also true for Basell and C&D. "If we ship a railcar because we have an order for, say 40 boxes, there are three other truckloads that have to be warehoused until we have orders," Papa notes.
Even with the new moisture vapor protection, IP has tested the new containers to assure they can be recycled with other corrugated. "The coatings that form the water resistance break down when the corrugated is agitated in a slurry," says Gates. "The coating breaks down into microscopic pieces that either end up being pumped off with the water or have no effect on the fiber part of the process."
The recyclability of these containers is an issue, according to Papa. "Customers want to have a container they know won't damage the environment," he says, but he admits it's more important to Basell than to its customers.
The container has been implemented without an upcharge, Papa says. In part, that may be because IP can now use high-ring-crush or high-compression liners that in the past would have been compromised by moisture vapor changes.
Ink system for productivity
What about inks specifically designed for printing on paperboard? Here, too, converters have been busy. A good example is the Mount Wolf, PA, corrugated operation of Georgia-Pacific Corp. which has worked closely with Sun Chemical to develop the Advantage® line of flexo inks specifically for corrugated board converters.
The new ink system is pH-stable, so it's designed for converters that have long press runs. After testing the new ink formulas last fall, the plant expects to totally shift to the new inks by the end of this month.
"Originally, we asked Sun Chemical to come up with an ink that wouldn't flash off in the summer," says Dave Peck, production supervisor at Mt. Wolf. "In the heat of summer, conventional ink will lose its 'means' or its acidity level, and it gets heavier and darker. This new ink doesn't do that. You put it in the press, add some water for proper viscosity, and you just run."
Last year, G-P began with black Advantage ink as a test. In the meantime, Sun has been developing the extra colors that G-P needs, like the brown and yellow it uses for the Snyder's of Hanover snack bag trays. The pH-stable inks reduce dramatically the amount of time devoted to cleaning printing plates, which means presses not operating.
"We no longer have to shut down the press two or three times per job to clean the printing plates. They stay fine as long as we manage the viscosity," Peck says. In the past G-P's press operators had to have ink refresh alongside the press so that the pH levels could be restored to proper levels. They don't need to use it with the new ink.
As well, Peck says, the ink yield has improved. He calculates that for each 45-lb bucket, he gets the equivalent of 60 to 65 lb of ink because of adding water to compensate for evaporation. Although the plant hasn't alerted customers to the change, they have responded. "Our plant used to be near the bottom of the G-P pack so far as customer returns," Peck says. "Now, we've moved up into the top five of all G-P packaging plants. We now regularly get calls from other plants asking how we improved."
Paper for luxury, too
The use of paperboard—together with specialized converting—can produce packaging for luxury products or to add attractive eye-catching graphics. One example is the award-winning folding carton for Eleni's Conversation Cookies, designed by Stormhouse Partners and produced by The Colad Group.
The award-winning two-piece box in 13 different iterations is 18-pt SBS with an automatic bottom and a Simplex-type top. Colad offset-prints sheets in three PMS colors plus black. Then the sheets are hot-stamped and blind embossed in two areas and finished with a matte spot varnish. That's a lot of converting steps, admits the former account executive for Colad, but then the product is anything but conventional.
Eleni's cookies are hand-decorated at its bakery and then packed into bags that sit inside a single-faced corrugated-lined metal tin that's loaded into the box. The cookie variety is all in the decorating, says Erica Garvey, Eleni's sales manager. Ideal for hostess and birthday gifts, the 14-oz boxes sell for around $50 at some of New York's high-end retailers like Bergdorf Goodman and Henri Bendel. "Sales have gone really well," Garvey says, "because everyone loves the packaging and the products."
A holiday package
A more mass-market use for paperboard were the holographic boxes by Diamond Packaging for Matrix Essentials, a unit of L'Oreal, New York. Designed to be available for the 2002 holiday season, Matrix chose 22-pt SBS boxes to which is laminated a 48-ga acrylic-coated polyester that's embossed with a hologram by Proma Technologies.
Diamond prints the material offset with two or three hits of white plus transparent inks and a UV-cured coating. A diamond-shaped window is die-cut into the front before the material is fabricated into an automatic-bottom folding carton. Matrix then packed its haircare bottles into the boxes, to have the gift packs ready for market last September, says Mai Chang, Matrix senior print purchasing manager.
"Our marketing people were thrilled with the appearance of these boxes," Chang says. "We'll be hard-pressed to top this design for the next holiday season." She confirms that the cost of holographic packaging has permitted more widespread use, but she says she isn't privy to sales details on the package.
As these examples—and others you'll read about in the future—show, paper packaging is enjoying a new popularity as innovation creates new opportunities.
Companies in this article
Videos from Garvey Corporation