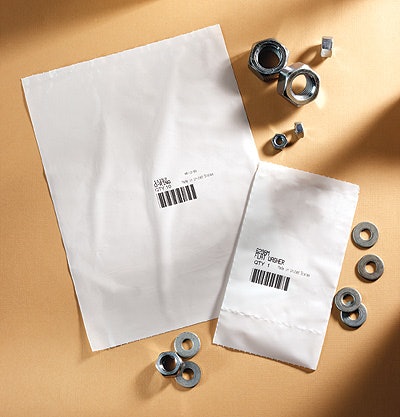 The company's packaging responsibilities were modest. But that began to change in recent years.
The catalyst behind the change was a key customer, Milwaukee-based Harley-Davidson. In the past, Anderson shipped bulk quantities of product to Harley-Davidson's Franklin, WI, distribution center. HD would then package those products for aftermarket sales. But about two years ago, "Harley-Davidson decided they were no longer going to package any of the aftermarket products we distributed to them," says Brian Moore, an account manager at Anderson.
"Harley recommended that their suppliers use Harley's contract packager or come up with some way to package their own [products]," he adds. Since Anderson "had quite a bit of business with Harley, we went out and purchased packaging machinery."
For the limited packaging it did do, Anderson "used a little semi-automatic machine that counted bags and sealed them," recalls Karin Pampuch, operations manager. "It could do maybe 10 bags a minute." The machine did not print bags.
To satisfy its customer's needs, Anderson purchased a Max bagger from Sharp Packaging Systems. The decision was made after consulting with Harley-Davidson and Sharp distributor Unisource. "We bought our first machine after looking at other bagging equipment," says Moore.
Once Anderson purchased the machine, "We had two people go through a little training program with Sharp," says Moore. "Sharp gave us a brief demonstration of the machine and we were up and running." By early this year, "we were at the point where we needed additional volume," he says, so a second machine was added. This unit, an SX, "is smaller, and is ideal for our products," he says. Both machines print onto bags.
The newer stepper motor-driven SX is an all-electric tabletop machine that does not require air to operate. It includes a 6"-wide printhead, 2" wider than the Max, which operates pneumatically. The Max runs at slightly faster speeds, but the SX still produces 35 bags a minute, satisfactory for Anderson's semi-automatic operation. When just a single part is put in a bag, speeds can be faster.
According to Pampuch, both units run at speeds between 35 and 50 bags/minute, depending on the bag size and number of products that are hand-loaded onto the machines. Both machines are dedicated to products distributed to Harley-Davidson. Using a PC and Label View software, Anderson can input part numbers and critical data and call them up as necessary.
The 3-mil low-density polyethylene bags used by Anderson are manufactured and preprinted in one color by Sharp. According to Sharp, the converting equipment they use produces pre-opened bags on a roll. Later, the Sharp bagger uses blown air to more fully open the bags for product loading.
Anderson purchases bags in roll form through Unisource, pre-opened, with one side of the bag clear, the other white to allow easy reading of the black-colored print.
"It's easy to feed the roll of bags into the back of the machine," adds Pampuch. To do so, the roll of bags is loaded onto the spindle of Sharp's Auto-Rol™ tensioning system. Bag changes take seconds, compared to minutes for some machines.
A PLC-controlled drive roller maintains consistent web flow as each bag is delivered to the print area on the thermal-transfer printer. For proper print registration, the machine uses a photoelectric eye to sense the tail end of the bag.
An integrated pivoting head contains the printer that prints part number, product description, quantity, date packaged, country of origin, bar codes and/or graphics onto the bag. Sharp preprints Harley-Davidson's logo onto the bags. The SX can print each bag or a series of bags with variable information.
For Anderson, the printer provides another important advantage because of its proximity to the loading and sealing area. Because the Sharp unit prints on the bag just before it reaches the loading area, there's virtually no bag waste when the product or batch is done. Other bag printers have bags in the queue between the printing and loading areas.
"It saves bags that way, and time also, because the bags come out printed correctly," says Pampuch.
An electronic ribbon-out sensor helps Anderson operators determine the amount of ribbon remaining. When the ribbon runs out, a sensor signals the machine to stop running. A "ribbon out" message flashes on the touch screen and alerts an operator to replace the ribbon, which can be done in as little as 30 seconds.
Freshly printed rollstock indexes to what Sharp calls the load area, on the front of the machine. A fan at the back end of the machine delivers constant airflow through the machine, guiding air downward along a hood to further blow open the bag. "Then we just drop between one and 10 parts into each bag," Pampuch says.
By pressing a foot pedal, a "pressure jaw" seals the bag, while the web reverses to detach the bag from the web. The filled and sealed bag then falls by gravity along a load plate into a box, tote, or bin below.
With each activation on the foot pedal, the PLC in the machine counts the cycle. The PLC receives a signal from a counter and each cycle causes a counter display to change on the color touch screen. When the number of bags in the batch is reached, the touch screen flashes to alert the operator.
"Counting is important to us," says Moore. "Our customers use about four different case sizes and everything in their system goes by different part numbers, with a specific number of parts per case."
"We use both machines about 40 hours a week on one shift from May through October, which is when we're busy with the Harley work," says Pampuch. "We've found the Sharp machinery is easy to maintain and it enables us to fill about 10 different bag sizes."
She says workers manually set up cases, load filled cases onto a pallet and manually stretch wrap the pallet in film. Anderson distributes mixed and single-product pallet loads, primarily by truck, in Wisconsin.
Moore recalls, "With our first machine, it had to be user-friendly and competitively priced. With the second one, we needed the additional volume." Asked about economic justification of the equipment, he says, "We looked at our hourly labor rates for the more manual previous method, and the cost of this equipment. We determined that both machines provided paybacks in six to nine months."
Companies in this article