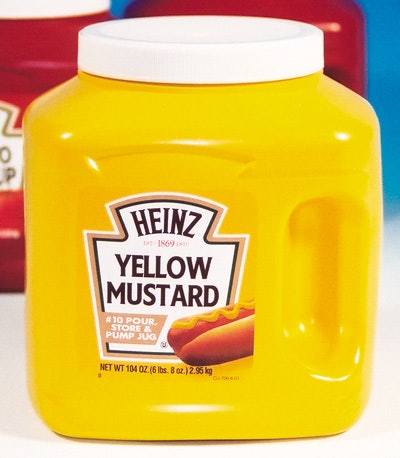 The jug has an easy grip "handle" in its right side. The jugs are pigmented either red, for ketchup, or yellow, for mustard, to maintain an attractive, sanitary appearance no matter how much product remains. Product weights for United States markets are 114 oz for ketchup, and 104 oz for mustard; Canadian products are labeled as 2.84-L (96 fluid oz). Volume differences are due to product density variances.
"The new container was designed to be easy to pour, store, and pump," says Heinz packaging development scientist Jim Vandenham. "The extra-large opening of the 110-mm [4.3''-dia] finish allows for easy dispensing by pouring or use of a separate pump to dispense product. It's great for vending carts, stadiums, and schools." He says the plastic jug is replacing some metal cans and other bulk delivery systems in foodservice applications.
The bottle's large white CT polyethylene closure is supplied by Phoenix Closures (www.phoenixclosures.com) with an induction-sealed foil laminate liner. Although the innerseal has three tabs that could be used to pull off the peelable liner, Vandenham says it does not have a specific pull tab. The front and back in-mold 4-mil biaxially oriented PP Poly-Tuf™ labels are printed offset and gravure in a total of five colors by Renaissance Mark (www.renaissancemark.com).
The products are packaged at the Heinz plant in Leamington, Ontario, Canada, at rates to 90/min. —RL
Companies in this article