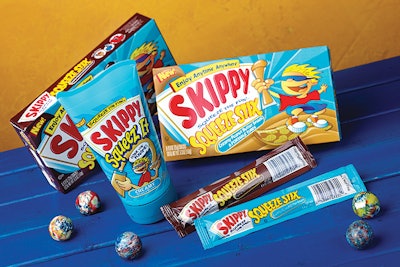 One for kids is called Squeeze Stix, in what appears to be a four-side-sealed tube with tear notches at one end that allow consumers to squeeze out the peanut butter spread. Packaging World spotted two varieties of the peanut butter snack: creamy and creamy peanut and chocolate. Each variety is sold in a colorful folding carton that holds six of the 0.9-oz (25-g) portable tubes. Each tube includes an ink-jet-coded "best by" date. The packs are said to be produced on existing equipment at a Unilever plant in Georgia. The products are currently in test at three regional locations in the United States.
The second new Skippy pack is marketed by the Englewood Cliffs, NJ, company as Squeez' It, in a crimped plastic tube that stands on its flip-top dispensing closure. The product is dispensed through a slotted orifice that allows users to easily squeeze out the product, much like those used by at least one maker of jelly. An induction seal provides tamper evidence. The tube includes a wraparound pressure-sensitive label. The "front" of the label features newly created character "Skip" squeezing Skippy onto a slice of bread. A cartoon-like caption reads "Lose the knife!" The "back" label shows product uses, along with nutrition facts and ingredients statements.
The Washington Post reported on Squeeze Stix, quoting Ellen Zimmerman, senior associate brand manager for Skippy. She said until now, "most peanut butter has been eaten in sandwiches. But sandwiches are not convenient enough for today's consumers, especially for kids who are so active. We needed to generate a portable peanut butter snack to keep up with them." The newspaper noted that the six-pack carton with a total net weight of 5.4 oz costs the same as an 18-oz jar of Skippy, about $2.50. Curiously, the outer carton lists total net weight of 5.3 oz (150 g). Repeated efforts to contact Skippy for details were unsuccessful.
Companies in this article