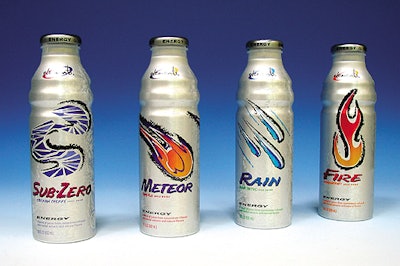 The 18-oz recyclable aluminum bottle from CCL Container (Norwalk, CT) offers a resealable 38-mm lug cap, frosted finish and graphics that appeal to the target audience of males aged 16 - 24. The bottles are impact-extruded of aluminum into a patent-pending shape that includes grip rings. The bottles are then dry-offset printed in eight colors including a silver metallic base coat before a polypropylene insert is friction-fit into the neck. The fitment allows the bottle to accept the same resealable 38-mm lug cap used on the glass bottles.
The Elements bottle follows the successful launch last year of Snapple's Mistic RE in a similar resealable aluminum beverage bottle. It was described as the world's first mainstream beverage product to be packaged in impact-extruded aluminum.
"We want to offer options to the Elements consumer," says director of packaging Susan Chirico. "The durability, resealability, and 'chillability' of aluminum bottles make them ideal for active people who want to just grab their beverage and go."
Originally presented in curvy, 20-oz glass bottles with tapered necks, Elements debuted in April 1999. Three formulations—Fire (dragonfruit), Rain (agave cactus), and Meteor (tangelo)—will be repackaged in CCL Container's 66 mm x 206 mm aluminum bottles along with a new formulation, Sub-Zero (Siberian cherry). Four dairy-based varieties remain in glass.
"The Elements consumer is young, experimental, and trend setting," explains Snapple's vice president of marketing, Maura Mottolese. "To grow this market, we need to keep refreshing the brand and packaging is a big part of that."
"Our packaging serves several important objectives beyond just holding the product," adds Chirico. "Our packaging is a major component of our communications strategy and a powerful tool in defining our brand.
"With Mistic RE, we were the first beverage company in the country to commercialize the concept of the resealable aluminum bottle. With Elements, we've taken that concept even further."
For example, CCL applies a silver metallic base coat with a gloss over-varnish, then adds an ice crystal design with a proprietary white ink during the printing process. This "icy" look reflects the container's ability to keep beverages cold, an attractive feature for those more likely to reach into a backpack for a drink than into a refrigerator.
During the printing process, CCL compensated for distortion in the grip rings in the neck area by elongating the lettering.
Elements' new bottles launched in the West in early February and will be available nationally by the spring at convenience stores and select grocers. —RL
Companies in this article