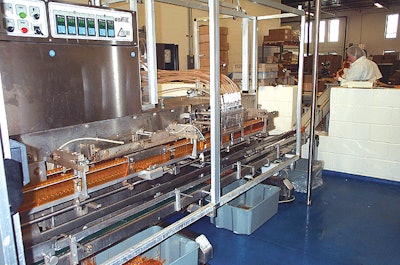 About 15 years ago, Dr. Aly Gamay, president and owner of Gamay Foods, developed a process for producing fat-free, shelf-stable cheese. A few years later, he started another company called Gamay Flavors that developed dairy flavors for food companies.
He wasn't finished. A third Gamay company called DreamPak concentrates on contract packaging. Its origins date back to a trip through Europe two years ago, when Gamay came across a Unifill (Villafranca Di Medolla, Italy) machine used for packaging different kinds of cheeses, fruit snacks, pharmaceuticals, and cosmetics. The TR86 Unifill vertical thermoform/fill/seal machine forms shaped cavities by blowing compressed air between opposing film webs, fills the cavities with liquid product, and then heat seals the two webs together.
"He found that the packages really lent themselves to single-serve types of products as well as products aimed at kids," says Cary Gammons, marketing manager for DreamPak. "And there was nothing like that here in the States. It was something really different. Being the entrepreneur that he is, he bought two machines."
As the equipment was being set up at a facility in New Berlin, WI, marketers for DreamPak were dreaming of products to package with their new equipment. Although the machinery had initially been purchased for contract packaging purposes, DreamPak began packaging its own shelf-stable cheese products and, eventually, gummy candy products.
"At first, we went into this co-packing," Gammons says. "There's much less risk involved with contract packaging. But the whole thing was so brand-new. The application is so unique. New types of projects are just waiting to be dreamed up by the marketing division."
They began by processing and packaging single-serve cheddar cheese products and single-serve cream cheese products. These are sold today as DreamPak Cheese Solos. Next it was Dream Pak Cheese Animals: cheese packed into molds shaped like animals to appeal to kids.
"Then we thought, 'Hey, let's also build that brand using these animal characters and give some kind of carryover into the confectionery side. Let's do fruit snacks,'" Gammons says. "So we began packaging our Jungle Treats, both fruit snacks and chocolates. And once that was decided upon, we thought we'd take the same characters and also get into the nutraceuticals side and do the Vitamals products to target kids.
"And that's basically how we got the structure of our branded products together, by looking at what we could produce, and how we could garner some recognition with the characters and therefore the brand itself. We were looking at what kinds of niche markets we could cater to, and the answer was kids and single-serve applications."
Complex system
Watching the Unifill equipment in action is fascinating, to say the least. The machine receives product through jacketed pipes that help maintain the 160?F to 170?F filling temperature. Packaging material is fed from two unwind stands at floor level. Dancer bars help feed the material freely.
On the day Packaging World visited, the machine was running a PVDC/PVC lamination supplied by Curwood (Oshkosh, WI) to form and fill another marketer's product on a contract basis. Before any forming or filling can take place, the two webs must first travel to an overhead level. Face to face, they're drawn down into a preheat station and then into a set of sealing molds that heat seal the facing webs together along three sides but not the top.
Immediately after, the material enters a set of multicavity forming molds. Compressed air is blown through channels between the webs to force the material out into the cavities, thus creating the unique shapes.
Exiting the forming station, the material passes through a die-cutting operation that trims the top off the entire piece and cuts free from the continuous sheet of material a strip containing anywhere from four to 15 containers. This strip exits the forming area in a shuttle device that takes it off at a right angle toward the filling station. Here, a lifting device elevates the entire strip into the filling nozzles of the dosing unit. On the day of PW's visit, 15 nozzles were in use, as a 15-count ampoule strip was in production. A range of different dosing units—volumetric fillers, membrane fillers, magnetic flow fillers—are available to meet different product characteristics and a variety of hygienic requirements.
Exiting the dosing station, the strip of vials was pushed at a right angle into a conveyor lane that parallels the lane down which the strip had just traveled. At this point, a number of finishing steps take place.
First is a scoring station where each container is scored for easy opening. Next is a preheat station, followed by a top-sealing station where the filling neck of each container is heat sealed closed. Cooling bars cool the material.
In the machine's final station, individual packs are cut free from their strips and fall to a discharge conveyor that takes them to a manual case-packing station.
Some products are packed in paperboard cartons before they go into corrugated cases. The Cheese Animals and Vitamals are good examples. When they're released from the Unifill machine, they are not individual units, but a strip of four. Four of these strips are then packed in a windowed carton. According to Gammons, the window in the front panel is essential.
"The animal shapes do a pretty remarkable job of marketing themselves, so it was important that we be able to show them off in the carton," says Gammons. Consumers can even reach through the window to feel the contours of the unique packs. In addition to folding cartons, there are also paperboard carriers with peg display to hold two animals.
SBS cartons and paperboard carriers are supplied by Rock-Tenn (Norcross, GA). For now, until volumes increase, cartons are filled by hand.
Materials can vary
Although the ampules being filled the day of PW's visit were constructed of 11-mil PVC, other materials are commonly used. The cheese products, for instance, are packaged in a multi-layer coextrusion including high-impact polystyrene and PET to give the package a glossy look. The animal-shaped products are packed in a similar material.
Changing rollstock doesn't take too long, but changing molds from, say, ampules to cheese animals takes considerably longer, sometimes up to a day.
"Whenever you change molds, you have to adjust all of the stations, all the rails, the heights of the rails," says operations manager Randy Cook. "It really depends on how major the change."
Although careful attention has been paid to the marketing and development of the DreamPak brand, focus has been placed on the contract packaging aspect of the business. Gammons says that though industry response has been good, the company sees a much larger and faster growth area in contract packaging.
"We've had really great response to our products out in the industry," he says. "But because of that, we've got a lot of calls for contract packaging."
Companies in this article
Videos from Universal Labeling Systems, Inc.