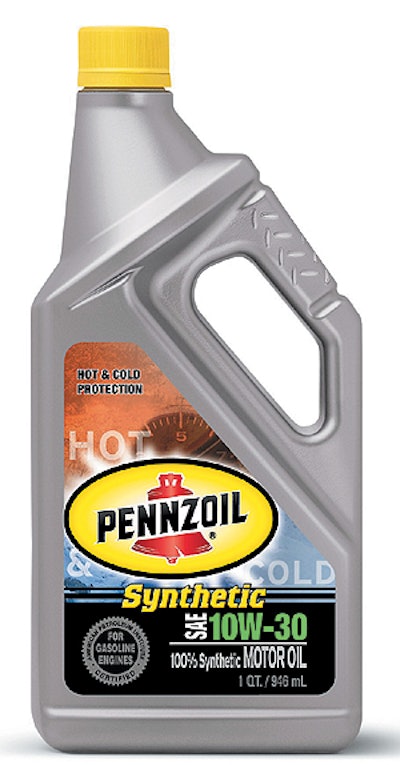 The bottle, designed by the oil company and its suppliers, is blow-molded of silver-tinted high-density polyethylene by Silgan Containers (Woodland, CA). In addition, the bottle contains no less than 15% post-consumer recycled resin.
The Easy Grip bottle replicates the height and width of regular motor oil bottles without handles, so it's easy for retailers to display. To compensate for the handle, the bottle footprint is a bit deeper. The new bottle replaces a silver standard motor oil bottle that was decorated with a holographic label. The new front and back labels are 2.5 mils of white polyester, printed flexo in five colors and supplied by Seneca Printing (Franklin, PA). They are applied with cold glue by Silgan.
Each bottle of Pennzoil Synthetic is topped by a yellow 28-mm liner-less PP closure from Owens-Illinois (Toledo, OH) that uses a retained breakaway band for tamper evidence.
"Consumers recognize and appreciate the thought that went into this bottle design," says Tami Talbert, director of the Pennzoil brand. The company conducted a significant amount of research on handles before the year-long redesign project was undertaken.
For now, the company says it has no plans to shift its high-volume motor oils to the new container, and Pennzoil declined to provide its percentage of quart oil sales in synthetics. Industry sources estimate that synthetic oils only account for about 5% of the motor oil market. —AO
Companies in this article