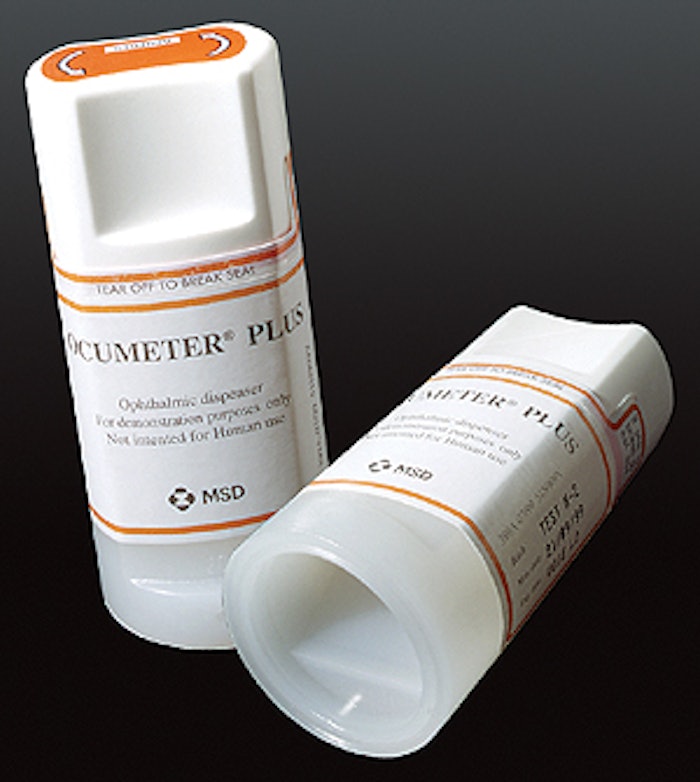 The 2002 AmeriStar-winning vial packs these ingenious advantages:
• A one-size-fits-all flexibility. The format accepts volumes from 2.5 to 11.5 mL; the bottom plug is changed for volumes of 8 mL and larger. It replaced about 20 different vials and bottles.
• The HDPE vial is injection-molded rather than blow-molded.
• A hermetically sealed/welded bottom closure and tip eliminates leaks sometimes associated with sealing via torqued caps.
• The thinner sidewall (bellows) area permits the vial to be squeezed "push-button-like" for one drop-at-a-time dispensing, and also provides visual indication of liquid level.
• A novel screw-cap closure punctures the dispensing orifice during initial opening by the patient.
The major injection-molded components are the threaded liquid storage body, which provides the sealed drop-dispensing tip, screw threads for the cap, and dispensing bellows. This is molded from HDPE as is the long or short bottom closure, and the inner cap mechanism. The outer portion of the two-piece cap is molded of white high-impact polystyrene. Lifshey says that HDPE provides a better moisture barrier than LDPE, resulting in less weight loss due to permeation. The components are injection-molded by Betts UK Limited (Colchester, Essex, England) and filled on a custom line at Merck in France.
In use, a patient removes the tamper-evident tear strip between the bottle and cap and rotates the cap counterclockwise. The first turning causes the cap to puncture the hermetic membrane. As the patient continues to twist, the cap removes normally. The two-piece cap mechanism switches mechanically from left-hand thread to normal right-hand thread during this movement, Lifshey explains.
Unlike some flexible LDPE vials or bottles, the Ocumeter Plus can readily dispense a single drop. The vial is designed to be easier to grasp than the typical small round bottle, and the ovalized shape helps prevent "rollaway"and offers a larger billboard area for labels and graphics.
Ocumeter Plus was introduced to European markets in 2000 and in the United States in 2001 in 3-, 5-, and 10-ml sizes branded as Cosopt, Trusopt, Timoptic, and Timoptol. —RL
For a production description, see: packworld.com/go/w044
Companies in this article