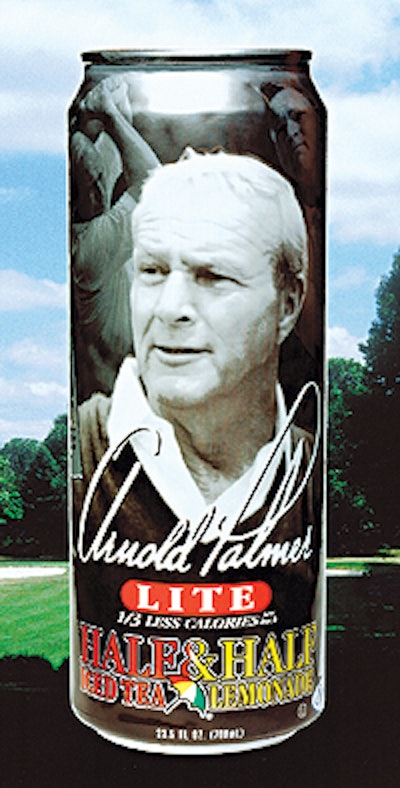 The combination of iced tea and lemonade, a drink the golf legend made popular during his years as a touring professional, is packaged in a 23.5-oz aluminum can decorated with images of Arnold and his storied career.
The drink is a product originating from an alliance between Herbal Enterprises, Lake Success, NY, and Arnold Palmer Enterprises, Cleveland, OH. "We're excited about this product and about working with one of the greatest golfers ever," says Don Vultaggio, chairman of Ferolito Vultaggio & Sons, the parent company of Herbal. "For years, a lemonade-iced tea drink has been commonly referred to as an 'Arnold' Palmer. With this established moniker and the great looking can we've designed, Arnold Palmer Lite Half & Half is sure to be a 'hole in one' for us, our wholesalers and retailers."
The aluminum can is supplied by Rexam Closures & Containers (Evansville, IN) and is decorated by a 2-mil shrink-sleeve label from Alcan Packaging/Lawson Mardon (Schaumburg, IL) that's printed gravure in eight colors.
The company performed some testing in its home state of New York, says John Balboni, president and chief business development officer for AriZona Beverages, a unit of Ferolito Vultaggio. "We think that perhaps our lower-key black-and-white graphics helped to distinguish this product from the riot of colors the consumer sees in the cold box," Balboni says. "We're getting a lot of trial, and the good news is that people really like the product." He adds that some consumers intend to collect the unopened can as a souvenir.
The can, Balboni says, is the company's "value" package, because it sells for less than its 20-oz reclosable glass bottle. A contract packager fills and ships the product from New Jersey in 12-count shrink-wrapped trays. —AO
Companies in this article