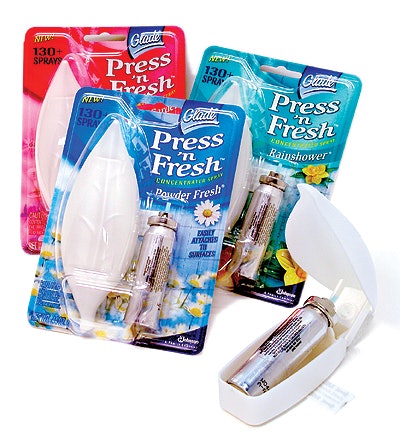 "While blister packaging is typically used in medical or high-end packaging applications, it is innovative to use for household specialty chemical products like air fresheners," says Therese Van Ryne, S.C. Johnson representative. "Having a blister package differentiated this from other competitive products. It has more impact."
Additionally, Van Ryne reports that returns due to damages have been below average for this product because "the clear-view package provides a clear understanding of the product," she says.
The blister, made of 100% recycled polyester, is formed on a Tiromat (Frisco, TX) thermoform/fill/seal machine at S.C. Johnson. S.C. Johnson also offset-prints the paperboard display card. Van Ryne declines to reveal packaging materials suppliers.
Inside the blister is a leaf-shaped, polypropylene dispenser that attaches to any surface with a 3M (St. Paul, MN) adhesive that is included in the pack. Inside the dispenser is a 20-mm metered aerosol valve from SeaquistPerfect Dispensing (Cary, IL) that controls the dosing of the product inside the aluminum can. The dispenser delivers 130 consumer uses. Launched to mass retail outlets, Rainshower, Country Garden, and Powder Fresh fragrances sell for $1.99. Although S.C. Johnson will not disclose sales figures, Van Ryne says, "customer and consumer demand for the product is meeting our expectations." —PR/ES
Companies in this article