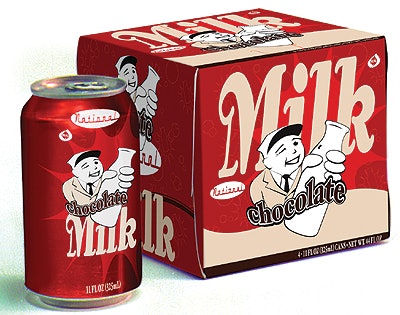 Dairy Farmers of America is filling the 11-oz milks under the brand name National Milk, selling it through vending machines in locations such as hotels, motels, and hospitals.
"I don't think anybody's done exactly this before," says Edward Tilley, vice president of business development for DFA, a Kansas City-based co-op with 25귓 members operating in 45 states. "But we had the technology and equipment in place to do it because we already produce retorted products for Starbucks, and for products such as adult nutritional beverages and infant formulas," he notes. "As part of a dairy co-op, we knew that the dairy industry was interested in shelf-stable milk. So we formulated a product, put it in a can, and we're marketing it."
For example, Tilley suggests that DFA would supply the packaged product if a dairy or another dairy cooperative is interested. "To put one of these lines in and also have the infrastructure to support low-acid canned products takes millions of dollars," he notes.
National Milk is filled and retorted at DFA's facility in Springfield, MO. After filling, the container is pressurized with liquid nitrogen gas, and a 202-sized aluminum end is seamed onto the container. The packaged product is sterilized by heating it to 260?F for an undisclosed time, labeled, packed into a corrugated tray, palletized, and distributed. "We fill 11 ounces into a beverage can used for 12 ounces," explains Tilley. "Because it's retorted, we need the extra headspace."
To convey the product's nutrition, a shrink label includes an image of a milkman holding an old-fashioned bottle of fresh milk. Shelf life of the retorted can is nine months. DFA entrusted the graphic design to On Your Mark Packaging & Design (Overland Park, KS). Tilley estimates that the vended can sells for $1 to $1.50. Depending on the success of the test market, cans may be retailed in a four-pack carton, as shown in the accompanying photo. —JB
Companies in this article