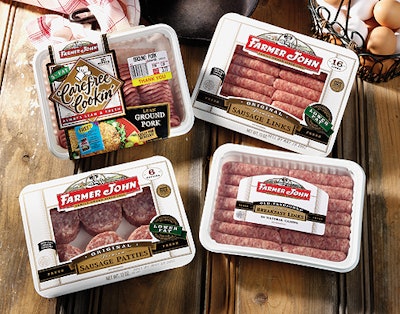 Clougherty Packing Co. of Vernon, CA, is distinguishing itself with a whole new approach to packaging four of its well-known Farmer John-brand products: ground pork, pork sausage links in natural casing, links in collagen casing, and pork sausage patties.
Gone is the paperboard carton with cellophane-covered window used formerly for patties and links in collagen casing. Also eliminated is the back-flushed, flow-wrapped foam tray that was used for ground pork and links in natural casing. The new packaging for all four pork items consists of barrier plastic trays that are backflushed with a modified atmosphere and covered with barrier film lidding heat-sealed to the tray's flange.
Machinery, too, plays a key role in Clougherty's packaging initiative. A four-lane lidding machine from Ross Industries, represented in North America by Robert Reiser (Canton, MA), paired with two sleeving machines from Adco (Sanger, CA) form the backbone of a fast, flexible packaging line that replaces a largely manual operation.
According to director of marketing Sandy Schulman, the packaging upgrade took place in the fall of 2001. It was brought about by a combination of things.
"We didn't like the way the cello window would fog over," says Schulman. "Also, we were seeing some discoloration in the product at the end of our stated shelf life." Finally, even though the firm doesn't distribute its products east of the Rockies, "We needed more than an 11-day shelf life on our ground pork," says Schulman.
It should be pointed out that Clougherty Packing's requirements are probably unique in the pork sausage and ground pork categories, where freezing is the most common method of gaining sufficient shelf life for distribution. Freezing of a Farmer John product, however, is simply not done, as the firm believes both "bite" and flavor are dramatically superior in product that has not been frozen. Because Farmer John ground pork and sausages are refrigerated, not frozen, a move to MAP technology and barrier materials made perfect sense.
The company acknowledges that the new materials are more expensive than those used before. Although some of the added expense is offset by the labor cost savings gained through automation initiatives and through expanded market share that the new packaging has helped make possible, some of the upcharge has simply been absorbed.
"That's how strongly we wanted to modernize our packaging," says Bob Delmore, vice president of technical services. "It was worth it, considering the gain we made in product consistency and shelf life."
Improved shelf life
The gains are indeed considerable. Shelf life on ground pork has gone from 11 to 14 days. And on links and patties, shelf life is up from 16 to 20 days.
"It means a lot," says Schulman, "especially when we have confidence that product quality on day 20 is as good as it was on day one."
The new packaging line at Clougherty is designed to accept any two of four products at one time: ground pork, sausage patties, sausage links with natural casings, and sausage links with collagen casings. Way upstream from the Ross MAP system, ground pork is deposited by an automatic portioner into white plastic trays. Patties, links in collagen casing, and links in natural casing are placed in trays by hand. All four items, though only two at any one time, are placed on the same conveyor for transport to the Ross machine. This machine's infeed section has a tray diverter that sends trays to the four-across pockets in which they ride through the evacuation/backflush and lidding stations.
Tray depth varies from 1.125" to 1.5". But the footprint of all trays is the same, so it doesn't matter which combination of the four different SKUs is in the Ross machine at any one time. All are treated the same way. Evacuation, backflushing, and lidding occur in one station. Knives in the next station cut the lidding material around the periphery of each tray. Then the trays are ejected and single-filed for conveying to automatic cartoning.
"It's a high-oxygen pack," says Delmore. "The 80-percent oxygen keeps meat red. And the 20-percent carbon dioxide retards bacteria growth."
On to sleeving
An operator stationed at the discharge of the lidding machine places trays on one of two conveyors, each leading to an Adco Model 12WA-100 wraparound sleever. On the day of Packaging World's visit, ground pork was being sent to one sleever and sausage patties to the other. Because the supermarket chain for which the ground pork was destined had asked for prepriced packages, each tray of ground pork was conveyed over a New Brunswick Intl. (Somerset, NJ) machine that weighed a tray, printed a thermal-transfer pressure-sensitive label, and applied it to the tray's lidding material. For supermarket accounts that don't request prepricing, this machine is simply shut off and trays pass through it.
Exiting the weigh/price machine, trays of ground pork move through the indexing/infeed section of the Adco sleever. Here a pair of feedscrews, one on each side of the trays, meters trays into the sleeve-application station. Vacuum cups pick sleeves from a magazine and place one on top of each tray. The blank is then plowed down and around the tray as the tray is conveyed forward. Hot melt glue is applied on the bottom, and after a quick pass through a compression station, sleeving is complete.
"The Adco machines have been very reliable," says Delmore. "It's a big step up for us compared to using a preglued carton that was erected, loaded, and closed by hand. And we have a lot of flexibility. Sleeves have different widths and lengths, but all we do is slide the forming and tucking devices and such in and out. It's been great."
A Markem (Keene, NH) 9064 S ink-jet printer mounted on the Adco sleever puts a sell-by date on the sleeves if they don't already have a preprinted label.
Exiting the Adco cartoner, ground pork is conveyed beneath a Q-41 blow-on p-s labeler made by Quadrel (Mentor, OH) and supplied by distributor Edwards (Ventura, CA). Edwards also supplied the extended-text label being applied on the day PW visited. Coupons and recipes are easily added to the ground pork packages on these p-s extended-text labels.
After manual case packing, an operator places cases on a WeighTronix (Fairmont, NJ) scale that generates a p-s thermal-transfer label showing each case weight.
"Portions of ground pork aren't all exactly the same," says Delmore. "They're close, but not exact. So we weigh each case and label it so that the supermarket distribution center can check case weights against what's on the manifest."
Top-and-bottom taper
The same operator who applies the case-weight label then sends the case through a Little David top-and-bottom case taper from Loveshaw (New Canaan, PA). A short conveyor ride later, cases are manually palletized.
Sausage patties in production when PW visited the plant traveled a slightly different path than the ground pork. Emerging from the second Adco sleever, they moved to the same manual case-packing station used for case packing the trays of ground pork. But then they bypassed the Little David taper and went to an Intertape random-height case taper from Intertape Polymer Group (Montreal, Quebec, Canada). Cases from two other lines run through this random-height taper, too.
Since the packaging upgrade was implemented last fall, Clougherty Packing has seen an increase in sales at stores that already carried the Farmer John brand, says director of marketing Schulman. And, thanks in part to the product's longer shelf life, distribution has been expanded to territories not covered before, she adds.
Sales of ground pork have soared. In fact, the firm is now installing a second Ross tray-sealing system, a Model S-45 three-lane machine. This machine, along with one of the two Adco sleevers, is now dedicated to ground pork. Links and patties are run through the other Ross/Adco pair. According to Delmore, flexibility remains a fundamental strength.
"We don't carry hundreds of thousands of pounds of inventory," says Delmore. "If we're packing links and a customer needs patties, we quickly switch out of links and start packaging patties."
With the new packaging equipment in place, making such a switch has never been easier.
Companies in this article