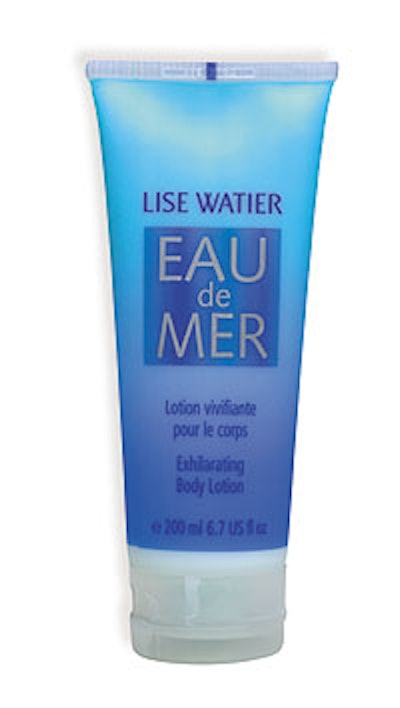 The body lotion tube is manufactured by Amcor Plastube North America (Burlington, Ontario, Canada). At its Granby, Quebec, Canada, plant, monolayer medium-density polyethylene is extruded, and then fabricated into two tube sizes.
Tubes are offset-printed in up to five colors, depending on the product, before they're matte-coated (varnished) to protect the inks. The Eau de Mer name is hot-stamped in silver.
"The tubes are gradated in color from a deep blue near the cap that the tube stands on, to an aqua color at the crimped top end," explains Daphne Mollot, vp of R&D at Montreal-based Lise Watier.
"The colors emphasize the fresh fragrance's name Eau de Mer, which translates to sea water or breeze," she says. Lotion comes in a 200-mL (6.76-oz) size; two gel varieties in a 100-mL (3.38-oz) size.
"The tube serves as a practical package that's easy to carry and use," Mollot says. And a translucent flip-top closure provides convenience." The closure is sourced from an unnamed vendor and is believed to be injection-molded of polypropylene. —JB
For more Tube Council winners, see packworld.com/go/w026
Companies in this article