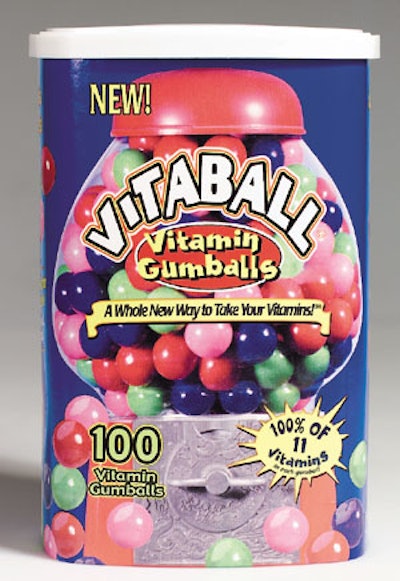 When Bloomfield, CT-based Amerifit Nutrition released its Vitaball Vitamin Gumball product to the warehouse club market, they turned to Sonoco (Hartsville, SC) and its Linearpak® high-performance shaped canister to pack the 100 vitamin-enriched gumballs.
Released in June, Vitaball gumballs are reportedly the first multivitamin gum to provide 100% of 11 essential vitamins in four flavors.
"Finding a package as unique as the product in it was very important to us," says David Belaga, Amerifit Nutrition's vp of marketing. "Functionality, cost, and visual effect were all important factors. The distinctive Linearpak can has certainly met all of our needs."
Amerifit is using the 502 x 804 Linearpak can. The container's tall and rounded shape provides a sizable "billboard" for brand logo and graphics, which are gravure-printed to the can. The four-ply canister is constructed of 15.5-pt recycled paperboard and a plastic/foil liner, providing an 18-month shelf life. Each gumball is individually wrapped in cellophane.
"When you're packing millions of gumballs, cost is a key consideration. The Linearpak's exceptional product protection has enabled us to wrap the gumballs in low-cost cellophane instead of foil and keep our packaging costs down," says Ted Hyneck, Amerifit's vice president of operations.
Vitaball Vitamin Gumballs are available in club stores nationwide. —ALR
Companies in this article