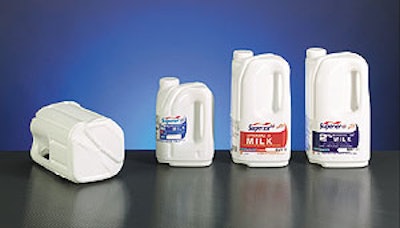 Imagine if the returnable cases used to take plastic bottles of milk through retail and foodservice distribution channels could be eliminated.
At Superior Dairy, a medium-sized dairy employing about 250 people in Canton, OH, they're not just imagining it. They're doing it in three bottle sizes. Self-manufactured in-house, the white opaque HDPE bottles are blow-molded in
½-gal, 1-gal, and 3-L sizes. They're filled, bundled in film, palletized, and put on a truck. Because they're unencumbered by returnable cases, it's possible to move them through central distribution warehouses rather than costly direct-store-door (DSD) channels.
"It's not only a matter of better economics, it's a way to build better customer relationships built on true economic advantages," says company president Dan Soehnlen. "If it doesn't add value, get rid of it. That's what this is about. And secondary packaging, whether it's reusable plastic cases or one-way corrugated shippers, doesn't add value. It's a cost. With reusable cases, you have to count them, clean them, replace them, and constantly worry about making sure they're where you want them when you need them. If you use corrugated instead, it's still an added cost, and one leaker can ruin a whole pallet. Caseless shipping is better than either of those traditional methods."
Joe Soehnlen, Dan's cousin and chief executive officer at the family-owned dairy, says the caseless concept originated at a board meeting nearly six years ago.
"We were starting to see major consolidation in the dairy industry," says Joe Soehnlen, as companies such as Suiza, Dean Foods, and others went into a serious mergers-and-acquisitions mode. "We realized that the only way for a medium-sized, regional dairy like ours to survive was to figure out some way to change the rules. We could never beat the big guys on cost or operating efficiency. We had to change the rules."
It all came down to a simple question, says Dan Soehnlen: "How do we live in the land of giants?"
Distribution is targeted
The Soehnlen cousins decided to change the rules by taking a radical new approach to distribution. Rather than remaining shackled to DSD delivery—where milk typically goes from a dairy's filling line to the dairy's refrigerated warehouse to the dairy's truck and then direct to the store door or foodservice institution—the Soehnlens have found a way to move product instead through central distribution warehouses. The only way for that to happen was to eliminate reusable cases, because no central distribution warehouse manager in his right mind wants to deal with the handling complexities and costs of returnable cases.
Having decided to go caseless, Superior needed a whole new bottle design. After all, the everyday HDPE milk jug can be stacked in layers only if it's inside a plastic returnable case or a corrugated box.
The other reason the Soehnlens wanted a new bottle design is because they had seen research from the Dairy Marketing Institute showing that consumers are tired of the conventional 1-gal plastic milk jug. "It doesn't pour well, and it's too difficult for too many people to handle, especially the young and the old."
Dan and his son Greg Soehnlen, vice president and general manager at the dairy, aimed their engineering skills at developing a whole new breed of milk jug, a vessel both pleasing to the hand yet sturdy enough to be stacked several layers high without any support from a returnable case. Many molds and dollars later, they had designed a 3-L bottle that focus group participants really liked.
In January '98, Superior launched its 3-L bottle to the retail market. "Slight changes have been made to the bottle and its weight as we've gained experience with it," says Greg Soehnlen. The bottle today weighs 60 g.
Why start with a 3-L bottle, which holds 0.7926 oz, rather than a conventional 1-gal or ½-gal size? "Focus groups and early consumer reaction led us to believe that the 3-L size would be well received because to some people a half-gallon is too little and a gallon too much," explains Greg Soehnlen. Whether this unusual size will remain feasible in a marketplace so accustomed to ½-gal and 1-gal containers, however, remains to be seen, he adds.
Other sizes
As the 3-L experiment moved ahead and showed strong signs of consumer acceptance, says Greg Soehnlen, retailers asked that Superior also offer
½- and 1-gal bottles. So the ½-gal was added to the mix in 2000 followed by a 1-gal bottle a few months later. All three are distinguished by a large, 43-mm spout that makes for smooth pouring. The bottles also have a variety of vertical flutes as well as indentations that run horizontally at the top and bottom. These carefully designed structural features turn the bottles into sturdy, fluted columns rather than mere plastic bottles. That's why the containers can be stacked without the aid of a rigid plastic case.
Also worth noting is what Superior touts on its labels as the "Rock'N'Pour" feature. It's a rounded-off bottom corner directly opposite the handled side of the bottle. Seniors and children, for whom a 1-gal or 3-L bottle can be too heavy, can rest the bottle on this rounded corner while pouring.
While the 3-L bottle weighs in at 60 g, the 1-gal bottle weighs 72 g and the ½-gal 42 g. Dan Soehnlen estimates the bottles are about 10% heavier than most conventional dairy jugs of comparable size. But in making cost comparisons, he points out, the bottles should be viewed in the context of caseless shipping and all the benefits it brings. "Viewed this way, our model reduces the total cost," says Dan Soehnlen.
Blow molding was done initially by an outside supplier. But in 2001, blow molding was brought in-house.
Filling and packaging equipment expanded fairly quickly, too. In the beginning it was little more than a bottle debagger, a labeler, a filler/capper, and a shrink bundler. Now two parallel lines each consists of a debagger, a labeler, a filler/capper, a bundler, a robotic palletizer, and a stretch wrapper (see story on page 59 for equipment details).
Bundling plays a key role in the caseless concept. All three sizes are bundled in either stretch film or shrink film. These bundles, which contain two, four, or six bottles, are then palletized.
"Bundled bottles help us keep pallets in shape more effectively than if we were palletizing individual units," says Joe Soehnlen.
"Another reason for the bundling is that our customers usually want to deal in case equivalents, not individual bottles," he continues. "Take a foodservice distributor, for example, who wants to build a pallet for restaurant delivery. That restaurant might want 24 gallons of whole milk, 16 half gallons of skim, and eight gallons of chocolate milk. It's much easier to build that order on a pallet if the distributor can pick bundles containing a number of bottles equivalent to the number traditionally found in a returnable case."
One last bundling benefit is that it keeps bottles clean throughout distribution.
What consumers see
In most instances, consumers don't see the bottles bundled. However, some retailers have begun leaving two 3-L bottles in the clear film wrap so they can offer consumers a two-pack at a slight discount compared to what two individual 3-L bottles would cost.
Impressive as the unusual bottle and caseless distribution concept are, they're only two legs of a three-legged stool. The third leg is what Superior calls "flexible filling." The Soehnlens believe that, once perfected, it could transform order fulfillment in the fluid milk business.
To understand it best, it helps to review how orders are handled at Superior on lines where returnable cases are still in use, which closely resembles the way most dairies operate. In a nutshell, bottles are blown, conveyed to a filling line, filled, put into returnable cases, palletized, and taken to a refrigerated warehouse. As orders come in from supermarkets or foodservice accounts, crates are picked from the warehouse and palletized. Pallets are loaded onto a truck that delivers product to stores or foodservice accounts along a prescribed route; empty cases are picked up and returned to the dairy.
Order fulfillment in a caseless shipping environment cuts out two time-consuming steps right off the bat: taking filled cases to a refrigerated warehouse and picking orders from that warehouse. Instead, orders are assembled on pallets shortly after bottles are filled and the pallets go straight to a truck.
At least, that's the goal at Superior, especially for white milk. The firm chooses not to describe precisely how flexible filling works, but apparently it involves a way of switching quickly from 2% to whole milk to skim without even stopping the filling equipment. Also playing a role are some sophisticated software and programming, including a manufacturing supervisory system that's "close-coupled," as Dan Soehnlen puts it, to customer requirements. The idea is to move away from batch filling, where only one product at a time can run through the filler, toward an environment where a variety of products can be filled in quick succession.
"The goal is to palletize customer orders right off the filling line, put the pallets right on a truck, and get the truck to the central warehouse dock," says Greg Soehnlen. "With no returnable crates to complicate things, we can even use common carriers. Our customers don't have to use their refrigerated trucks, and we don't have to use ours. That expands our reach."
Superior aims to convert nearly all of its fluid milk business to caseless shipping within the next 18 months. The company will then seek to solidify its existing market and add business wherever possible. It's even working on a 5-gal white opaque HDPE bottle as a replacement for the bag-in-box format that's ubiquitous in foodservice institutions.
That's not the end of Superior's plans for caseless shipping. A sister company called Creative Edge, launched in 1999 and headed up by Greg Soehnlen, is focused on licensing the concept to other dairies that are willing to pay a royalty. It will be interesting to see how that plays out. No one will be watching any more closely than the Soehnlens.
"We saw an industry that hadn't changed significantly in many years," says Dan Soehnlen. "Look how other beverage industries and consumer-driven organizations have evolved over the years, in product and packaging. You just haven't seen that kind of thing in dairy."
Until now.
"We create value by eliminating the case," Dan Soehnlen concludes.
Changing the rules indeed.
Companies in this article