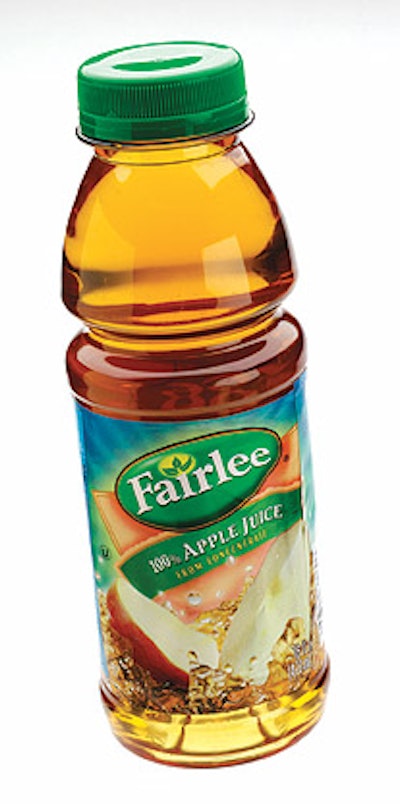 Alfresh uses a clear bottle structure from Crown Cork & Seal (Philadelphia, PA) of PET/CC&S's Oxbar™ oxygen scavenger/PET. Oxbar helps prevent oxygen permeation and maintain product integrity.
"One of the big factors we liked about this bottle was its shelf life," comments Gary Krupa, Alfresh's director of marketing. "With many existing PET bottles, shelf life would have been nine months or less. The Oxbar technology prevents oxidation of the product and gives us the same 12-month shelf life we had with glass." Krupa says the new PET bottle replaces glass for this size, though Alfresh will continue to use glass for other sizes.
According to Alfresh, another key benefit of switching from the 220-g empty glass bottle to the 38-g empty PET version is that it delivers a 10% savings in distribution costs in the U.S.
Alfresh hot-fills the juices at its Toronto plant at temperatures between 180°F and 185°F. The company uses the same filling line for PET that it did for glass, making conveyor modifications to prevent bottle tipping. The company did add a new Zalkin capper, represented in the U.S. by Fowler Products (Athens, GA). The machine applies a 43-mm BevGuard™ closure from Crown's Closure Division. Completing the package is wraparound label from McLaren Morris and Todd (Mississauga, Ontario, Canada). Printed offset in four colors, the 70-lb C1S paper label is over laminated with a layer of oriented polypropylene.
The company says it's premature to gauge sales of the juices, though "two major convenience stores have purchased our PET-bottled brands," says Mike Scott, Alfresh's president and CEO. "Extensive research indicated that [the use of] PET is the fastest-growing packaging trend in Canada. PET is lightweight, portable and unbreakable, allowing beverage consumption out of the home and during travel." Priced at $1.29, the juices are also sold in restaurants and in vending machines at work environments. —JB
Companies in this article