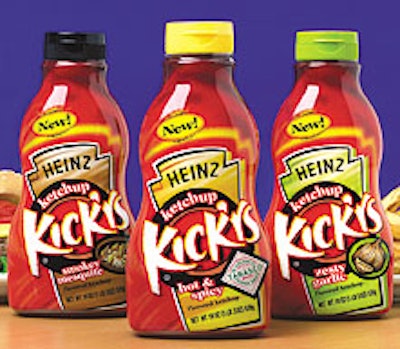 On the heels of its wildly successful EZ Squirt colored ketchup (see pack world.com/go/c018), Heinz just launched two more ketchups similarly packaged. The two newcomers are both filled on the same Muscatine, IA, line used for EZ Squirt. "There are definitely economies of scale for us because we fill the product at a facility that was already equipped with the machinery and technology needed to produce this product," notes Wayne Cleary, manager, packaging material systems for Heinz North America.
EZ Squirt Mystery Color hides three new "mystery" colors, Passion Pink, Awesome Orange, and Totally Teal, within a white-pigmented bottle that gains its color from white polypropylene pellets added during bottle making. Consumers don't know what color they've bought until they remove the induction-sealed foil cap liner.
Except for the white pigment that preserves the mystery, the bottle used for the Mystery Color line has the same six-layer coextruded makeup used for the EZ Squirt flavors. Both bottles are made by Pechiney Plastic Packaging (Chicago, IL). Also repeated on the Mystery Color line are the same closure and label used on EZ Squirt. The injection-molded polypropylene closure is from Creative Packaging (Buffalo Grove, IL). It includes a PP base and linear low-density polyethylene spout. The 2-mil oriented polystyrene full-body shrink sleeve label is from American Fuji Seal (Bardstown, KY).
Carrying a $1.79 suggested retail price, the 19-oz EZ Squirt Mystery Color products will be available for a limited time, as only one million bottles were produced. In comparison, Heinz says it has sold more than 20 million 24-oz EZ Squirt bottles since October 2000.
The other new ketchup from Heinz filled on the Muscatine line is a flavored product called Kick'rs. Holding 19 oz like Mystery Color and available in three flavors for about $1.99 each since January, Kick'rs comes in a Pechiney bottle with the same six-layer coextruded structure as the EZ Squirt bottle. Both bottles are translucent white. Also similar is the American Fuji Seal full-body label. The label was designed by Lipson Alport Glass & Associates (Cincinnati, OH). Seaquist Closures (Mukwonogo, WI) supplies the 38-mm injection-molded PP closure.
Companies in this article