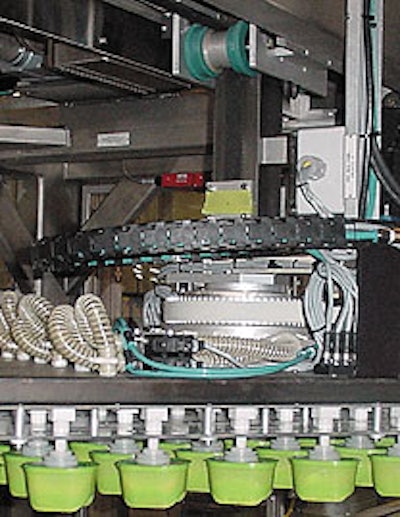 At some point in their careers, most packing engineers face a tough assignment or two. But few will ever face a more challenging task than the one that fell to technology leaders Greg Follmer and Mauro Montrucchio of Cincinnati-based Procter & Gamble when they and their colleagues were asked to design an automated packaging line capable of denesting, filling, backflushing, lidding, and case packing Smart Stacks (see packworld.com/go/c020).
These single servings of Pringles-brand potato crisps are sold in a polypropylene cup whose light 8-g weight alone makes it a nightmare to handle. Add to that the shape of its bottom—formed like the curvy snack itself rather than flat and predictable—and it's clear just how challenging the Smart Stacks line was going to be.
This story provides a glimpse of the line designed by the P&G team. "Glimpse," it should be noted, is the operative word, since confidentiality agreements between P&G and its suppliers prevent a detailed description of the line in its entirety. Packaging World editors weren't allowed inside the Jackson, TN, plant where the sophisticated line operates, nor were they given much performance data, including the number of cups per minute at which the high-speed line runs.
What P&G did share, however, was limited information about the filling and lidding equipment supplied by Hans Rychiger AG of Switzerland and the case-packing equipment supplied by BluePrint Automation (Colonial Heights, VA). PW also visited BluePrint Automation's manufacturing facility to see a Smart Stacks case packing system under construction. Here then is what PW was able to learn about what a Smart Stacks packaging line looks like.
Denesting
At the beginning of the line are two machines provided by Hans Rychiger, represented in the United States by Packaging Technologies and Inspection (Tuckahoe, NY). The first is a multilane denester. It's responsible for denesting cups from magazines into the second Rychiger system, which performs tasks including filling, backflushing, checkweighing, and lidding.
Cups are thermoformed polypropylene supplied by Printpack's Rampart Packaging Div. (Williamsburg, VA) and Winpak Portion Packaging (Langhorne, PA). The denester automatically feeds cups to the infeed of the second Rychiger system, which is essentially one huge transport device. On it are mounted a variety of stations dedicated to specific tasks.
Rychiger's transport system is uniquely designed to move cups forward at relatively high speeds yet with no damage to the light plastic cups. The first station along the system is for filling, performed by equipment that P&G prefers not to discuss. Once cups have their 23-g portion of Pringles in them, the system carries them forward to checkweighing. Next is the gas-flush chamber. Mounted above the cups as they are conveyed through this chamber are gas rails that blow nitrogen down into the head- space of the cups to force out ambient atmosphere.
Heat sealing of die-cut foil lids is done by a Rychiger unit that extends over the transport system. In the finished cups, the residual oxygen level is reduced low enough to give the product a shelf life conservatively estimated to be at least 8 months.
The foil lids are supplied by Spiralkote (Orlando, FL), a division of Fleming Packaging. They consist of .0015" foil and a sealant layer that's an ethylene vinyl acetate blend. Decoration is done on a flexo press in seven colors plus a varnish overcoat.
On to case packing
Once the lids have been sealed, the highly customized Rychiger technology gives way to Blueprint Automation's equally customized case-packing system. This begins with a three-axis robotic pick-and-place head that hangs cantilevered over the tail end of the Rychiger cup transport system.
"The physical structures of the two systems at this critical point where they interface make it impractical to use floor-mounted supports as you ordinarily might," says Follmer. "So Blueprint came up with this cantilevered structure instead. They did extensive modeling of the frame to give the total structure the rigidity needed to accurately pick and place the cups."
Blueprint engineers also emphasized minimizing the weight of the pick-and-place robotic head, says Follmer. This was important to ensure that the servo motors would drive it at high speed.
The end effector of Blueprint's pick-and-place robot is covered with vacuum pick-up cups. When the robot strokes over and down onto the lanes of cups in the Rychiger transport system, each vacuum cup comes up with a single package attached.
The fill/seal system has more cup lanes than the case-packing system. So a key to the robotic pick-and-place unit is that it's able to compensate for this difference and still release cups into the infeed lanes of the case packer in as many lanes across as the Blueprint system is designed for.
The cups are conveyed to the case packer in such a way that damage due to build up of back pressure is avoided. Just ahead of the actual case-packing station is a collator that separates incoming cups into case layers. Also mounted on the case packer are automatic layer board inserters that shoot a chipboard sheet into the case above each layer.
When the proper number of layers has been loaded into all the cases, the cases are released to be automatically glued shut and conveyed toward palletizing and warehousing.
"Developing this line presented some challenges," says Follmer. "The equipment had to be capable of high speeds yet be gentle enough to prevent any damage to chips, foil lid, or plastic cup. This has been successfully achieved."
Montrucchio puts it this way. "Finding the right vendors and making all the parts work together, that was the key."
Companies in this article