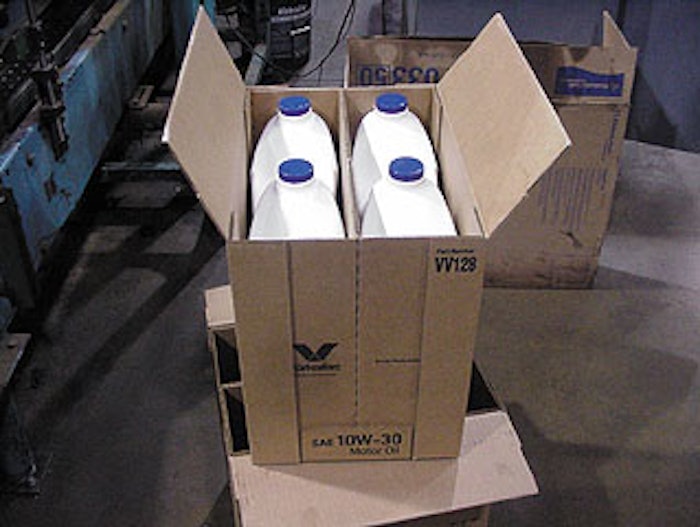 What¡¯s a packager to do when he knows his plant needs new packaging equipment but top management is skittish about capital outlays? At the Cincinnati packaging plant of the Valvoline Co., the answer was simple enough: Let the packaging materials supplier help pay for the new equipment.
This innovative approach worked for a line dedicated to 4- and 5-qt HDPE bottles of Valvoline motor oil. Installed was a Model PF 106-HLV H-bliss box erector from Moen Industries (Santa Fe Springs, CA). Before its arrival, in-mold-labeled motor oil bottles from Graham Packaging (York, PA) arrived in bulk boxes. The bottles were dumped into an unscrambler and then conveyed through filling and capping before being drop-packed into a 275#-test double-wall B/C-flute corrugated shipper supplied by International Paper (Memphis, TN).
According to Valvoline packaging engineer Steve Ruble, the case erector in this arrangement was proving to be a real bottleneck, partly because its magazine could only hold a minimal number of knocked-down case blanks. That meant it required regular attention from an operator.
Added operator time had to be spent ¡°babysitting¡± the case flaps at the infeed of the drop packer.
¡°Just before the case goes into a drop packer, plows bend the flaps back so that bottles can drop freely into the case,¡± explains Ruble. ¡°The double-wall board was so heavy the flaps would sometimes spring back in the way and jam things up. If a case was jammed badly enough, it might knock the plows out of adjustment, or even bend a plow. It was getting to be a real maintenance and repair issue. Now it¡¯s been eliminated.¡±
Adds Ruble, ¡°We also wanted to get away from the need to have an operator dumping bottles from boxes,¡± another labor-intensive and less than ergonomically ideal operation.
Ruble and colleagues set about improving their operation by modifying the sweep area of a depalletizer that was already on-site so that it would handle both the 4- and 5-qt plastic bottles that run on the line. So Graham now sends bottles on pallets rather than in boxes. This ended the need to constantly empty those boxes and flatten them for shipment back to Graham.
Lightweighting
Next the Valvoline team turned its attention to lightweighting the double-walled shipper. This was a bit tricky due to the shape of the bottles, whose necks are severely offset.
¡°The offset neck required such a heavy case in the first place,¡± says Ruble. ¡°The bottles provide no top-load strength on the side of the case opposite where the necks are. The H-bliss-style box gives us a built-in center divider and double-wall corners, which provides considerable top-load strength. It allowed us to go from a 275#-test double-wall corrugated to a 32 ECT single-wall shipper with a 32-ECT H-divider.¡±
Although the new shipper requires two pieces rather than one, the total amount of corrugated is reduced. And because the new box is single-walled, it¡¯s far easier for the manufacturer to score and for Valvoline to erect. ¡°The operator no longer has to occasionally bend the flaps back at the drop packer,¡± Ruble adds.
Ruble estimates a 6 to 8% savings on case costs since the switch was made. And that¡¯s where a bit of creative cooperation came into play.
¡°Rather than seeking approval of a capital outlay for the new case erector, we arranged to have our box supplier, International Paper, pay for the equipment and installation,¡± Ruble explains. ¡°Over the next three years, we¡¯ll continue paying the former price for boxes, and the overage will be applied toward the cost of the case erector. This is how the bulk of the machinery cost will be paid. At that time, the total value of the agreement will be analyzed, and the two companies will negotiate a fair transfer of machine ownership.¡±
Consolidation helped
Helping to make the arrangement more attractive to I-P, Ruble adds, was an increase in the number of cases the Cincinnati plant orders from I-P. ¡°We consolidated some of our other purchases and brought that business here,¡± says Ruble. ¡°So I-P gets a bigger chunk of business.¡± The 32-ECT cases supplied by I-P are printed flexo in two colors.
Although the Moen erector is rated at speeds to 25 cases/min, filling speed on the Valvoline motor oil line tops out at 14 cases/min, says Ruble. ¡°We still require two operators, but their work is not as strenuous,¡± he adds.
The same operator who cuts bands from full pallets of empty bottles also has plenty of time to load the Moen case erector. ¡°With its extended magazine, it only needs his attention about every 15 minutes,¡± says Ruble.
Running since August, the new case erector has been a welcome addition, says Ruble. ¡°It¡¯s running even better than we thought it would,¡± he adds.
Companies in this article