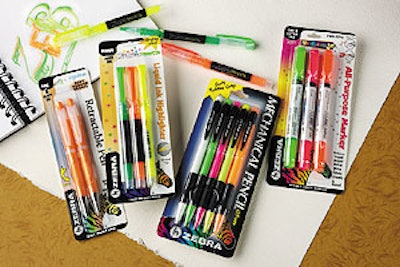 The XpressCombo guarantees a four-day turnaround of the printing of blister, header, or insert cards, functions that would normally take about two weeks at the company's Cleveland facility.
"Our customers, the large chain stores, change their needs rapidly," says John Kalinowski, supply chain supervisor with Zebra Pen. "Just recently, we had a customer that needed an order filled right away. The XpressCombo really saved us in this case."
Once CardPak receives a disc containing the design of the card, and approvals of the proof and die-cut card are obtained, gang runs are put together containing the XpressCombo order as well as regular runs belonging to other customers. That means several different customers' cards are printed on the same sheet, thereby speeding orders to customers.
After the 21-pt SBS board stock is printed on CardPak's offset presses, it is taken to an off-line coater where a solvent-based heal-seal coating is applied. This coating ultimately helps give the package a stronger seal and faster packager throughput. All XpressCombo orders are 7귔-sheet runs. A die-cutter finishes the job and the cards are sent immediately to the packager for pack assembly.
Zebra Pen has used the XpressCombo service 13 times in the past 10 months. According to Kalinowski, Zebra uses the service for several of its major customer orders. Zebra Pen's products are available nationally at most major retailers. (ALR)
Companies in this article