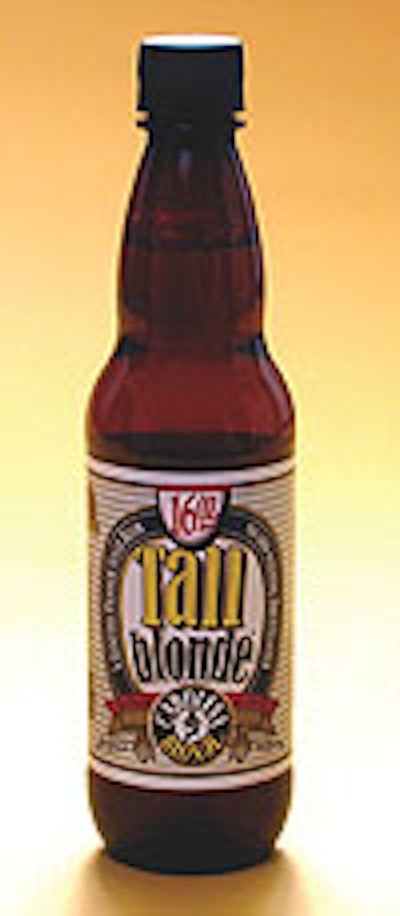 The new stock bottle is from Constar, the plastic packaging subsidiary of Crown, Cork & Seal Co. (Philadelphia, PA). It comprises PET/Oxbar™oxygen scavenger/ PET (see Packaging World, Nov. '01, p. 2, or packworld.com/go/abita). Oxbar is a scavenger that includes nylon. The bottle is topped by a 28-mm screw cap with a scavenger/barrier liner supplied by Crown's Closure Division. It also features a full-wrap polymeric label, flexo-printed in five colors and glue-applied by Constar.
"The Tall blonde package permits Carolina Blonde drinkers to sip their beer at more places than ever before," says Carolina CEO Mike Smith. "PET offers many advantages, including being unbreakable, light weight, and resealable."
It debuted in May 2001 at Carolina golf courses, and can be used in other nontraditional markets like concerts and stadiums that prohibit glass bottles.
Notably, starting in August Tall blonde was positioned in convenience stores as a mainstream offering, "at a mainstream 99 cents price," adds Smith. Tall blonde replaces the company's 22-oz single-serve glass bottle and is coded for a 120-day shelf life. It is distributed in the Carolinas, Georgia, Tennessee, and parts of Virginia.
The bottles are cold-filled on a modified line at 200 bpm. A critical advantage is that the plastic bottle runs on the same equipment as its 12-oz longneck glass bottle, according to Smith. He discloses that a four-bottle pack will be introduced this summer in supermarkets. (RL).
For more line details, see packworld.com/go/blonde
Companies in this article