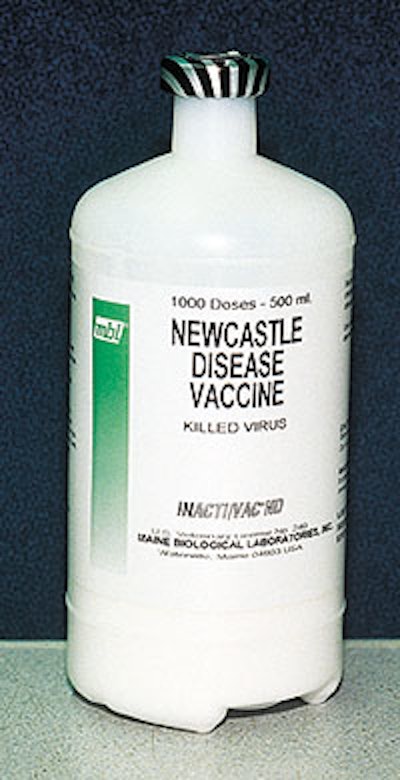 A handful of mid-sized firms joined forces recently by way of merger and acquisition to form Lohmann Animal Health Intl., the world's fourth largest poultry vaccine producer. Once the dust had settled, management at the Gainesville, GA, firm decided it was time to consolidate certain production and packaging operations at a plant in Waterville, ME. A necessary first step was the installation of packaging equipment capable of higher throughput.
"We needed to scale up," says general manager Tom Swieczkowski. "We couldn't get much past 4ꯠ of our 500-mL bottles per eight-hour shift with the equipment we used to have. Now we can do 10ꯠ."
Familiarity with equipment made by Cozzoli (Plainfield, NJ) led Lohmann to that firm for the new line. "Not only were we comfortable with their equipment, they're located near us and their service is great," says Swieczkowski.
Three key machines
Lohmann invested about $1 million in the three key machines that make up its new packaging line: a filler, a stoppering machine, and an overcapper. The filler and capper are both enclosed in a separate room that's HEPA-filtered to a Class 10ꯠ level.
Inside this filtered room, operators manually load HDPE bottles onto a rotary infeed table. The Cozzoli VR840 in-line piston filler is an intermittent-motion four-nozzle system that could quickly expand to eight valves, according to Swieczkowski. HDPE bottles conveyed into it are extrusion blown by Genesis Industries (Elmwood, WI) in 250-, 500-, and 625-mL sizes. The 500-mL bottle is most commonly in production, and Lohmann fills it at about 30/min.
Although the VR840 positive displacement piston filler has been available for years, the machine at Lohmann has been improved considerably with the addition of an Allen-Bradley SLC 503 programmable logic controller from Rockwell Automation (Milwaukee, WI). No longer does an operator change fill volume by going to the back of the machine, loosening a few screws, sliding an adjustment rod to a new setting, and retightening the screws. Instead, the operator accesses the machine's pump stroke through an Allen-Bradley Panelview operator interface. As soon as the operator selects the percentage of pump capacity that's desired, the PLC signals actuators to adjust the piston stroke accordingly.
"It's easier and quicker," says Travis Dunton, emulsion specialist and section supervisor at Lohmann.
The PLC also keeps a record of fault conditions. "We haven't benefited a whole lot from that feature yet, because we've only been running the equipment a few months," says Dunton. "But down the road it should help us with troubleshooting and preventive maintenance."
Stoppering machine
Once the liquid emulsion has been filled into the bottles, the bottles are automatically conveyed to a Cozzoli Model RS400 stoppering machine. Operators fill its hopper with siliconized, rubber-like stoppers. The stoppers then come down a chute and are picked up in one of six pockets on an inclined rotary stoppering head that continuously rotates in a counterclockwise direction. Vacuum holds each stopper in its pocket until the rotation of the head positions the stopper directly over the neck finish of an incoming bottle. At this point the vacuum is released, and the stopper is pushed into the bottle mechanically by the stoppering head.
Like the filler, the stoppering machine is controlled by an Allen-Bradley PLC that is accessed through a Panelview operator interface. According to Dunton, this PLC control comes in handy when it's time to change bottle sizes. An operator puts the new bottle on a platform and lowers a special measuring gauge onto the top of the bottle. Bottle height is instantly transmitted to the PLC. All the operator need do is press a button on the Panelview control panel, and actuators on the rotary stoppering head automatically adjust its height.
On the filler and the stoppering machine, the same feedscrew and starwheel kit can be used for the two larger bottle sizes filled at Lohmann. A separate set of quick-change tooling is used for the small 250-mL bottle.
Right after stoppering, bottles are conveyed out of the HEPA-filtered clean room in which they're filled. Next stop is aluminum foil overcapping on a machine supplied by West (Lyonville, PA). Labeling isn't done for six to eight weeks, the length of time the product spends in refrigerated quarantine.
When it's time for labeling, it's done in two stages. First, the run of labels is printed on a Zebra (Vernon Hills, IL) thermal-transfer printer. Subsequently, a pressure-sensitive applicator from Willett (Grapevine, TX) affixes labels to bottles.
"Considering that about half of what we make is exported, it really helps to be able to print labels on demand," says Swieczkowski. "With a simple bit of programming on the thermal-transfer printer, we can switch easily from English to French to Spanish or whatever language we need."
In operation since October, the new line will soon have added to it an automatic unscrambler that will relieve operators from having to manually feed bottles onto a rotary infeed table. Evaluating unscrambling equipment, says Swieczkowski, will be a key priority for Lohmann at this year's Pack Expo show in Chicago, sponsored by the Packaging Machinery Manufacturers Institute (Arlington, VA).
In the meantime, Swieczkowski says he's impressed with how smoothly the new line was started up. He attributes this partly to the "upfront" efforts that unfolded prior to installation. "We had people visiting Cozzoli during the construction process, so we were pretty familiar with the machines," says Swieczkowski. "And then when the equipment was installed, the Cozzoli people continued to work with us. We enjoyed that approach a lot."
Companies in this article