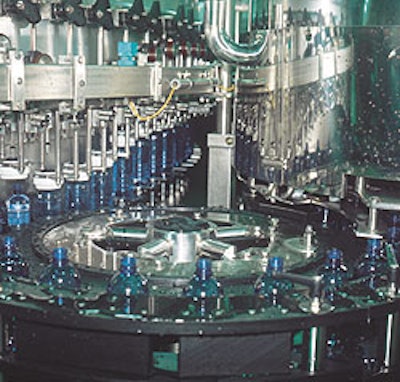 Convinced that the bottled water category will continue to grow briskly for some years to come, Global Beverage Systems of Latrobe, PA, has installed new plastic-bottle filling and packaging equipment that will permit the firm to take full advantage of this trend. Line 2 is especially impressive for its unusual blend of speed and versatility. Operations manager Tim Lippke puts it this way.
"When multiple package sizes are the goal, there are two theories of packaging. Go with multiple small lines that are dedicated to one size, thus minimizing or eliminating changeovers. Or install one large line that can be changed over rapidly. We're going with one large line that can be changed rapidly."
"Large" is indeed the operative word when it comes to the 128-valve counter-pressure filler, a Eurostar 2000 from Sig-Simonazzi (Plano, TX).
"Our doorway is 20 feet wide, and we had to strip some parts off the filler to squeeze it through that doorway," says Lippke. "It's one of the largest liquid fillers ever made. On our 20-oz bottles, we'll run 1ꯠ bottles per minute without even breaking a sweat."
Though GBS's lineup of LeNature's brand products lineup includes iced teas, fruit juices, and flavored water in several sizes, Line 2 is dedicated to Mountain Pure Ice Water. Currently, a 20-oz size is in production; soon to follow is a 1-L size. Both have the same 28-mm neck finish. But knowing how fickle the marketplace can be—and how quickly a new bottle size or neck finish can become a part of the packaging mix—GBS engineers designed the line to handle a variety of bottle neck diameters. In fact, versatility is the hallmark of the line.
A good example is the air conveyor on which PET bottles enter the line. It's controlled by a programmable logic controller. At a human/ machine interface panel, workers select a preprogrammed neck finish size of 28-, 33-, or 43-mm, and the PLC signals pneumatic cylinders all along the air conveyor to move in or out to fit that size (see sidebar for more on the line's conveying connections and controls integration).
Specialized capping
Capping and cap feeding are special, too, so that three different cap sizes can be accommodated. The system was built by Zalkin, represented in the United States by Fowler Products (Athens, GA). Three different cap hoppers, each perched on its own stainless steel stand, are clustered above the capper. Chutes unique to each cap size lead from their respective hoppers into the capper. The capper itself has three different sets of chucks. Lippke says the design spec calls for a changeover time of 90 minutes when going from one cap size to another.
The labeler, an Alpha Quattro Combi from Sig-Simonazzi, is another piece of equipment on the line that is custom-built for maximum versatility. It applies cut paper labels, but what makes it unusual is that it handles either cold-glue front-and-back labels or hot melt-applied wraparound labels. So far, only the latter is being applied. But like the capping system, the labeler stands ready to perform a different task if marketplace needs dictate.
"We didn't want to occupy space with two different labelers, so we had the labeler designed this way instead," says Lippke.
Regardless of what bottle size is being run, bottles arrive on pallets that are fed into a Sig-Simonazzi high-level depalletizer. It sweeps layers of bottles onto a matte-top conveyor leading into a pressureless combiner. Gradually, the group narrows to a single file so bottles can enter an air conveying system. Suspended by their neck rings, bottles enter the filling room, which is overpressured with HEPA-filtered air to keep contaminants out. A rinser/lowerator takes bottles from their overhead level down to the waist-high conveyor that feeds the filler. On their way down, bottles are inverted and conveyed over a bank of some 25 nozzles that spray water inside to rinse the bottles out. The rinser/lowerator then returns the bottles to their upright position and releases them to the infeed of the 128-valve counterpressure filler.
On to pasteurizing
Just before exiting the filling room, bottles are conveyed past a Filtec level sensor from Industrial Dynamics (Torrance, CA). Once out of the filling room, bottles enter a Pama double-deck pasteurizer from Sig-Simonazzi. GBS has been pasteurizing its waters since it was founded in 1992. Because pasteurization eliminates microorganisms from the water, the firm believes this approach ensures the purest, best-tasting product over the longest period of time.
Mountain Pure Ice Water is the only product produced at the plant that does not require a heat-set PET bottle. According to Lippke, the teas, juices, and flavored waters sold by GBS include sweeteners and flavor components that prevent the liquid from absorbing heat as readily as the pure water does. So for products other than Mountain Pure Ice Water, a higher pasteurizing temperature is used. Lippke prefers not to identify any of the temperatures used.
Although commercial blow molders currently supply all of GBS's PET bottles, that will change as soon as GBS completes a 25ꯠ-sq' expansion currently under way. A state-of-the-art blow-molding operation from Sig-Simonazzi will occupy this expansion, and the firm hopes to self-manufacture about 80% of the bottles it requires.
Once past the pasteurizer, bottles run through the labeler. Positioned at the discharge of the labeler is a Linx Xymark laser coder from Diagraph (St. Louis, MO). "Laser coders do cost more up front," says Lippke, "but you can run them for years without putting much into them. Not only is there no ink, there are no spills and no disposal of bottles through the hazardous waste stream."
Next is secondary packaging, which requires three legs to keep pace with the upstream output. Each leg consists of a Vantage Pak (New Britain, CT) tray packer, two Little David (South Canaan, PA) tray labelers, and a shrink wrapper from Arpac (Schiller Park, IL). Two labelers are used on each leg so that product identification and date code can be applied to opposite sides of each tray. Each LS-800 labeler is equipped with a Model M-8485 print engine supplied by Sato (Sunnyvale, CA).
Shrink-wrapped tray packs are taken by overhead conveyor to automatic palletizing and stretch wrapping, both done on Sig-Simonazzi equipment. All that remains is conveying of the pallets to the finished goods warehouse.
Now running commercially only since August, the line has seen little more than two PET bottle sizes, and both have the same neck finish. But Lippke's fairly sure that before too long, his friends in the marketing department will come knocking with a new bottle configuration. When they do, the line, Lippke figures, will be ready. After all, that was the plan.
"We didn't want a line that would prevent us from providing whatever it is our customers want," says Lippke. "As the market changes, so will we."
Companies in this article
Videos from Diagraph, An ITW Company