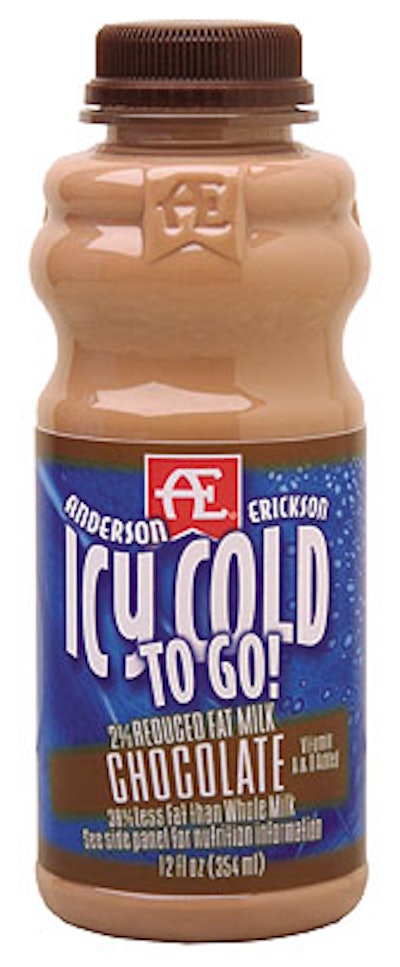 Claiming it's been on the wish list for some time, Anderson Erickson Dairy of Des Moines, IA, recently launched a 12-oz single-serve plastic bottle for a line of fresh milks and juices called "Icy Cold To Go." The 72-year-old family-owned dairy made sure that when its new product line hit store shelves, it wouldn't be just a me-too item.
"We wanted a custom bottle that would set us apart from the competition," says Miriam Erickson Brown, president and chief operating officer at AE. "We've spent years and years investing in our brand, and this is another one of those investments. We chose clear PET not only because we wanted consumers to be able to see the product, but also because to us, clear means fresh and cold."
Grafco (Hanover, MD) played a key role, says Brown, in bringing the bottle to market quickly.
"We liked the feel of their company, which, like ours, is family-owned," says Brown. "They were ready to meet our delivery requirements as well as accommodate our design ideas."
Just 14 weeks after the project began, Grafco was producing commercial bottles for AE. Sending PDF files back and forth as e-mail attachments helped speed things up a lot, says Brown. "The Internet is great," she adds.
Embossed shoulder
Weighing 24 g, the injection stretch/blow-molded bottle is distinguished by the stylized AE for "Anderson Erickson" embossed onto its shoulder in three different spots. This image is repeated immediately below in the label, supplied by MRI (Newtown, PA). The roll-fed, glue-applied label is 1.1-mil white opaque oriented polypropylene with a clear OPP adhesive-laminated over it. The white OPP is flexo-printed in up to eight colors. "We think the label has a nice combination of graphic impact and the ability to withstand a moist environment," says Brown.
While Brown spearheaded the design side of the Icy Cold To Go project, brother Warren Erickson, chief financial officer, began touring various liquid filling plants to evaluate equipment. Just shy of $1 million later, Erickson assembled a filling line capable of 150 bottles/min. Anchoring the new line is a 28-head rotary filler from Federal Manufacturing (Milwaukee, WI).
"It has a fully computerized clean-in-place system that we really like," says Erickson. "Chemicals, times, temperatures—everything is controlled automatically, so going from one product to another, like milk to orange juice, takes about half an hour."
This ability to quickly change flavors is critical, says Erickson. "We run the line one shift, five days a week," he explains, "and we always handle multiple flavors within a shift."
Bottles arrive from Grafco in corrugated bulk shippers that an operator dumps into the floor-mounted hopper of a Pace (Fairfield, NJ) unscrambler. "We saw Pace unscramblers nearly everywhere we looked at this kind of bottling," says Erickson. "We figured we'd stick with a known supplier."
A tabletop conveyor delivers bottles to the next piece of equipment in the line, a roll-fed labeler from Trine (Fullerton, CA).
Deciding on a label
"Early in the project we had to decide what kind of label we wanted," says Erickson. "Would it be full-body shrink, full wraparound, front-and-back? Once we decided on full wrap, Trine seemed the obvious way to go. They work closely with MRI, our label supplier, and MRI recommended them."
Why go against the grain by not using the full-body shrink label so popular now in the single-serve beverage category?
"We don't see it as going against the grain," says Erickson. "Besides, this way we don't need to buy a shrink tunnel. It's a good-looking label, and we like that consumers can see the product."
What about the decision to go with a fresh pasteurized milk with a 17-day shelf life? Why not capitalize on extended-shelf-life processing and packaging technology that can achieve a shelf life of 60 to 90 days the way Nestlé, Hershey, Dean Foods, and others have?
"We just don't think ESL milk tastes as good," says Brown.
Conveying is a challenge
The PET bottles are a little top-heavy, and when they rub together they generate a fair amount of static electricity that makes them want to cling to each other. So conveying them between the unscrambler and the labeler is no simple task. But the distance isn't great, and the clever removal of a guide rail at one key turn means that downed bottles automatically roll off the conveyor and into a collection box. The net result is a bottle conveying system that requires minimal assistance from the operator responsible for unscrambling and labeling equipment.
As bottles are conveyed from the labeler, an ink-jet coder from Imaje (Kennesaw, GA) imprints the best-if-used-by date on the shoulder of each bottle. "Imaje is the standard we've chosen for our plant," says Erickson.
At this point, bottles leave the unscrambling/ labeling room in the grip of an elevator. An overhead conveyor leads to a lowerator that delivers bottles to the tabletop conveyor feeding the Federal filler. Within the elevator and the lowerator, bottles are gripped from opposite sides. During the overhead transfer, however, a vacuum system pulls the light bottles down onto the transfer conveyor to keep them from tipping over as they're conveyed.
Immediately after the filler is a 12-head capper supplied by Portola (San Jose, CA). The snap-on/screw-off closure, also from Portola, is injection-molded of polypropylene and includes a tear-away band for tamper-evidence. All that remains is a drop-packer that groups bottles into groups of 12 and drops them into plastic reusable dairy crates.
Icy Cold To Go began reaching convenience stores and supermarkets on July 7 in the Iowa, Kansas, Missouri, Illinois, and Nebraska markets where the AE brand is found. Selling for 99 cents each, the four milks and three juices have done well, says Brown.
So far, the single-bottle format has been AE's only distribution strategy, though a multipack of some kind is under consideration.
"One thing at a time," says Erickson.
Companies in this article